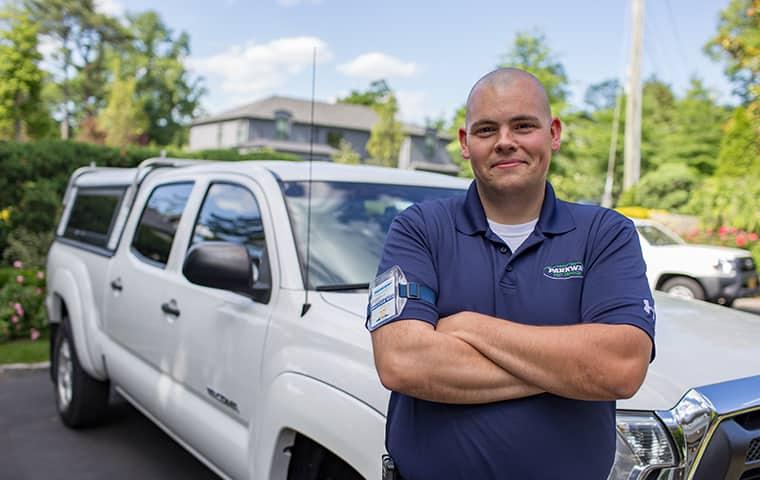 Well, we made it through yet another year and we are onto our next one. Kicking off 2018 without any hiccups is in all of our top priorities, and with the winter in full force, there are certainly a few things we should look out for. Pests will be well hunkered down in your home by now, and if not they will actively be trying. Making sure that pests are not a problem this year is important and having a year-round plan to help is not a bad idea.
Pests show up for a pile of reasons. With pests trying to get out of the weather, they easily find their way into your homes in order to do so. For a pest, your house provides a four-course meal just about any time they want one, and on top of that, has all the great hiding spots one needs to make a plush home of its own. Pests often find their way into homes through cracks in foundations, as well as through openings around windows and doors, though some, like wasps, are content building a nest on the exterior of your home. Pests can also be brought in on belongings, chew their way in, or simply let themselves in if they find an open door.
Having a year-round plan makes life a lot simpler. A pest professional will come to your home, determine what infestations are apparent, discover how pests managed to infest your home and implement a plan to eradicate the pest and make sure that it continues not to impose any problems in the future. One of the biggest benefits of having a year-round plan is that it's reliable. You know a pest professional will show up and take care of all of the dirty work so that you don't have to! Parkway Pest Services offers two different year-round plans, giving you flexibility in choosing how to protect your home from pests.
The Parkway PestGuard program is a top-level year-round pest control plan that is designed to effectively protect your home from frequently encountered pests as well as most wood destroying insects. The Parkway PestGuard program will also take care of yellow jackets within two feet of the house and covers pests that other pests bring in like ticks and fleas. It provides 4 visits annually, covers more than 30 pests, includes pest identification, and focuses on both the exterior and interior of your home.
The Parkway PestGuard+ year-round plan includes everything that the PestGuard program does and includes termite protection! It will include the installation and servicing of termite monitoring systems on the exterior of your home, ensuring that you won't have to deal with termite property damage.
If you think you might have a pest problem, reach out and we will be happy to schedule treatment as soon as we can, and if you have questions or are interested in a quote, we will provide one free charge. Being proactive about pests can save a lot of time, money and frustration from having to do so in the future, so while 2018 continues, leave pests up to the professionals at Parkway Services. From our family to yours, Happy New Year!