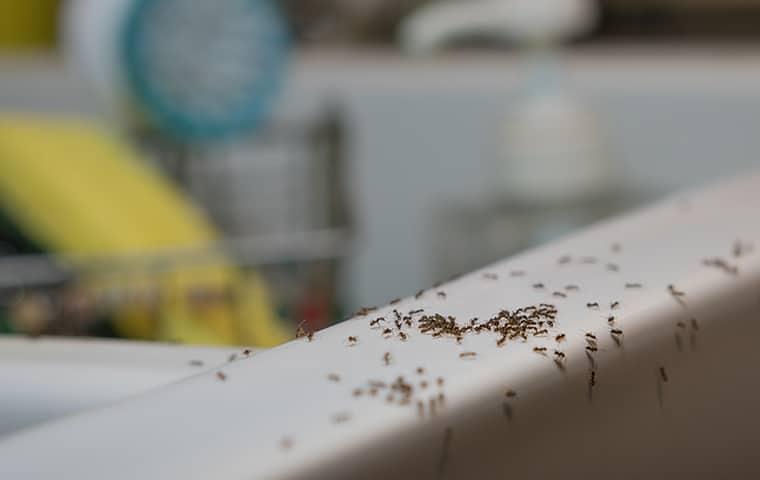 What type of ants do you have plaguing your New York home? In The Empire State 5 species of ants rise to the top: pharaoh ants, carpenter ants, odorous house ants, little black ants and pavement ants. Each of these pests come with their own set of problems. The solution, however, is the same for them all.
If you don't have ants in your yard, you're not going to have ants in your home. Finding and eradicating ant colonies is the first step in ant control. But this can be a frustrating task. Here's why.
You can attack those ant mounds with everything you have. You can pump water in there, douse them with chemicals, and even do something foolish, like blow them--or yourself--up with gasoline. You're wasting your time. Ants have a detailed network of tunneling and can escape even your grandest efforts to eradicate them.

Baits don't generally work unless you have the education to administer them. You need to know where to put the bait and what type of ant you're trying to bait. Some ants go for sugary baits and others go for protein baits. You need to know which ants you have and what bait will appeal to them.

Even if you find the right bait, your bait may work too quickly and cause the ant colony to split in two. Then, your problem--and your frustration--is doubled.
Getting rid of ant mounds is essential, but it takes experience and education. If you have ant mounds all through your yard, call Parkway Pest Services for help.
If your walls are sealed, it is much harder for ants to get in. Ants exploit cracks, gaps and holes. Here are the ways you can keep them from getting in.
Seal your basement walls.

Use a caulking gun to fill in rotted areas until you can get those areas fixed.

Use that caulking gun to seal around pipes, fixtures, electrical outlets, air conditioning units and other objects that pass through your exterior walls.

Make sure your gutters are unobstructed, and that they channel water away from your walls. Soft, decaying wood is attractive to carpenter ants.

Have a pest control company do treatments around your home to keep ants from crawling up and exploiting all the many entry points that exist in your roofline.
Proactive ant control from Parkway Pest Services and sealed exterior walls are the solution that will keep those ants from driving you crazy. Contact us today for relief from ants in Nassau County and Westchester County, NY.