What Is A Mouse?
A mouse is a rodent closely related to other pests such as rats, squirrels, and moles. Mice are distinguishable from their larger relatives by their body size. Mice are quite a bit smaller, averaging in size from about three to four inches in body length with an equally long slender tail.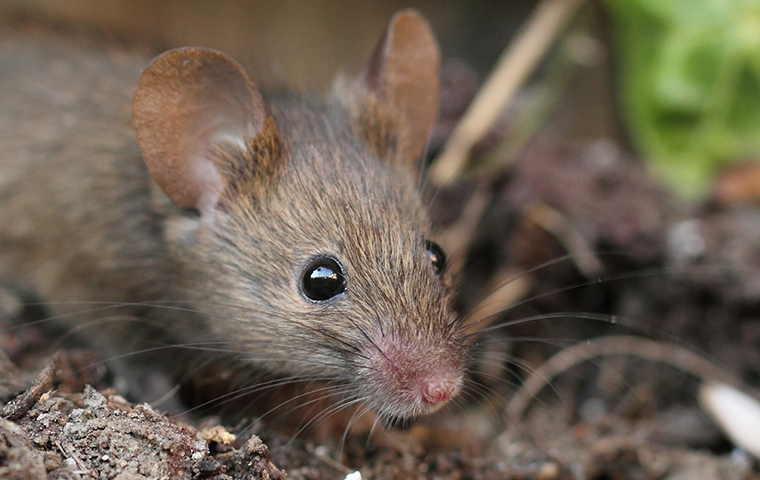 Things You Should Know:
Mice are closely related to other pests such as rats, squirrels and moles.
Mice are able to squeeze through gaps as small as 6mm. That's roughly the size of a pencil!
Mice see better in dim light, there eyesight isn't strong but their other senses make up for it.
Why Are They In My House?
As outside temperatures drop in the fall and winter months, food becomes scarce for mice in the wild. The scarcity of food may cause them to start looking for ways into your house where food may be more plentiful.
What Are The Signs Of Infestation?
Droppings are the most common indication of a mouse infestation. Mice leave small black fecal pellets wherever they go. You're most likely to find these pellets in cupboards, drawers, and countertops. Another common sign of mice is chew marks on food items or other soft materials such as cardboard, fabrics, and even soap! These materials may be used as bedding, and you may find small nests tucked away in corners or boxes in storage areas.
You might also hear sounds coming from your walls. Mice are nocturnal and are busiest at night. Finally, you may see a mouse darting from one hiding spot to another as they search for food. It is rare to see a mouse during daylight hours, but you might see one darting behind furniture or along baseboards as they move from one hiding spot to another.
What Does It Take To Get Rid Of Mice?
If you suspect that you have a rodent infestation, it is best to call a professional right away to help eradicate the vermin. Catching all of the mice in your home is unlikely using traps and other DIY methods. Leaving poison out is another option, but this means mice might ingest the bait and die within your walls, causing quite the smell. The safest and most efficient approach to mouse control for your home is to have a professional search for and eliminate rodents.
Helpful Articles About Mice

How Soon Can You Get Here?
We offer same-day and emergency service and, in most cases, we can be there the very next day to assist you when you call.

Is The Treatment Safe?
At Parkway Pest Services, we take pride in being Green Shield Certified and utilizing environmentally friendly pest control methods such as Integrated Pest Management (IPM) techniques. IPM techniques rely on baiting and the exclusion of pets with less focus on the use of chemicals, resulting in safer treatment options for you and your family.

How Can I Prevent A Future Infestation?
Prevention should start on the outside of your home by looking for and repairing any gaps that lead into the house. This means checking for cracks and openings along the foundation of the house and filling in gaps around pipes and the edges of doorways. Remember that mice can fit through small gaps so vigilance is critical. Also, consider trimming any vegetation such as shrubs and bushes that grow around the base of your home. For complete peace of mind, reach out to Parkway Pest Services and sign up for our PestGuard program.
PestGuard Protection
Designed to control the basic needs of pest control, this plan effectively protects your home from occasional invaders that are frequently encountered as well as most wood destroying insects. In addition to controlling carpenter ants, cockroaches and other insects and rodents, this home pest control plan includes treatment of yellow jackets within two feet of the dwelling. With our friendly and knowledgeable exterminators on the job, you can say goodbye to ants in the kitchen, mice in the attic and the other pests scattered throughout the house.

4 Visits Annually

Pest Identification

Covers 30+ Common Pests

Interior & Exterior Service

Unlimited Service Calls