What Is An Ant?
There are approximately 14,000 different species of ants globally; the most common types of ants in our area include the odorous house ant, the pavement ant, the carpenter ant, and the pharaoh ant. Ants are small, social insects that live in large colonies. A small area can easily support thousands of ants; there can be tens of thousands of ants in one colony and several colonies in the same area. This causes contact with humans to occur very frequently.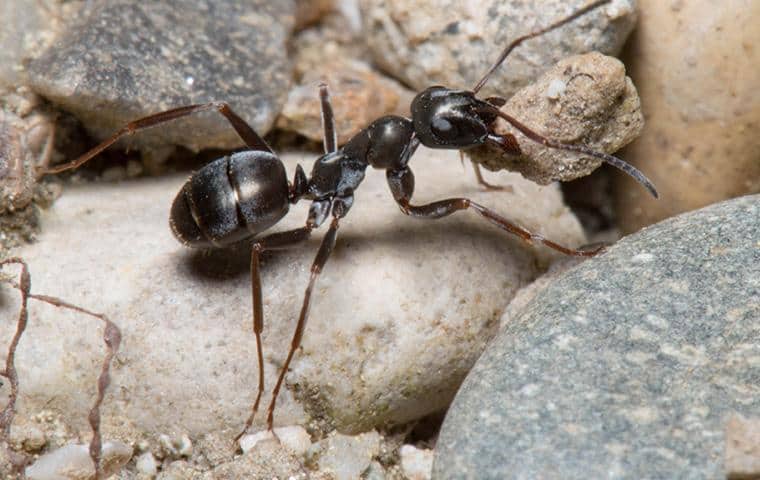 Things You Should Know:
Most of the ants in New York & Connecticut are considered nuisance pests.
Flying ants are often mistaken for winged termites.
An ant can lift 20 times its own body weight.
Why Are They In My House?
An ant has one singular purpose in life: to care for and protect its colony. The three most important things to an ant are food, moisture, and shelter. Typically, about 10% of the colony spends their time foraging. These are most likely the ants that you see while they are searching your house for food, water, and a place to hang out.
Are Ants Dangerous?
The most common house-infesting ants are considered nuisance pests and are not dangerous to humans or pets. However, carpenter ants make their nests in wood, and a large colony can cause structural damage.
What Does It Take To Get Rid Of Ants?
It is challenging to get rid of ants once an infestation is established. The ants you see are only a small portion of the entire colony, likely less than 10%. To eliminate them, you must find where the ants are coming from and eliminate the entire colony, including the queen. The main colony may not even be located on your property. It is highly recommended that you call a pest control professional and the technicians at Parkway are highly trained in the correct techniques needed to eliminate an ant infestation successfully. To learn more about our ant control services in NYC and surrounding areas of NY and CT by giving us a call today!
Helpful Articles About Ants

How Soon Can You Get Here?
At Parkway, we understand that it is important to you to take care of your pest problem as soon as possible; therefore, it is also important to us. Emergency and same-day service is available, and in most cases, we can be there the very next day.

Is The Treatment Safe?
Here at Parkway Pest Services, we pride ourselves on being Green Shield Certified, and we use Integrated Pest Management (IPM) techniques, meaning treatments are much safer for you and your family. IPM techniques include far fewer uses of chemicals, using them only as a last resort. Instead, we focus on baiting and the exclusion of pests.

How Can I Prevent A Future Infestation?
Elimination of food sources and entry points can help, but ants can be tough to prevent. Our Basic Pest Control Package provides you with constant protection from all species of ants. Contact us for more information!
PestGuard Protection
Designed to control the basic needs of pest control, this plan effectively protects your home from occasional invaders that are frequently encountered as well as most wood destroying insects. In addition to controlling carpenter ants, cockroaches and other insects and rodents, this home pest control plan includes treatment of yellow jackets within two feet of the dwelling. With our friendly and knowledgeable exterminators on the job, you can say goodbye to ants in the kitchen, mice in the attic and the other pests scattered throughout the house.

4 Visits Annually

Pest Identification

Covers 30+ Common Pests

Interior & Exterior Service

Unlimited Service Calls