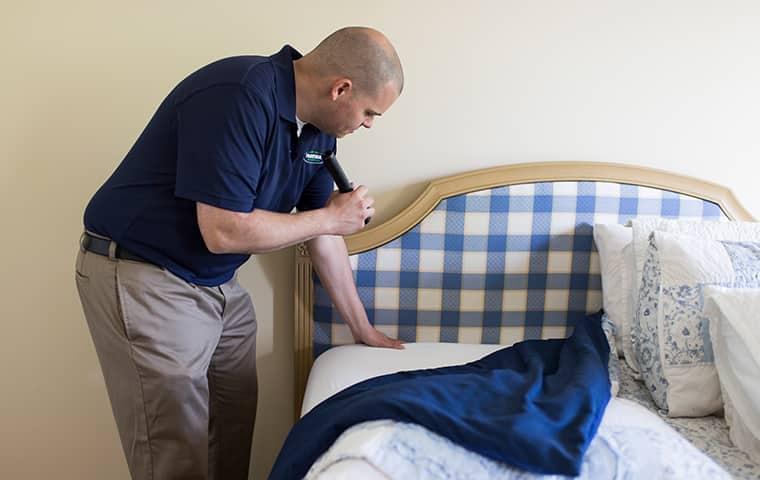 So you think you found bed bugs. These pests are quite common in New York and despite everyone being on high alert for these pests, they seem to easily go unnoticed. If you have found signs of bed bugs in NY and you've contacted us for your first treatment, good for you! You've taken the first step toward becoming bed bug free. But the Long Island exterminators at Parkway have a few requests before we visit your home to get rid of these pests. Here is what you need to do before we can perform our bed bug treatment:
Remove headboards that may be attached to the wall.

Remove sheets and other bedding from mattresses and box springs before your bed bug treatment.

Place all clothing and other items from inside closets and bureaus into plastic bags.

Move all furniture away from the walls at least two feet.

Remove outlet covers and switch covers from the wall.

Remove the cheesecloth material that is attached under box springs, chairs, couches and other furniture.
Thoroughly vacuum all infested areas. This includes mattresses, box springs, bureaus and other areas in the vicinity of these items. When you are finished vacuuming, dispose of the vacuum bag (or the contents of the vacuum if using a bagless) into a receptacle outside of your building.
Once you've taken these steps, we can effectively get rid of bed bugs in your Long Island home. When we arrive for your treatment, we will ask that you cover and turn off any fish tanks and take any other pets out of the home. You must vacate the premises during the treatment and for 3 additional hours after the treatment is completed. When you return home, it will be necessary for you to place your mattresses and box springs into encasements so that any bed bugs or bed bug eggs that may have survived the treatment will not be able to bother you in the future. You will also want to wash and dry all your clothes on the hottest temperature possible (or dry clean!) before you put your clothing back into closets and dressers.
At Parkway, we know how to kill bed bugs- we've been doing it for years and our bed bug control solutions are quick, effective and can take the stress of these pests off your shoulders. If you have found a bed bug problem inside your home or in your business, don't wait; the longer you wait to do something about these pests, the worse the problem can get and the further the pests can spread. Contact the Long Island pest control experts at Parkway Pest Services today for effective bed bug control services