Time for Long Islanders and all New Yorkers to break out the fall wardrobe (or at least have it ready)! Keep in mind however when you are collecting your bags or bins of warmer clothes in storage, to keep an eye out for any signs of fall pest invaders, especially mice. This is the time of year that mice and other rodents begin their search for warmth, food, and water for the fall and winter season by entering any accessible homes.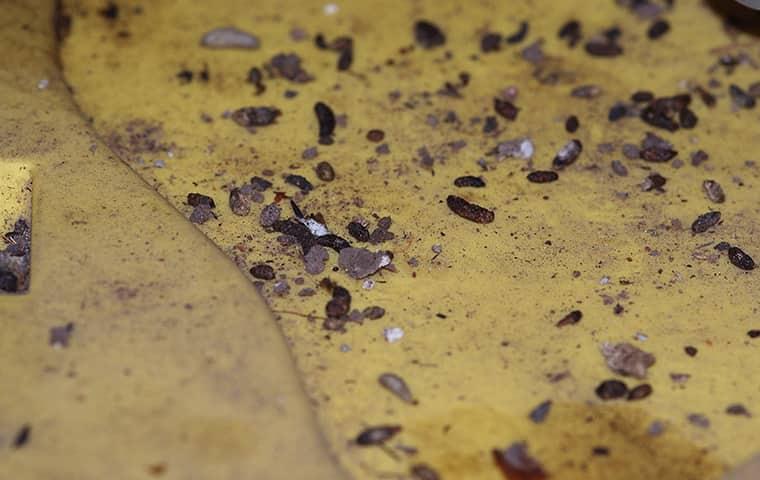 The Signs Of A Fall Mouse Infestation
The good news is that despite the increase in mice activity during the fall, you do not have to fall victim to a mouse infestation which could prove to be dangerous to your family and home. If you are vigilant in your fall pest-proofing techniques then it is possible that you will not see any signs of mice at all. Make sure to refer to our previous blog which includes many fall rodent-proofing tips to help you avoid mouse problems this season.
Even if your home is properly rodent-proofed it is still important that you learn the common signs of a mouse problem. These critters can be very sneaky and you will want to know exactly what to look for so that you can get rid of mice as soon as you notice they are infesting your home. You will avoid the spread of disease, contamination of surfaces, and structural damage by preventing and treating for mice as soon as possible. Here are the common signs of mice to be on the lookout for:
Droppings left in kitchen cupboards, drawers, and alongside walls

Small nests of twigs, fabrics, and other household items, usually hidden

Chew marks in food containers that mice have tried to access

Food debris or small piles of food in the kitchen left after mice have eaten

Hearing noises at night of mice running through walls and ceilings
Reach Out To Parkway Pest Services For Mouse Control
If you happen to notice any of these signs or otherwise suspect you have a rodent trying to make your home theirs, it is important to contact the Long Island pest control pros at Parkway Pest Services right away! Our technicians are all graduates of the New York Rodent Control Academy so you can trust that your home and family will be in good hands when it comes to getting rid of mice and rodents in your home.
Parkway Pest Services provides professional rodent control services and many other pest solutions to homes and businesses in New York including Long Island, Westchester County, and Brooklyn as well as throughout our New York service area and Fairfield County, Connecticut.