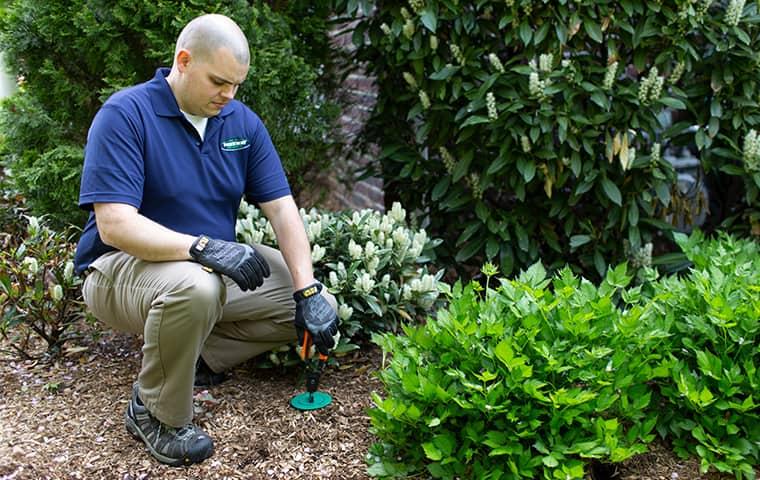 Keeping wood-eating insects out of our homes and businesses used to be quite a task, but we've come a long way. Boy have we come a long way. Pest control companies now have access to a tool that directly targets subterranean termites with zero impact on the environment. It is called the Sentricon® System with Always Active™. If you haven't heard, Sentricon® with Always Active™ is the only termite control product that has earned the Presidential Green Chemistry Challenge Award. It has over 15 years of real-world success behind it and has been the subject of over 30 independent university studies, with more than 70 scientific papers written about it. Let's take a look at how--and why--Sentricon® with Always Active™ works.
Subterranean termites come up from the ground looking for food. When they do, they can feed on a man-made structure for years without ever being detected. And, since subterranean termites are responsible for the vast majority of all damage done by termites in the United States, any effective termite solution must be a ground solution.
Sentricon® with Always Active™ is made up of a network of bait stations that are planted in the ground around the perimeter of a structure. These are discreet and protected units. You won't have to worry about having an eyesore in your yard, and you also won't have to worry about your pets or your children getting into them. They will only be accessed by invading termites and by your pest control technician.
What if termites don't find these bait stations? The team that developed Sentricon studied termite worker behavior and discovered that workers do not focus on only one food source, in the way that ants do. Many termite workers continue to search for more food while a current food source is being consumed. This guarantees that they will find the bait. When they do, something magical happens.
Worker termites don't carry food back to their colony. They consume the food (which is the wood of your home) and bring it back to share with other termites through a process called trophallaxis. In simple terms, they share their fluids with other termites. When they do, they spread the poison from the bait. And this poison is scientifically designed to work slow enough for it to work its way all the way to the queen. When the queen dies, the colony dies with her. It is just that simple.
If you live in our New York service area, reach out to us. We would love to answer any other questions you have or schedule service for your property. Termite damage is preventable. Let our certified pest specialists help you get your protection in place today.