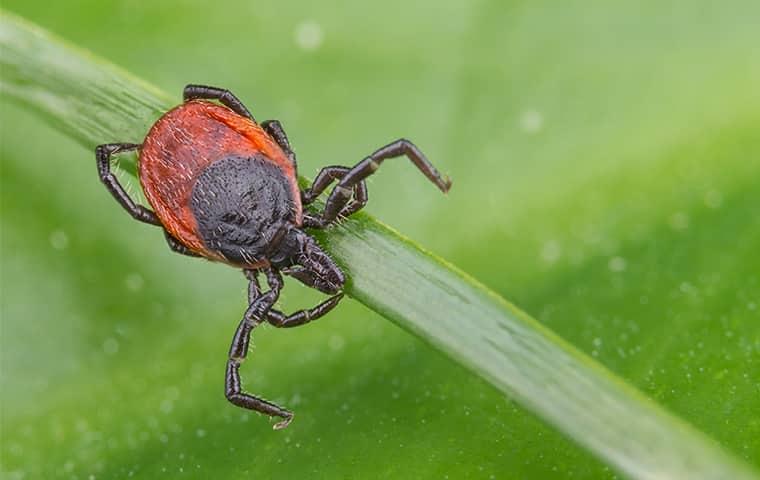 The black-legged tick, also known as the deer tick, is very common in New York and is known for transmitting Lyme disease to both humans and pets through their bite. Other tick-borne diseases are also a concern for our area, including Rocky Mountain spotted fever and ehrlichiosis – making tick control a necessary measure if you intend to enjoy time in your yard.
Ticks spend much of their time in landscaping that is the perfect height for them to drop out of a branch and onto the backs of passing animals. You're most likely to see and come in contact with ticks when walking on the areas where your manicured lawn meets the wood line, or when walking through the woods on paths where the bushes and tree limbs reach over the pathways. Wildlife, including birds, along with domestic pets that roam freely around your property can move ticks from one location to another in your yard and contribute to the tick problem.
Take Precautionary Measures to Prevent Ticks
In addition to enlisting our professional tick control solutions, you should take the following precautionary measures to help reduce your risks for ticks and tick-borne diseases:
Wear long pants and long-sleeved shirts if spending time in the woods.

Use flea and tick control treatments for your pets – they can bring ticks into the home.

Consider using tick spray on your clothing and any exposed skin whenever spending time outdoors, it helps discourage ticks from choosing you as their next meal.

Keep your lawn mowed and remove bushes and landscaping that falls over walkways or paths.

Keep children's play areas away from the wood line and do not grill, set up picnic areas, or playgrounds under trees or tall bushes.

Do a thorough check for ticks on your body and clothing every time you come in from outdoors.
NY and CT Tick Control Solutions
In our service area, tick control consists of a thorough inspection of your property to identify likely tick breeding grounds, a customized treatment plan to determine the best method of controlling ticks, and multiple visits by our professional technicians to spray the yard and keep ticks at bay. Visits will take place during "tick season", which is generally during the spring, summer, and into the fall months for New York and Connecticut residents.
If you're ready to enjoy time in your yard without the fear of ticks, give us a call to find out more about our tick control solutions.