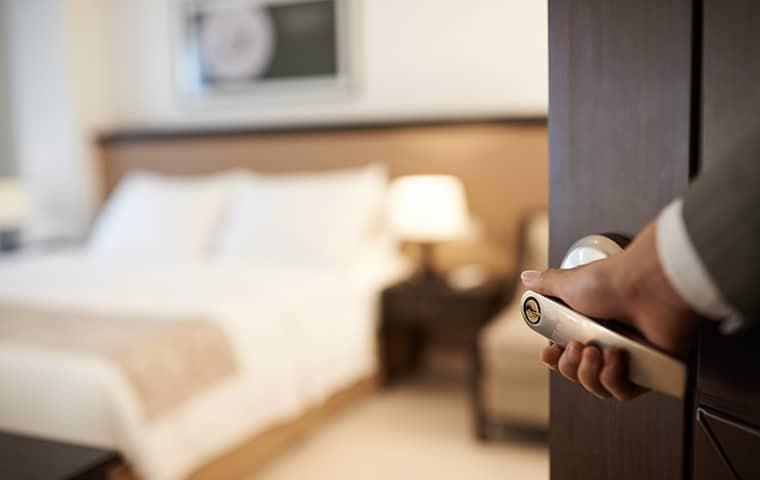 When traveling over the holidays and throughout the year people often make lists of items to bring, but one item that usually isn't at the top of the list (though it should be) is a flashlight. Having a flashlight handy is key to help make sure the hotel room you are staying in is free from bed bugs. Bed bugs being found in hotels have made a comeback after a 50-year dormancy; this is partially due to the frequency and amount of travelling that people are currently doing. In order to make sure that bed bugs do not make their way back home with you, you should always inspect your hotel room for bed bugs before settling in for your stay. Bed bugs do not discriminate and can be found just as easily in an upscale hotel as they can be in a budget motel.
Before bringing your bags into your hotel room, enter the room and look for any signs of bed bug activity; this may not be the way you wanted to start your vacation, but it is the best way to make sure you and your family avoid bed bug bites and that your luggage will not be infested with bed bugs. Check your sheets and linens for bed bug excrement; it will look like rust colored flecks of dried blood. Also check your mattress for adult bed bugs (they are very similar in size and shape to an apple seed); they will hide around the mattress buttons and in the seams. You will also need to look at the headboards and behind picture frames and in the curtain folds, these areas are where your flashlight becomes especially handy. If you find any signs of bed bugs request a different room that is not adjacent to the infested one, bed bugs can easily travel through walls to the rooms next door.
Even if you have taken all of the precautions bed bugs may still be able to make their way home with you, even if it is only one or two they will quickly reproduce and cause a major infestation in your home. Always check your luggage and bags for bed bugs, make sure that all clothing brought on the trip is immediately washed and dried. If you do find that bed bugs have accidentally been introduced into your home after a trip the fastest most effective way to eliminate them is with Long Island pest control from Parkway Pest Services.
At Parkway Pest Services we use several different yet proven methods to quickly exterminate these pests from your home. Our k-9 bed bug inspections locate even the most difficult to find sources of bed bugs. We also use steam and conventional bed bug treatments, along with mattress and box spring encasements to achieve complete bed bug extermination. Parkway offers year round control and monitoring programs for bed bugs to make sure that your current infestation in taken care of and prevent future ones from happening.