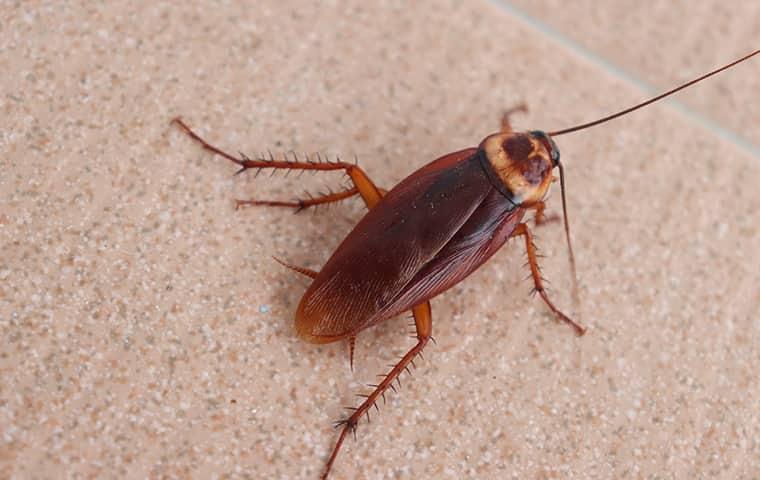 Once upon a time, a woman got out of bed at 2:00 a.m., shuffled into her kitchen to get a snack, and felt around on the wall for the light switch. Once she flicked the switch, light flooded the kitchen. Then, gasping, she watched in horror as three large cockroaches raced across the counter and disappeared into a crack. Totally freaked out, she scurried back into her bedroom and shut the door. The next morning, on her way to work, the woman stopped at the hardware store and bought a can of roach spray.
Now, we can completely understand why people do this, especially if they haven't had to deal with roaches before. Roaches certainly are filthy creatures that have the potential to spread all sorts of diseases. A quick search on the internet will show you that cockroaches have been involved in the spread of 33 kinds of bacteria, including salmonella and E. coli species, six parasitic worms, and more than 7 other types of human pathogens. E. coli and salmonella are both causes of food poisoning with symptoms such as severe stomach cramps and diarrhea, nausea and vomiting. No one wants to deal with this sort of thing.
So the woman in our story will spray all the cracks and baseboards in her kitchen. She might even try catching the roaches off guard by flicking on the lights and spraying them directly, but the truth is, she could do this every day for months and never get rid of her roach problem because for every roach killed in the kitchen, there are probably hundreds more living inside her walls. And they multiply like crazy, making rabbits, and even fruit flies, look like amateurs.
There is also the issue of safety to think about. Roach sprays can be used safely if the directions are carefully followed, but there is always a danger of kids or pets being exposed and possibly being harmed.
The Effective Solution:
If you want to be absolutely sure that you are free from roaches, you are going to want to call a professional pest control company. Our certified exterminators know how to safely find roaches; kill roaches; clean up areas that are infected with urine, feces, and decaying roach parts; and seal up a home so that more roaches don't come in. They will also give you tips on how to make your home less attractive to all types of pests.
After ridding your home of roaches, our pest-control experts will use the right mixture of products in just the right places to keep roaches, and other pests, from re-entering your home. Because the truth is, it is harder to get roaches out of a home than it is to keep them out of a home. So if you have seen roaches in your kitchen, or, if you never want to see roaches in your kitchen, give the professionals at Parkway Pest Services a call. We'll make sure your home is roach free, and that it stays that way. Guaranteed!