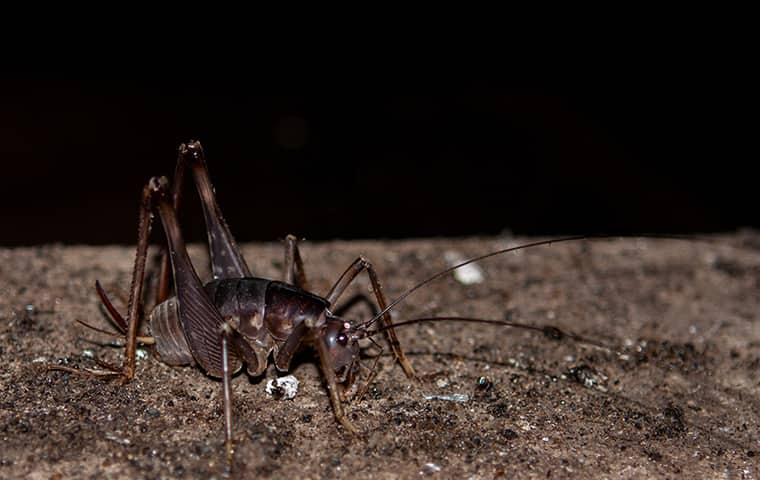 Have you ever heard of cave crickets? Well, cave crickets are not your average cricket! These crickets enjoy moist areas in and around your New York home. They can be quite the nuisance when part of their diet consists of different types of fabric and plants. Though you might not hear them coming you will be able to see a trail of damage they leave behind. Outside they can destroy your gardens, chew on lawn furniture and even laundry hanging on the clothes line. If these insects make it inside your home you can imagine all the fabric they will find to munch on there.
In the spring time cave crickets are laying their eggs and getting ready for them to hatch in just a few weeks. Spring also happens to be the time of year the majority of people start mulching and watering their gardens on a regular basis. This creates a perfect environment for these crickets to lay their eggs and thrive. Cave crickets really enjoy the moist setting and all of the fresh new plant life to munch on. Though these crickets finding a home in your garden may seem inevitable with spring planting happening, there are a few steps you can take to try and keep them away from your New York home and garden.
Keep weeds and grass mowed near you home and garden.

Try to have any mulch or moister retaining garden supplies away from your home.

Have your wood piles located away from your home and garden.

Have your windows and doors fitted with tight screens.

Seal any entry way with weather stripping.

Have proper venting in attics and basements to stop moisture.

Store boxes properly in basements so they do not get moist.

If there are not many of them you can vacuum them up or use sticky bug traps.
If you find yourself with a large camel cricket infestation you are going to want to call your local Westchester county pest control agents to resolve the problem quickly and efficiently. Click here to learn more about quality pest control that combats many pests, including camel crickets!