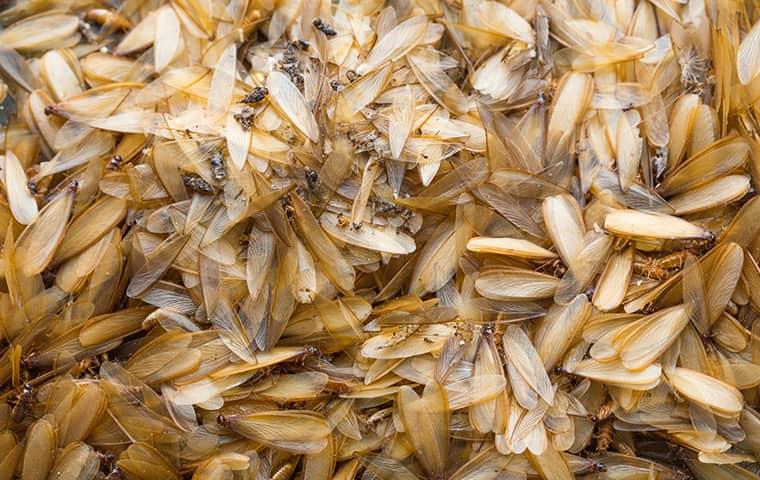 It's almost spring and for a lot of homes in Long Island, that means it's time to get geared up for warmer weather, sunshine and brighter days! It can also mean that Long Island homeowners need to be on the lookout for spring pest problems, one of which is termites. These wood destroying insects crawl out of the ground (or from the woodwork inside your home) in the spring and the newly hatched reproductives do their annual mating dance, the "swarm". Here's what you need to know about termites in Long Island and some information on what you should do if you are witness to a termite swarm.
The termites you see in Long Island and throughout New York and Connecticut for that matter are Eastern subterranean termites. They are very small, approximately 1/8 to 1/4 of an inch long and white in color. Termites feed on cellulose materials including paper, soil and wood. They are very social, with colonies that house thousands to millions of termites.
Termite colonies may be located a distance from your property up to 300 feet, located underground. They will build mud tunnels or tubes to travel safely into your home so that they can devour the wood in your structure. You may have a crack in your foundation that is allowing these pests inside, or a small gap in the exterior of your structure.
Seeing a swarm of termites outside of your home should be enough to have you call a New York exterminator. If you should actually witness one inside your home, try not to panic. It may not be easy, especially when the swarm is so thick that the light from the windows is partially blocked out by the sheer number of these frenzied flyers. But if you see one inside your home, you know you definitely have a termite problem! If you weren't present for the swarm, you'll know it occurred if you see many frail termite wings littered around your home or property, as sometimes the reproductives (or swarming termites) lose their wings during the excitement of the swarm. The point of the swarm is for future king and queen termites to mate and move away to start new colonies together. If you have swarming termites inside or around your property, you know there is already a termite colony present and possible new ones starting all around you.
If you should see a termite swarm, or see evidence of one, ACT FAST. You'll want to get a Long Island termite exterminator to your property immediately so that they can perform a termite inspection and if termites or evidence of these wood-destroying pests are present, provide you with your termite control options which may include the installation of the Sentricon® Termite Colony Elimination System or possibly a more conventional termite treatment. At Parkway Pest Services, we also offer protection from termites as well as household pests like mice and ants with our PestGuard+, a comprehensive home pest control program. Contact Parkway Pest Services for pest and termite control in Nassau County, Westchester County, and Fairfield County, CT as well as throughout our service area for more information on our pest control services.