Dealing with termites in Nassau County can be an overwhelming process if you're not sure where to start or the best way to identify and control this pest. Fortunately, pest control in Nassau County can aid you in understanding how to get rid of termites and provide you with expert termite removal.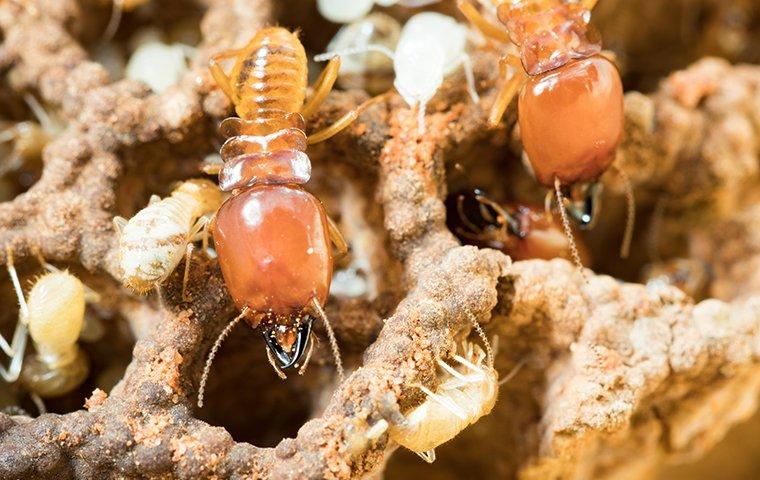 What Termites Look Like In Nassau County
In Nassau County, there is one primary type of termite that you can commonly encounter in your home – the eastern subterranean termite. Like most other termites, this pest doesn't grow more than a quarter of an inch long and tends to be off-white to tannish in color. The eastern subterranean termite loves to feed on damaged or damp wood and typically have their colonies outside before creating mud tubes and invading the internal wooden structures of your home.
Termite identification is essential for your property, as knowing the species of pest you are up against is crucial to proper termite control. If you have trouble identifying the termite species invading your property, reach out to Parkway Pest Services for more help.
Termites Can Cause Structural Damage
The biggest problem with termites invading your Nassau County home is the amount of destruction this pest can cause. Often, termites will start tunneling in the internal wooden structures of your property without you noticing; this is something that can cause a significant amount of damage and costly repairs once you see the problem. Additionally, termites can cause structural damage that may risk structural collapse if the problem is left untreated.
Looking out for the signs below of damage can help you catch a termite problem before it goes any further:
Termite frass (this appears like small wood shavings) along baseboards, near windowsills, and around doorjambs
Tight-fitting doors and windows, sinking floors, peeling paint, and hollow-sounding walls
Wood that appears damp or damaged and breaks easily if touched
Mud tubes that cross from outside soil into your home or are found on wooden structures in your home
Do-It-Yourself (DIY) Treatments Don't Work
When it comes to termite removal, DIY treatments that you may purchase for your Nassau County home are unlikely to work. This is because DIY termite treatments never target the root cause of a termite problem. They may reduce numbers and decrease the overall appearance of an infestation. Still, they are unlikely to eliminate the termites that have tunneled far into your home and are only at the reach of a professional.
Plus, DIY treatments can be expensive, especially if you end up buying one after another to try and find one that works. It's better to skip the home remedies altogether and contact the professionals at Parkway Pest Services if you want termite treatment that is sure to work.
The Best Way To Get Rid Of Termites
If you want to know how to get rid of termites on your property permanently, you should be reaching out to the best termite control company for your Nassau County home – Parkway Pest Services. Our experts will diagnose the size and severity of a termite problem and will then use this information to develop effective, targeted treatment plans. These solutions will ensure total termite removal and allow you to claim your property back from this damage-causing pest.
Contact Parkway Pest Services today for more termite control advice or assistance.