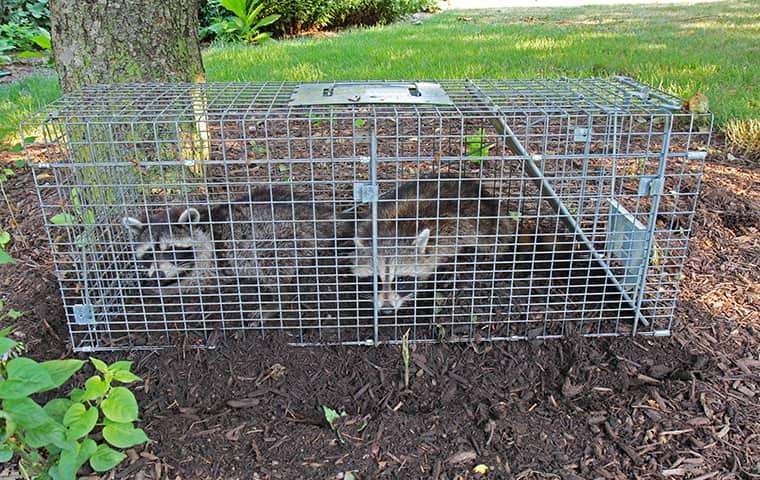 Raccoons can be very damaging visitors to your property. They can cause a large amount of damage in a short period of time. Their very presence can be threatening to your family, to your friends and to your beloved family pets. What can you do to keep them out? Here are some helpful raccoon prevention tips from the pest control pros at Parkway Pest Services.
There are four basic rules for controlling raccoon damage. These include:
Remove food supply.

Don't leave food around that may attract raccoons and other wild animals. Pet food can attract raccoons, as well as full garbage cans without lids or with loosely fitting lids. Try not to feed your pets outdoors and always make sure your trash can has a tight fitting lid. If you have fruit or vegetable plants in your yard, clean up fallen fruits and veggies daily.

Remove water supply.

Again, move pet bowls inside; you can also make sure to empty out any receptacles that are collecting rainwater. Check to make sure that ditches are not clogged so that water runoff can run freely through it. Make sure outdoor taps are not leaky and there are no other sources of water available for wildlife on your property.

Modify habitat and reduce access.

Fix areas around your home that may allow for raccoons to enter. Make sure that areas under decking or crawlspaces are protected and that there are no holes where wildlife can easily enter.

Trap or use lethal control responsibly.

This is where you need to call in Parkway and our team of wildlife control professionals. Our services include animal trapping and control, wildlife exclusion, and animal damage repair. We are trained professionals and can get wildlife pests out of your home and off your property with ease. Don't risk your health and safety by trying to do the job alone, contact Parkway Pest Services today. We're ready to assist you in removing raccoons and other pests from your property.
If you have damaging wildlife living on your property or you've started to notice these animals hanging around more often, give us a call. We specialize in the removal and exclusion of nuisance and damaging wildlife in Brooklyn as well as all boroughs, Long island and New York. We also offer wildlife removal in Fairfield County, Connecticut. Providing service since 1932, you can trust the pros at Parkway to eliminate your wildlife problem today!