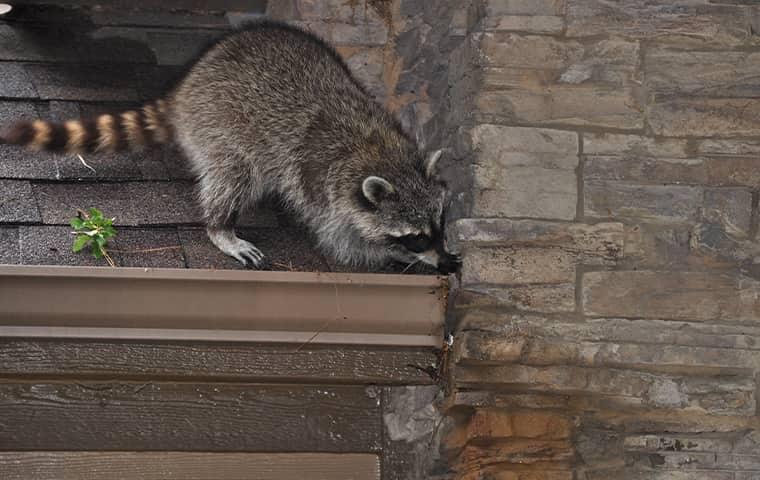 The Bandit, as the wild raccoon is often called, is a very misleading animal. The cute face is appealing to everyone from that cuddly stuffed animal to the live, playful baby raccoon. But as with all wildlife, that baby raccoon grows up to be a destructive, aggressive wild animal. For this reason, it is important that you not put food or household trash cans outside and uncovered, as this is a sure way to attract the raccoon to your home.
Crawl spaces under your house, basements, and attics are all attractive habitat for the raccoon to choose to live and give birth to her baby raccoons throughout New York. Our certified wildlife experts at Parkway Pest Services are trained with the newest, safest, and most effective methods of wildlife control. One of the many services we offer is raccoon removal in Westchester, Long Island, Five Boroughs, and Connecticut.
There are many dangers that you, your domestic pets, and even the structure of your home are exposed to when 'The Raccoon Family' takes up residence and begins living in your attic. The raccoon will not only rip into your trash and scatter it across your lawn, but can be very destructive to the structural components of your home. Once they gain access into your attic, crawlspace, or basement, they can chew into the framework of your home, pull down your insulation, and even chew through wiring, causing electrical problems and the potential of a fire. Need further evidence? While we do not endorse Allstate Insurance, we do think their raccoon mayhem video is a great way to show how destructive raccoons can be in the attic!
Once the raccoon takes residence in your attic or any other area of your property, it is extremely difficult to remove them. An adult raccoon with a litter of baby raccoons becomes very aggressive and threatening. Put your mind at ease and call Parkway Pest Services today. Our highly trained specialists will quickly come to your aid in the removal and exclusion of this destructive New York wildlife. Our intention is for total raccoon prevention.