How bad are cockroaches? Are they really as bad as you've heard? Our answer is likely to surprise you. Roaches are probably not quite as bad as you've heard. But there are health risks associated with having these unsanitary insects in your home. Join us as we look at all the cockroach facts you'll ever need to know. In this simple guide, you'll learn how to identify common roaches in Nassau County, and how you can use roach control to reduce the health risks associated with these pests. And we'll answer the big question, "What is the best way to get rid of cockroaches?"
As always, we want to remind you that your Parkway Pest Services team is here to help you. We offer advanced, science-based solutions for pest control in Nassau County. We're happy to provide advice and guidance to aid you in finding the options that work best for you, your family, and your lifestyle. Connect with us by phone, text, or email.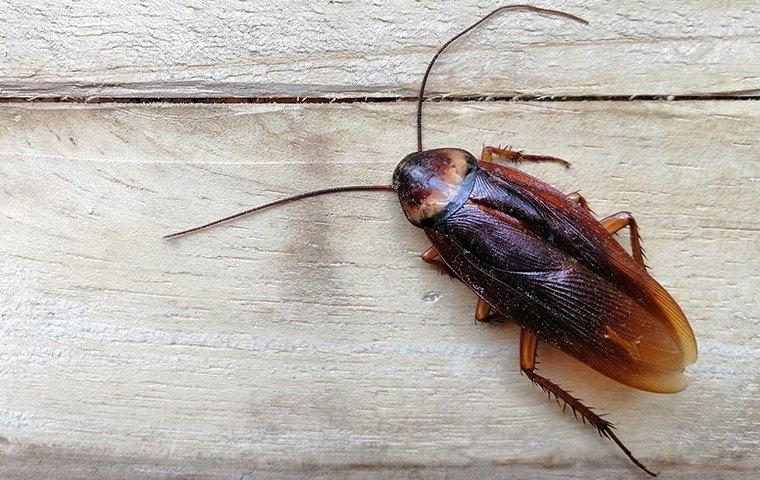 Physical Characteristics Of Roaches: How To Identify Them
If you've been living under a rock (which is where cockroaches like to live), you may wonder, "What's a cockroach look like?" The first step is defining the general characteristics that all cockroaches share. Roaches come in many sizes, colors, and designs, but all roaches have the following:
Six legs

Spines on the legs

Long antennae

Two tiny cerci on the abdomen

Three body parts
In our Nassau County service area, we have four common cockroach pests. It is helpful to know them by name as they each are a bit different.
German Cockroaches: Widely accepted as the worst roaches in the world, German cockroaches are tan with a black marking that looks a bit like an equal sign. It develops this marking after it has grown wings on its back. Nymphs (which are wingless) may appear black or have black sides with a tan stripe down the center. These roaches are not easily controlled and will almost definitely require professional pest control.
American Cockroaches: If you see a large cockroach in your kitchen, you're looking at one of these pests. They are the largest roaches that get into Nassau County homes. If their large size isn't enough to help you identify them, they are a chestnut coloration with a yellow mark on the back just above the wings. The nymphs don't have wings and appear as tiny brownish-red, fast-moving insects. Moisture control and exclusion work may work to keep these roaches out of your home.
Oriental Cockroaches: These cockroaches don't have functioning wings. The wings of a male oriental cockroach are only ¾ the length of the body and don't hang past the abdomen as the wings of most other cockroach species. The females appear wingless if you don't look closely because their wings are small and blend in with their bodies. You can also differentiate these roaches by their color. They are entirely black in most lighting conditions but are actually very dark reddish brown. Sanitation is the key factor when dealing with these roaches. They are strongly attracted to unsanitary habitats.
Wood Cockroaches: These are the only cockroaches presented here that actively move about in the daytime, and out in the open. If you have wood roaches, you'll find them hanging out near wood sources in your yard and around light fixtures. They're drawn to the light. No description is needed as all the others will hide from view. Exclusion work is all you'll need for wood roaches.
Now that you know the players, let's look at what you can expect from cockroaches on your property and in your home. Don't worry, we don't get into the gross details. We'll just give you an overview and show how cockroach prevention can help limit health concerns.
Health Risks Of Roaches: The Dangers Of Cockroach Infestations
There are two primary issues with cockroaches that should make you want to keep them out of your home. We're sure you are aware of both. Cockroaches climb in dirty places and are actually attracted to these places by the aroma of decaying organic matter, and as they climb around in your home, they will leave fecal matter.
In most cases, cockroaches only present a risk of stomach illness. You can reduce this risk by applying cockroach management methods.
Keep your home clean.

Remove trash from your home frequently.

Keep trash receptacles clean.

Store trash in containers that seal completely.

Thoroughly clean your bathroom and keep it clean.

Store your food in sealed plastic or glass containers.

Clean mops and buckets and store them in your garage or storage locker.
Along with stomach ailments, cockroaches leave allergens in homes. These can aggravate asthma symptoms and increase the risk of hospitalizations, according to recent studies. Once again, sanitation can help reduce the risk, but it requires thorough cleanings, including the removal of debris from ventilation ducts.
It is best to keep these unsanitary insects out of your home. How do you get rid of cockroaches? Our recommendation is to contact a licensed pest control service provider. Let's take a look at how a pest expert addresses roach problems.
Professional Roach Extermination: Call The Experts Right Away
There are many reasons to contact a professional to address the cockroaches in your home. Some of the reasons may surprise you. Let's quickly look at the pitfalls you may face when dealing with cockroaches on your own.
There are many products sold to consumers for roach control that are extremely harmful when applied incorrectly—far more harmful than the roaches themselves.

There are many products that work to control cockroaches but fail when misapplied. Addressing a cockroach infestation can turn into a long and horrible ordeal.

Cockroaches are adaptive insects. They can create exoskeletons that provide better protection from harmful materials in their habitat. They can learn to avoid foods that harm them and often develop bait aversion when baits are misapplied. Your DIY efforts may ultimately increase the cost of professional control as you may make the roaches in your home harder to control.

DIY cockroach control is often incomplete. It isn't enough to eliminate roaches. You need to track activity, clean contaminated areas, apply exclusions to keep additional roaches out, and more. If your control is incomplete, cockroaches will continue to plague you.

Cockroaches don't just make you sick, they can also damage your property. They eat cellulose, like a carpet beetle or silverfish, which means that they can put holes in your belongings or eat away at wallpaper and books.
If you find a cockroach in your house, contact a professional for a multi-pronged cockroach treatment plan. A properly trained technician will inspect your home, track the roaches, identify the species, select appropriate control products, apply all materials appropriately, monitor the success of the treatment, and ensure that no cockroaches remain in your home. For cockroach control in Nassau County, contact Parkway Pest Services.
Effective Ways To Keep Roaches Out: Essential Prevention Measures
Once the cockroaches are gone, what's next? You could continue on with professional service as there are many pests that can cause trouble on your property and in your home. Roaches are only one of them. Why not get the protection you've always needed? But, if you want to deal with your pest pressures on your own, we have some suggestions that can help. These suggestions don't require any training in pest control or applications of consumer pest control materials that could make you sick or worsen your pest problems.
Use expanding foam to fill in holes and seal gaps in your exterior. Get gaps around pipes and wire conduits and between wood timbers. Make sure to also fill in voids behind joists.

Do some home maintenance. When you weather-proof your home, you're also cockroach-proofing it. Seal doors and windows tight. Along with weather-proofing, make sure that all of your screens are free of holes and rips.

Remove the smells that attract cockroaches. One of the best ways to do this is to store bagged trash in covered containers and routinely wash your containers with soapy water and disinfectant.

Stay on top of yard work. Cockroaches love to hide under leaves and other organic debris because they trap moisture and offer protection from the sun.

If you have a dog, it is essential to pick up their waste. Cockroaches eat fecal matter.

Clip and trim your landscaping. Remove grass that creeps in. Get rid of weeds and other issues that can cause your vegetation to trap moisture and make your landscaping inviting to cockroaches.

Remove piles of stones or wood in your yard. Roaches get into the tight spaces between wood and stone and are particularly attracted to natural materials.

Store objects away from your exterior, such as lawn equipment. Cockroaches hide underneath any objects that shield the sun.
Diligence and hard work can keep cockroaches from getting into your home, and they don't come with the pitfall of making you sick. When control products are needed, contact Parkway Pest Services for the appropriate application of professional-grade, EPA-approved materials, as well as many all-natural control products. We'll provide you with the right service for your Nassau County home.