What works? What doesn't? These are the questions we typically get regarding bed bug infestations in Long Island. Most New Yorkers have heard about bed bugs or experienced them firsthand, but as common as they are, they are a mystery in many ways. What do we mean? Let's take a look at common misunderstandings about bed bugs. We'll cover how to identify bed bugs, why infestations always get worse, and how these pests spread. Along the way, and also at the end, we'll tell you how to get rid of bed bugs. If you'd prefer to have an experienced technician find those bugs and apply tested methods to eliminate them, remember that Parkway Pest Services is always available to assist you with industry-leading pest control in Long Island.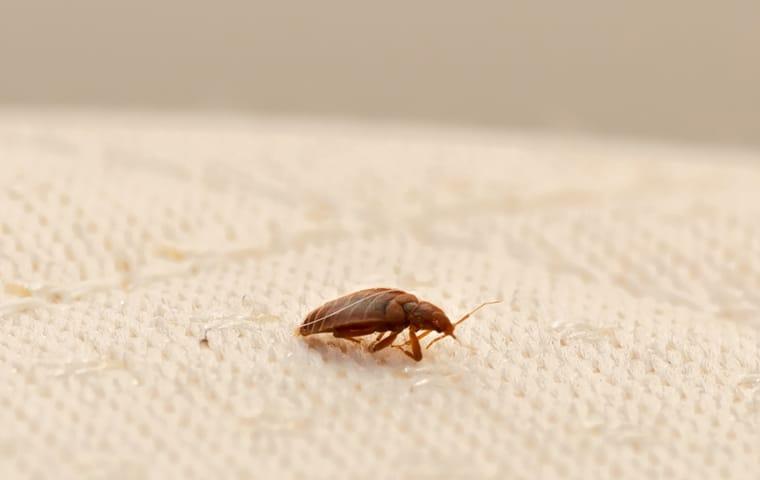 Bed Bugs Can Be Hard To Identify
If someone were to ask you, "What does a bed bug look like?" would you say it is reddish brown and looks like an apple seed? If so, you're right. It does look like an apple seed—if apple seeds had legs. But bed bugs in Long Island don't always look like this. They pass through five instars before becoming adult bed bugs. You may find an insect in your home that doesn't look anything like a bed bug if you can only identify the appearance of the adults. Here are a few simple facts to help you out.
When bed bugs hatch, they are about 1mm long and white.

When a newly hatched bed bug bites your skin and draws blood, it looks like a red insect because you can see your blood inside its abdomen.

When a bed bug digests a blood meal, black fecal matter is visible inside the insect.

As a bed bug grows, it turns tan and has red or black coloration in the abdomen depending on how long ago it fed.

Developing bed bugs are called nymphs.

A nymph is between 1 to 4.5 millimeters in length.

All bed bugs have a flat profile if they have not had a blood meal.

After a blood meal, a bed bug will look fat and rounded.
Do you see how it is sometimes hard to identify bed bugs? But it gets worse. Bed bugs are also hard to find, so you may not see one to identify it. You need to know how to find bed bugs if you hope to have the chance to identify one. Bed bugs hide in dark cavities and tight spaces. You'll want to check more than your bed. They hide in other furniture, electronics, and luggage. They hide in wall outlets and wall voids. They tuck themselves behind baseboards and crown molding or underneath carpets. A surprisingly common place to find them is underneath the feet of beds and other furniture.
When you uncover a bed bug infestation, what is the next step? What is the best bed bug control for your home? The answer to this requires a little more background information.
A Bed Bug Infestation Only Gets Worse With Time
There are two reasons a bed bug infestation will always get worse. If you understand these two reasons, you'll have the perspective you need to take the right steps to control these pests. The first reason has to do with bed bugs.
Bed bugs feed on blood and have a preference for human blood. They are unable to find their preferred food source outdoors.

Bed bugs are not equipped to move through hair or fur and have trouble feeding on animals when there is no other option, which is another reason they don't want to live outdoors.

Bed bugs are hard to find and topical products don't work to eliminate them.

Bed bugs have defensive behavior patterns that help them avoid danger, which makes traps fail to get all of these bugs.

Bed bugs are incredibly adaptable. Their DNA is designed to change to provide them protection against harmful materials.
The second reason a bed bug infestation will always get worse is connected to bed bug control methods. If you go to internet influencers for advice on bed bugs, they'll likely steer you toward solutions that just don't work. They don't do this on purpose, at least we hope not. Bed bugs are tricky and sneaky. It is possible to think you've eliminated them when you actually haven't. It is also possible to keep getting infested if you don't know how bed bugs spread.
How Bed Bug Infestations Spread
We're sure you know that you can get bed bugs when you stay the night in a motel or hotel. If this is all you know, you'll have trouble keeping bed bugs out of your home. You'll also have trouble if you think you can only get bed bugs from a dirty, run-down motel or hotel. Bed bugs don't choose where they live. When they find themselves in a clean and well-run establishment, they make the best of it. Here are a few facts about how bed bug infestations spread. Let's begin in the home of someone who has bed bugs.
Bed bugs come out to feed and go back into hiding. They prefer to feed at night, but may also feed during the day.

Bed bugs often hide in objects that are movable. When an object is moved, the bed bugs go with it.

Bed bugs in the pocket of a shirt or pair of pants will easily move from one location to another.

Bed bugs may move from one site to another by getting into mattresses, box springs, bed frames, alarm clocks, computers, upholstered furniture, hardwood furniture, pianos, unused guitars, luggage, duffel bags, pocket books, and more.

Bed bugs may emerge from a transportable item in a variety of environments. They may come out at someone's workplace, a movie theater, a friend's house, a daycare, an assisted living center, and a long list of other locations.

If bed bugs emerge from hiding and find a blood meal, they may survive. If so, they'll attempt to grow a population.

Bed bugs have an aversion to light and will do better in dark spaces if they must feed during the day.

A cluttered space will provide a helpful environment for bed bugs to hide and move about when the lights are on.

When an infestation grows, these pests get into wall voids and pass from one room to another, or from one apartment to another.
Bed bugs are found in homes and businesses. When they're found, there are a few ways you may apply natural pest control for bed bugs. You can put items in a dryer for thirty minutes. Heat destroys bed bugs in all stages of development. If you can't put an item in your dryer, you may put it in the freezer. It takes longer for cold to kill bed bugs. Keep the item in the freezer for four days. If you find bed bugs huddled together in a hiding place, suck them up with your vacuum and dispose of the bag outside. There is a slim chance that doing so will stop an infestation. Bed bugs tend to hide in one place at first, and they work together to grow a population large enough to spread to other locations. When they've already spread, it is time to call local pest control for bed bugs.
The Best Way To Completely Get Rid Of Bed Bugs
A licensed pest control technician uses methods, products, and materials that are known to successfully eliminate bed bugs. All of these are applied according to strategies developed by industry experts. When you contact Parkway Pest Services, here are a few ways we will address your infestation.
We use K-9 Bed Bug Inspectors to locate bed bugs. The reasons are many. Dogs can smell bed bugs and use their noses almost like x-ray vision. They move quickly through environments. They are incredibly accurate—and they're adorable. Although that last one doesn't relate to bed bug control. It's just true.

We often suggest the application of mattress and box spring encasements. These work to keep bed bugs out, and also will trap them in. In both cases, your mattresses and box springs will no longer complicate the task of bed bug removal.

We use steam to eliminate bed bugs hiding in mattresses, box springs, couch cushions, and under carpets. It is an all-natural method that works well.

We apply trusted control materials for many purposes, not the least of which is preventing bed bugs from escaping into walls during treatment.

We offer year-round monitoring if you need it. Some environments are critical and no bed bugs are tolerated.

We offer advice to help you prevent bed bugs in your specific situation and environment.
There is no better way to get rid of bed bugs and keep them out of your home or business than to contact Parkway Pest Services for assistance. Our highly trained and experienced bed bug control technicians are here to walk you through the process and help you get the results you want.