Expert Pest Removal In Laurel Hollow, NY
Situated on scenic Oyster Bay, the small village of Laurel Hollow has an active year-round community, while also being a summertime destination for those seeking a bit of quiet. And with its easy accessibility, either by car or ferry, Laurel Hollow is also a quick trip into Manhattan or parts north. The area sees a steady change of season four times a year, with an increase in humidity during the summertime. Though these make for good conditions for humans, they also make for good conditions for pests.
Since 1932, Parkway Pest Services has been the example for excellence in area pest control. We're proud to be in our third generation of family ownership and operation, providing Long Island businesses and homeowners alike with quality pest control they can trust. We are a full-service company, meaning there's no pest we can't handle. Whether your problem is termites, wildlife, ants, or more, if you have a pest problem, we can solve it. Contact us today for your free estimate and keep your property pest-free!
Home Pest Control In Laurel Hollow, NY
As a family-owned business, we believe in treating all of our clients as if they were our own, with honesty, fairness, and services they can count on. We also believe that pests have no business invading your home and it's our job to ensure that they don't. During the initial inspection, our certified technicians work to holistically understand the scope of your pest problems, whether you're in the middle of an active infestation or are looking to prevent one. From there, we work with you to develop a treatment plan that fits your unique needs. Utilizing Integrated Pest Management (IPM) methods, our certified green treatments are geared to yield you sustainable results while keeping you safe in the process.
Contact Parkway Pest Services today to keep your home free from pests 365 days a year.
Reasons For Being Mindful Of Termites Throughout The Year In Laurel Hollow
Though tiny in size, termites will chew through the wood in your property 24/7 if you let them. Every year, termites cost American homeowners approximately $5 billion in damages. Of that, the average homeowner spends upwards of $3,000 rebuilding and rectifying. But how do termites cause so much damage? In addition to their incessant chewing habits, termites also work in areas that most humans don't or can't go, which means that their damage and colony growth typically go unnoticed.
While the negative impact that termites can have on your property is significant, they can also wreak havoc on your health, irritating allergies both with their byproducts and the wood matter that they scatter around your Laurel Hollow house while working. Prevention is key when it comes to termites. Before you have a problem, contact the professionals at Parkway Pest Services and keep your home free from termites with our termite control.
Laurel Hollow Pest Control Pros On How To Stay Bed Bug-Free
Bed bugs are tiny pests that get a free ride into your home or place of business and wage a full-on war from that point. Bed bug infestations prove to be tedious and risky to manage, so here are a few tips on how to stay bed bug-free:
Thoroughly inspect any secondhand items before bringing them into your home. Since previously-owned items like furniture and appliances are one of the most common ways bed bugs make it inside your home, carefully look over anything that you might be tempted to bring home.

Travel safely. Another common way that bed bugs make their way into your property is after traveling. Something as simple as taking public transportation, staying in a hotel, or even going to see a movie can increase your exposure to bed bugs and the likelihood that you'll take them along for a ride.

Look for signs. If you are concerned about bed bugs, look for the signs early on. This may include rust-colored staining on your bed linens and mattress, awaking covered in welts, a musty odor, bed bugs themselves.

Professional help. Nothing tackles bed bugs more effectively than with help from the pros. Preventing bed bugs is a pain and so is dealing with an infestation. With professional assistance, you'll have all of the knowledge and high quality tools and treatments at your disposal.
For total protection against bed bugs, contact the team at Parkway Pest Services today and learn more about our bed bug control!
What Do Fleas Look Like In Laurel Hollow, NY?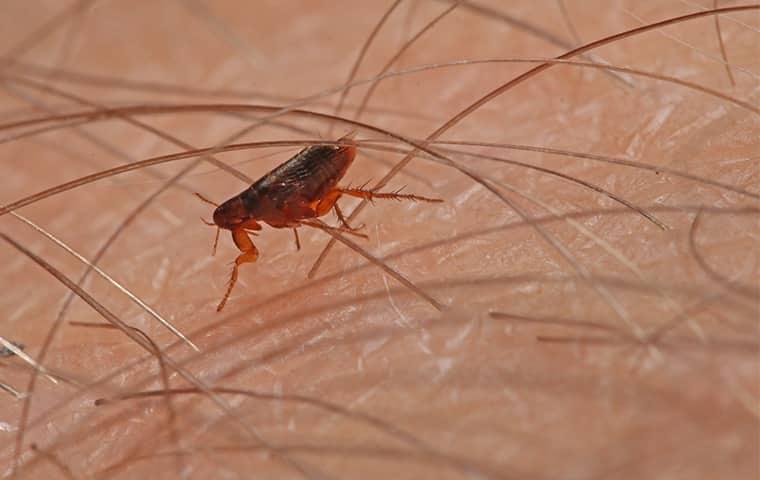 Similar to other parasitic pests like ticks, mites, and bed bugs, fleas seek to latch onto warm-blooded mammals, primarily your pets, and suck their blood dry. This is just as unpleasant as it sounds, and is also particularly dangerous for our four-legged friends. While fleas are hard to spot with the naked eye, there are a few standout characteristics that they possess:
Thin and narrow body

Dark brown to deep red in coloring

Wingless

Three sets of spindly legs
If you have pets, consider speaking with your veterinarian about year-round flea and tick prevention. And for the most thorough flea prevention for your property, contact the professionals at Parkway Pest Service today.