Ants are insects that live almost everywhere. From deserts to forests, to beaches to the middle of sidewalks, ants are successful and live and work together in large colonies. Unfortunately, they also thrive where we live, in our Long Island yards and homes.
Our indoor and outdoor spaces provide ants with everything they need. Because ants thrive when living near people, they are a constant pest threat. In the spring and summer, we regularly see them trailing through our yards, gardens, and walkways, and they often enter our homes while foraging for food.
But, it is important to understand that even when the temperatures cool, they are still a threat. Though it may seem like it, ants and the problems they cause don't disappear with the colder temperature of winter. Ants typically take cover in their underground nest but regularly move into our homes and establish indoor nesting sites.
When ants nest inside the walls of our homes, they remain active year-round. Our temperature-controlled structures allow these cold-blooded critters to stay active no matter the temperature outside, feeding, breeding, and expanding their colonies!
When it comes to ant control, it is essential to understand their behaviors and habitats. You can't just treat the ants you see; you need to work with a pest professional to get to the root of your ant problem. Professionals can identify the ants present and then find, treat, and eliminate all nesting sites in your yard and home.
To control the ants in and around your home, seek professional pest control in Long Island; reach out to us at Parkway Pest Services!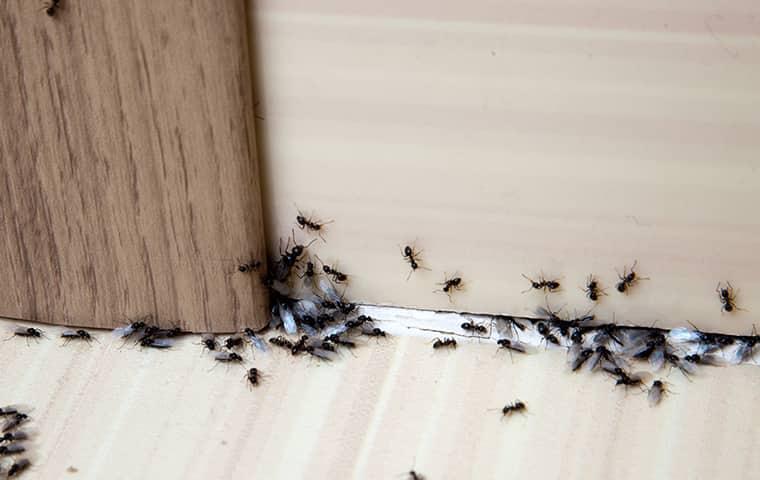 Habits And Behaviors Of Home-Invading Ants
Ants in Long Island are some of the most persistent and prevalent house-invading insects that call Long Island home. Learning what you can about the habits and behaviors of these small insects is essential to keeping them out of your house!
Let's first go over the different castes of ants that make up an ant colony. Ants are social insects and live together in large groups. Each colony divides its members into groups (castes). Each caste is tasked with responsibilities to help ensure the colony's success.
The three primary castes include drones, queens, and workers. We have put together a quick description of each.
Drones: Drones are male ants. The drone's most crucial task is reproduction. They mate with fertile female ants (queens), dying shortly after. Drones have wings. Once mature, they use their wings to fly from their nest to find a mate.
Queens: Queen ants are the head of the colony and, with some help from the drones, are responsible for producing healthy eggs to help expand their colony. A single queen can make millions of eggs in her lifetime. A colony may have one queen or several, depending on the species. Like drones, queens also have wings. After mating, they will lose their wings by chewing or breaking them off.
Workers: Worker ants make up the bulk of any colony. They are female ants that are unable to reproduce and have no wings. They perform many vital tasks and are primarily responsible for the colony's success. Worker ants gather food, maintain the nest, care for the young ants, and defend the nest.
The ants you are most likely to spot traveling across your property's sidewalks, walkways, decks, and the interior of your home are worker ants. The promise of food has likely attracted them to your Long Island property. Ants have an excellent sense of smell, and food odors from gardens, trash cans, compost, hummingbird feeders, and outdoor eating areas are too much for them to resist.
Once ants are comfortable foraging for food outside your home, it will only be a matter of time before these foraging insects find their way inside. Ants are small and can easily move in and out of our houses through gaps and cracks in your home's exterior. They will also use vents, spaces around wires, and pipes as a highway to move in and out of houses.
Excellent communicators, ants lay down pheromone trails to alert other colony members to new food sources. Their ability to communicate successfully is why controlling ants is so difficult. A few ants gathering around an open trash can will quickly turn into hundreds!
Our home's kitchens, pantries, dining areas, and any stray crumbs and spills provide ants with vital food sources that will keep them returning. Sometimes ants get tired of commuting and decide to make themselves permanent members of our households. The ants will build a satellite nest in our houses to expand their colony in a space offering them safe, temperature-controlled shelter and easy access to food.
It Can Be Dangerous To Have Ants In Your Home
The question that many people have about ants is whether or not they're dangerous?" Now, is spotting ants in your home as scary as, say, running into a rabid raccoon in your closet? No, definitely not! However, it is true that ants are dangerous and can threaten people, our food sources, and the structure of our homes.
Before entering your home, ants crawled across the ground and other unsanitary surfaces. On their legs and body, they transport bacteria and pathogens to food and surfaces in our homes that can make us ill.
Another good reason to keep ants at bay is that some can bite and sting. Sharing your personal space with biting, stinging pests is never a good idea. In addition, several species of ants will damage the structure of your home by nesting inside its structural wood. While the damage that these ants cause is not immediate, left untreated, an ant infestation can lead to costly repairs.
Finally, ants in your home will likely attract predatory pests like spiders that want to eat them. Furthermore, if ants can easily enter and exit your house, so will other pests, pests that might pose a significant and immediate threat to you and your family!
Luckily of the hundreds of species of ants living across the United States, most are a nuisance rather than dangerous. Ants are annoying and unwanted in and around our Long Island homes because they invade in large numbers, are difficult to avoid, and once they find a way into your home, it can seem like you will have to live with them forever! The good news is that by partnering with a professional Long Island home pest control expert, you can easily avoid all the dangers and annoyances associated with ants.
Easy And Effective Ant Prevention Tips For Around The House
Different species of ants like different things in our outdoor and indoor spaces. But, in general, there are three things that all ants are looking for:
Sources of moisture

Food (they are omnivores and therefore eat almost anything)

Shelter
While the most effective ant prevention tip available is to put into place regular home pest control services, there are changes you can make around your property that will help to deter ant activity.
Some of our easiest ant prevention tips include:
Install door sweeps on all your home's exterior doors.

Make sure the screens in the windows are intact.

Repair worn weatherstripping around windows and doors.

Fix cracks that develop in your foundation and exterior walls.

Reduce food odors by keeping lids on trash cans and regularly removing trash from your home.

Pick up uneaten pet food.

Periodically wipe down counters to eliminate crumbs and spills.

Vacuum daily.

Routinely mop to eliminate ant pheromone trails.

Practice proper food storage to keep ants out of your family's stored food. Keep perishables in refrigerators and dry goods in airtight containers with locking lids.
For help with ant control and prevention in Long Island, never hesitate to reach out to a professional. Here at Parkway Pest Services, we are committed to helping Long Island homeowners keep ants and other types of pests out of houses and away from people!
Professional Ant Control Is A Great Solution For Long Island Homes
If you are ready to implement a long-term ant control solution for your Long Island home, Parkway Pest Services is here to help you meet your goals. We know how frustrating problems with ants can be and are here to take that stress away!
Though trying to take care of an ant infestation on your own using DIY methods may be tempting, your best bet is always a professional solution. DIY ant control solutions don't get to the root of ant infestations; they leave ants behind that will prolong your infestation. In addition, if you don't use the ant control products correctly, they can be a serious health hazard to you and your family.
Here at Parkway Pest Services, we can meet your ant control needs and perform year-round services that are effective and provide a variety of benefits. By partnering with us, we will correctly identify the ants on your property and perform the treatment necessary to eliminate them. Our professionals will provide the interior and exterior services needed to solve your property's ant problems once and for all. We offer the best pest control near you for ants!
When you have a problem with pests like ants, you can trust our certified exterminators to assist you. Since 1932 we have offered industry-leading pest control to homeowners in Long Island. We are a local, family-operated company that protects people, property, and health by helping to get rid of ants and other unwanted pests from their properties.
Contact us today for more information about ant control in Long Island and details about our annual pest control programs!