Exterminators In Munsey Park , New York
Commuter towns like Munsey Park are beloved reminders of New York's more rural roots. Just a few miles outside the Long Island metropolis, those who live in Munsey Park have the opportunity to enjoy a secluded lifestyle without suffering too many of its inconveniences.
Unfortunately, one inconvenience does remain, the threat of pest activity. That's why Munsey Park home and business owners have trusted Parkway Pest Services for nearly a full century. Our commitment to excellence in pest control has allowed Munsey Park residents to live their best lives since 1932.
Home Pest Control In Munsey Park, NY
Everyone who lives works and plays around Munsey Park deserves to live a pest-free life. At Parkway Pest Services, we believe it's our job to make it happen. Our leadership team has spent almost 100 years innovating, solving, and treating pest infestations all over New York State. We are prepared to do what it takes by offering two distinctive plans:
PestGuard Protection: A four times yearly pest prevention program that focuses on more than 30 pests.

PestGuard+ Protection: Unlimited service calls for 30+ pests, including the best termite treatments available today.
Confirm your choice of residential pest control plan by contacting Parkway Pest Services as soon as possible.
Commercial Pest Control In Munsey Park , NY
Those who own a business around Munsey Park know that the tiniest creatures cause some of the largest problems. Pests like rodents, bed bugs, and termites can destroy what your business has worked so hard to achieve. By alienating employees, disappointing customers, and interrupting your supply chain, pests do much more than just be a bother.
At Parkway Pest Services, we offer a variety of commercial pest control plans that secure businesses against invading pests. We provide:
Bird control against pests like pigeons, finches, and starlings.

Green pest control services that protect both businesses and the environment.

Rodent demolition completely removes rats, mice, and other pests from the premises.
Discover how commercial pest control from Parkway Pest Services can set your business apart. Book an initial inspection with a service technician to see us in action.

Termite Control: Four Signs You Should Call The Pros In Munsey Park
Termites are prevalent pests around Munsey Park, partially because of the humid weather and partially because of their rising numbers. The most common species in New York includes the eastern subterranean termite, a species well-known for its devastating aftereffects. Termites can be difficult to spot without previous training or experience, but they do create signs and symptoms that cannot be ignored.
If you think or know that these signs and symptoms are present around your Munsey Park property, call or schedule an appointment with Parkway Pest Services :
Mud tunnels running up walls, floors, or ceilings

Catching sight of termite swarmers around windows, doors, or other potential entry points

Hearing soft clicking coming from the walls, or noticing walls that are visibly sagging and weak

A prevalence of frass, or fine sawdust, around wooden areas of the house
Parkway Pest Services' revolutionary approach to termite control both monitors and destroys infestations before damage can be caused. Whether you need immediate treatment or regular baiting and trapping, termite control plans from Parkway Pest Services may be right for you. Call now to address any comments, questions, or concerns with us today.
Why Does My Munsey Park Home Have Cockroaches?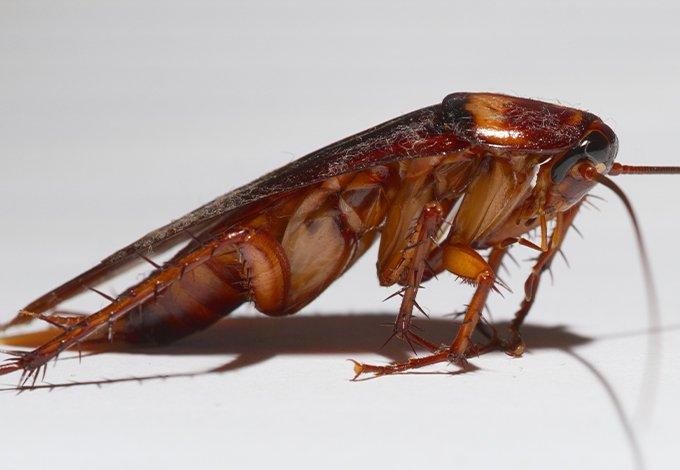 It's easy to assume that cockroaches will not be a problem for your Munsey Park home. However, these six-legged, filth-loving insects are becoming a serious issue for homeowners all over the area. One of the most serious concerns posed by cockroaches has to do with disease transfer. Due to the areas around which they live, cockroaches transmit pathogens that are extremely dangerous to human health. From bacteria to viruses to parasites, cockroaches create serious health concerns for almost every living thing.
The reason why your Munsey Park home has picked up a cockroach problem may or may not be obvious at first glance. While you may not have set out to attract these pests, you may have brought them closer to your property by:
Leaving out a large amount of trash, food, or drink spills

Failing to maintain clogged drains, leaking pipes, or areas of air humidity

Not deep cleaning the home, or leaving clutter around the house where pests could hide
The best solution for cockroaches in Munsey Park Holmes is to invest in a roach control and treatment program with qualified professionals. Parkway Pest Services has been refining our approach to cockroach control since the beginning, delivering results that you can count on. Confirm your appointment by contacting a representative now.