Pest Control In Peach Lake, NY
Peach Lake is a hamlet located within two the counties of Putnam and Westchester on a lake sharing the same name. The town is known for its lovely homes and a nearby organic farm, where residents enjoy the feel of a small town near a big city, making Peach Lake a popular place to live and work.
The natural landscaping of Peach Lake provides an ideal location for pests. These animals can cause problems for residents by damaging properties and carrying diseases around town. Peach Lake pest control experts know how to protect local homes and establishments from these intruders.
Parkway Pest Services provides area residents with the area's best pest control. Our technicians have the skills and tools to eliminate infestations on your property.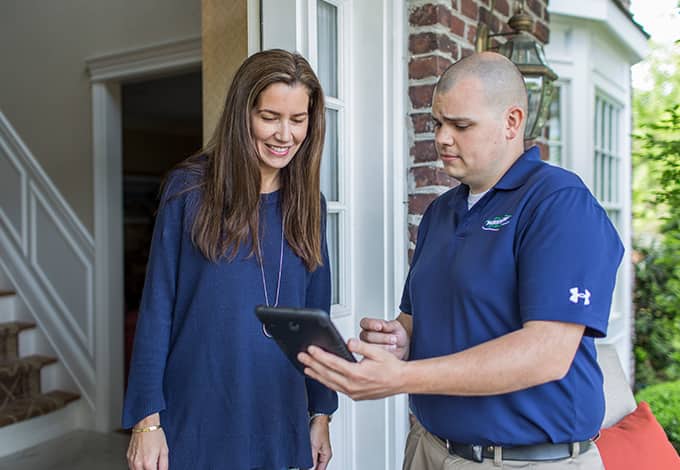 Residential Pest Control In Peach Lake
Peach Lake residents focus on protecting their homes from intruders, but the smallest creatures are the frequent threats. Various animals live around the town and invade homes for water, food, and shelter. When these pests invade your house, they can damage your structure and spread bacteria that cause illnesses.
Our home pest control services in Peach Lake from Parkway Pest Services will protect your family. We offer two different protection plans, allowing homeowners to find the best fit for their conditions. The plans feature four annual visits, and we'll return to your home between scheduled appointments if you have additional pest issues.
Peach Lake is an enjoyable place to live, but pests can ruin that enjoyment. Call us today to protect your home.
The Hassles And Hazards Of DIY Termite Control In Peach Lake
Termites are a serious threat when they get into Peach Lake buildings. They can remain hidden while eating the wood in structures, causing significant damage over time. You might think you can handle a termite infestation with over-the-counter (OTC) products, but they can be dangerous and ineffective.
DIY termite control can be tempting because it's often cheaper than hiring professionals, but there are risks when attempting to eliminate termites. The products that offer a termite solution include chemicals that can be harmful if not used properly. They aren't as effective as professional treatments, usually only eliminating some termites and leaving others to continue damaging your structure.
While attempting to handle an infestation yourself can be dangerous and ineffective, there are ways you can keep termites away from your home. Some tips to avoid termites on your Peach Lake property include:
Reroute water away from the foundation of your home

Fix leaks in faucets, pipes, and air conditioning units

Provide ventilation for crawl spaces, basements, and attics

Move firewood at least 20 feet from your home
These tips can keep many termites out of your house, but you'll need professional termite control in Peach Lake if any get inside. Our technicians at Parkway Pest Services have the experience and tools to find and eliminate termites in your home. We'll inspect the interior and exterior, treat the infestation, and remove conditions that might attract future concerns.
Termites can cause significant problems when they get into Peach Lake buildings. Let us know when you notice termites on your property so we can help.
Commercial Pest Control In Peach Lake
Pests pose a significant threat to businesses, so you need commercial pest control services in Peach Lake to solve these problems. At Parkway Pest Services, we know that every company is unique, and we customize our pest control services to fit your business. We'll work with you every step of the way to ensure your pest problems are behind you.
Our technicians have experience with various industries and know the common pests that invade local businesses. Our Integrated Pest Management (IPM) methods enable us to monitor your facility, safely remove intruders, and only treat your facility if necessary.
Pests can cause severe problems for your business if you don't stay ahead of them. Our team is ready to protect you from these intruders. Contact us today to learn how we can keep pests out of your commercial facility.
Tips To Prevent Future Mouse Problems On Your Peach Lake Property
Mice might look harmless, but they can cause problems for Peach Lake properties. Sneaking through tiny crevices in the exterior of buildings, they can dig through attic insulation for warmth and chew on wires, potentially causing fires.
Preventing these rodents from invading your home is the best way to avoid damage. Some tips to keep mice out of your Peach Lake building include:
Seal food in rodent-proof containers
Close cracks in the exterior larger than a quarter inch wide
Remove trash from your home frequently
Reduce clutter that can serve as hiding spots
Cut shrubs and trees away from your building
If mice still get onto your property, you'll need assistance from our professionals at Parkway Pest Services. Our technicians will inspect your building to find intruders and potential entry points. We'll set traps to get rid of mice and take steps to prevent future infestations.
Mice can present multiple dangers when they invade Peach Lake buildings. Call us today to eliminate infestations on your property with our rodent control services in Peach Lake.