It is no fun watching a spider zip up your wall while you're watching television or almost stepping on one when you get out of the shower. Your home is your sanctuary. It is no place for these eight-legged pests. You expect them in your garden or your landscaping. But your home should be off-limits. That's why we've gathered together some expert tips for effective spider control. We'll look at spider behavior, how to prevent spiders from entering your home, and how to address a current spider problem. If you have immediate questions regarding pest control in Westchester County, feel free to reach out to us at any time and speak with one of our service team members. We're happy to point you in the right direction or discuss service options that are available in Westchester County from the experts at Parkway Pest Services.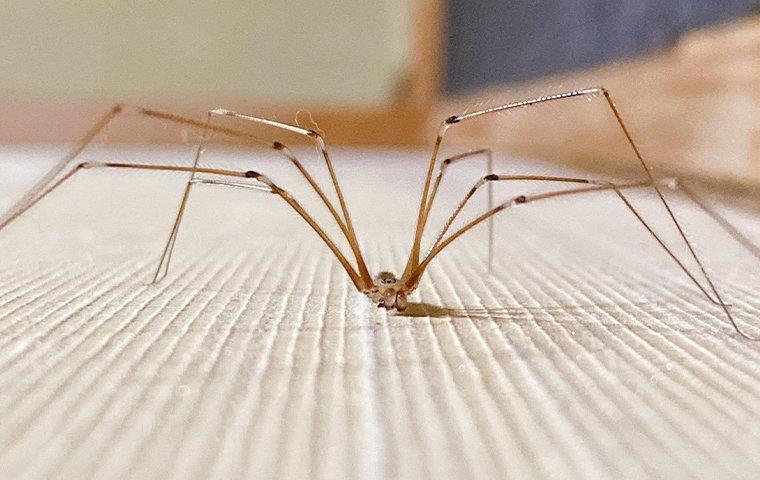 Spider Identification: How To Recognize Different Species
We have a few common spiders in our Westchester County service area, and it helps to know a few facts about each. These are the usual suspects you'll find lurking inside your home and some of the places they like to hide.
Cellar Spiders:

These are the spiders you find in your cellar, basement, garage, and other cool and humid spaces. The most common is the long-bodied cellar spider, also referred to as the daddy longlegs. You can distinguish these spiders by their long thin legs and small bodies. They are often deterred by removing their webs and wiping down surfaces.

American House Spiders:

These spiders are so commonly found in houses that they have "house" in their name. A house spider is tiny and has a bulbous abdomen. You'll find them creating lots of wispy webs in your home, particularly near windows or light fixtures. They establish webs in these places to catch flies. You can stunt house spider populations by addressing flies and ants.

Wolf Spiders:

These are the hairy spiders you find in your storage locker, shed, and garage. Sometimes, they get into common areas as they search for food. Their large size and hairiness make them alarming houseguests. Wolf spiders don't make webs, so you can't track their activity by looking for these signs, and you can't deter them by removing webs. Your best bet for controlling these spiders is removing food options and sealing exterior entry points.

Black Widow Spiders:

These spiders are entirely black and have a red marking on the bottom of the abdomen that looks like an hourglass. They are outdoor spiders that only stay in homes for a short time. You'll find them in wood and brush piles, junk piles, and cluttered spaces.

Brown Recluse Spiders:

These are light brown spiders. On the back is a dark brown mark that looks like a violin. Brown recluse spiders are extremely shy and prefer undisturbed, dusty environments.
When you detect spiders in your home and identify them, you're on your way to getting control of them. If you can't identify the spiders you're dealing with, don't worry. There are many prevention steps you can take that don't require you to identify them. You also have the option of taking a picture of one of your spiders and sending it to us for identification. We're happy to help.
Spider Problems: Why You Don't Want These Arachnids In Your Home
When spiders get into your home, they can cause a few problems. Some problems are worse than others. Let's run down through them from mild to severe, and discuss what you need to know most.
Spider webs are unsightly, and a mess to clean up. It is also annoying to walk through webs and get them stuck on your skin.

Spider webs can have egg sacs, and an egg sac can contain hundreds of spider eggs. When spider eggs hatch, the spiderlings start crawling all over the place. These are a disturbing sight, and also the catalyst for an increase in spider activity.

Spiders are a food source for certain pests.

Cellar spiders don't bite but their presence in your garage is a disturbing sight.

American house spiders are able to bite, but the wounds they cause are mild. You'll likely have a red, itchy bump.

Wolf spiders don't prefer to bite and are quite docile, but when provoked, they have a bit that feels like a pinprick.

A black widow spider bite can feel like a bee sting, and the venom can cause flu-like symptoms. The risk of severe symptoms is higher for children and certain seniors.

Brown recluse spiders rarely bite, but when they bite, their venom can cause the skin around the wound to die.
The worst result of a spider problem is having venomous spiders in your Westchester County home. Most of the time, spiders are just a nuisance. Let's look at some practical tips to help you drive spiders out of your home and keep them out.
Preventing Spider Infestations: Practical Tips And Tricks
There are many smart ways to get rid of spiders naturally. It takes work to control spiders with all-natural pest management, but worth the effort. Here are our best tips for preventing spider infestations in Westchester County. We'll start on the inside of your home.
Remove Spider Food:
Spiders are in your home because they've found food to eat. They eat bugs, insects, and other spiders. When you deal with other pests in your home, spiders aren't likely to stick around. They prefer to be where food is found. Prevent and eliminate pests spiders eat with the following strategies:
Clean floors, counters, and shelves.

Keep trash in covered containers and empty it regularly.

Keep food covered when left out on the counter.

Clean dishes as you go.

Move outdoor trash receptacles away from exterior doors.

Keep entry lights off when not in use.

Address plumbing issues, such as leaking faucets.
Pest-Proof Your Home:
Spiders don't chew through wood and other building materials. They use tiny openings that already exist to invade your home and make nuisances of themselves. Home repairs and weather-proofing can help keep them out.
Try the following:
Check the seals around all of your exterior doors. Address the gaps with weatherstripping and door sweeps.

Check all of your screens, make repairs, and look for gaps around your frames.

Fill in gaps around pipes, wires, and other utilities entering your home.

Use mortar to fill in concrete cracks and seal any gaps in the siding or exterior walls.
Address Hiding Places:
When spiders hide inside objects near your exterior walls, they are in the ideal location to infiltrate your home. Move these items away from your exterior.
Cordwood

Campfire wood

Dead branches

Leaves

Junk piles

Stored objects

Cinder blocks

Bricks

Stones
Exterior Food:
The more pests you have around your exterior and in your landscaping, the more trouble you'll have with spiders. Remove the food spiders are looking for, and you'll reduce spider activity.
Keep lights off or replace bulbs. Insects are attracted to white light. A simple fix is to replace bulbs that cast white light with bulbs that cast yellow light that is less attractive to insects.

Clean your gutters to reduce moisture near your home. Many pests are attracted to damp and humid conditions.

Trim your landscaping to further reduce moisture and to also remove organic habitats.
Remove Webs:
When egg sacs hatch, spiderlings come crawling out by the hundreds. You can prevent this process of reproduction by dealing with spider webs on your property.
Collect spider webs with a spider web removal tool.

Destroy any egg sacs you find in the webs.

Wipe down surfaces to make them less inviting for spiders to build webs on.
Spider prevention requires diligence and hard work. For this reason, some people turn to control products. Unfortunately, DIY spider control is rarely successful because the process is complicated. If you want to get great results, consider contacting Parkway Pest Services for a professional solution.
Professional Pest Control: A Great Spider Control Solution
Whether you're dealing with dangerous or harmless spiders, professional control is the ideal way to deal with them. A professional will use a multi-pronged approach that may include some or all of the following.
Identify and evaluate the spider species to determine the best control strategy.

Identify conducive conditions to alter the habitats that attract spiders.

Apply professional-grade products in key locations, such as injecting dust into wall voids or applying a liquid application to your foundation.

Use monitoring devices to track spider activity after treatments.

Make adjustments to the control strategy as needed.

Seal key entry points with professional-grade exclusion materials.

Remove spider webs and dispose of egg sacs.

Manage the food sources that attract spiders to your property and lure them into indoor spaces.

Apply routine pest maintenance throughout the year to reduce pests indoors and outdoors. You don't have to spend two seconds thinking about spider control.
Are you in Westchester County? Contact Parkway Pest Services to learn more about our residential and commercial pest control services in Westchester County. Our highly trained, fully licensed, and super-friendly pest professionals are here to help you every step of the way. Connect with us by phone, email, or text for fast relief from spider problems.