Do you know that bed bugs can infest an office space? It's true. And bed bugs don't just feed at night. They will feed during the day if nighttime feeding isn't an option. All that is required is a dark space. When employees work in the early morning or late into the evening, they present the opportunity for bed bugs to get the blood meals they need in order to survive. When employees work in dark spaces, such as a video editing room or a photo darkroom, these can present an opportunity for bed bugs to infest the office. It is also possible for bed bugs to get into a couch and bite while someone sits on that couch during a meeting. All a bed bug needs is protection from the light and 10 minutes to attach to the skin. This is why bed bugs can be a problem in office spaces. Let's take a look at how you can address the problem of bed bugs in your Nassau County office. As always, if you need immediate bed bug control in Nassau County, you can jump over to our contact page for assistance.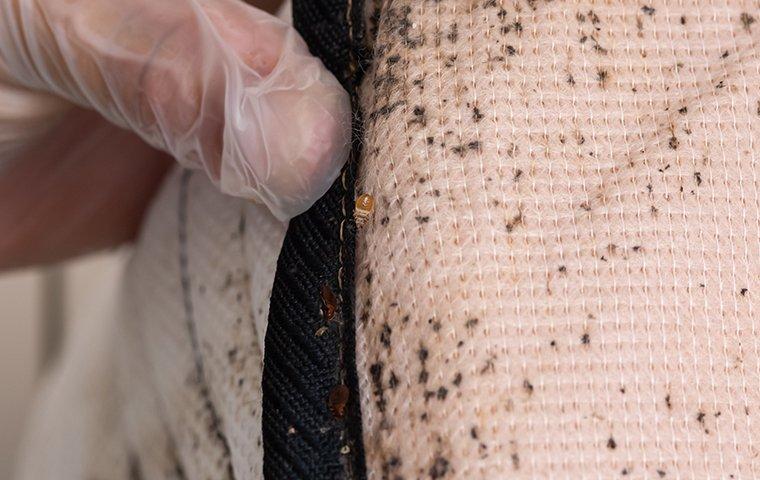 How Bed Bugs Get Into Office Spaces
Bed bugs are hitchhiking pests. They spread passively from one location to another. They do this in one of two ways. Bed bugs are picked up and carried to a new location and they begin to reproduce in the new location, or bed bug eggs are introduced into a new location and they hatch. Bed bugs or eggs can be carried into office spaces by employees, customers, and visitors.
How To Prevent Bed Bugs
It is very difficult to stop bed bugs due to the way they get into office spaces. The best you can do is educate your employees and perform routine inspections to catch bed bugs early. If you want the best bed bug control possible, we recommend investing in commercial bed bug pest control because bed bugs can be very difficult to locate, and a professional will know how to appropriately deal with bed bugs when they're found. As an example of what you can expect from a professional, at Parkway Pest Services, we offer the following services to prevent bed bug problems:
K-9 Bed Bug Inspections. A trained dog is able to quickly move through office spaces and detect the presence of bed bugs using olfactory clues. This allows your technician to locate areas of infestation and offer targeted treatments to arrest problems early.
Conventional Treatments. Our technicians use a mixture of products to target areas where bed bugs are hiding. In many cases, this is all that is required to arrest a bed bug infestation early.
Steam Treatments. If you're looking for natural pest control for bed bugs, heat is a great option. When steam is applied by a trained and experienced professional, it can address difficult bed bug issues such as bed bugs in an office couch.
DIY Bed Bug Prevention
If you prefer to handle bed bug detection yourself, it is important to know what bed bugs look like and what signs bed bugs provide. What do bed bugs look like? A bed bug is between 1 mm and 4.5 mm in length. All bed bugs have six legs, three body parts, and a shape that looks like an apple seed.
Immature nymphs are pale in coloration. If fed, its abdomen will be red. If unfed, it may be pale or black.

Nymphs are tan in coloration. If fed, its abdomen will be red. If unfed, you should see black in its abdomen.

Adult bed bugs are a rusty-brown coloration. If fed, the bug may appear to be redder. If unfed, the bug may appear to be black. The abdomen of a bed bug makes up the majority of its size.
What signs do bed bugs provide? If bed bugs are infesting a location, you may detect some or all of the following:
Black fecal stains

Black fecal spotting

Dried brown bloodstains

Shed insect skins

Tiny white eggs
Need Help?
If you need assistance with a bed bug infestation in your Nassau County office, connect with us here at Parkway Pest Services. We offer services that address current infestations and provide ongoing preventative services to catch bed bugs early and arrest infestation before they can damage your reputation or demoralize your workforce. We use the most advanced bed bug detection, industry-leading control products, and natural pest control for bed bugs. You don't have to let the bed bugs bite in your Nassau County office. Reach out to us here at Parkway Pest Services today and schedule a meeting with one of our licensed pest management professionals to get started with effective bed bug pest control.