Is there a less welcome sight on Earth than a cockroach in your house? A flying cockroach, perhaps? Residents of Long Island know what an incredible nuisance these guys can be, but some are unaware of just how dangerous cockroaches truly are. People have an instinct to hate these creatures for a reason. There are a few different species to look out for, each with its own habits and behaviors. Keep reading to learn more about cockroach identification in Long Island, the dangers they pose, and how to get rid of cockroaches in your house.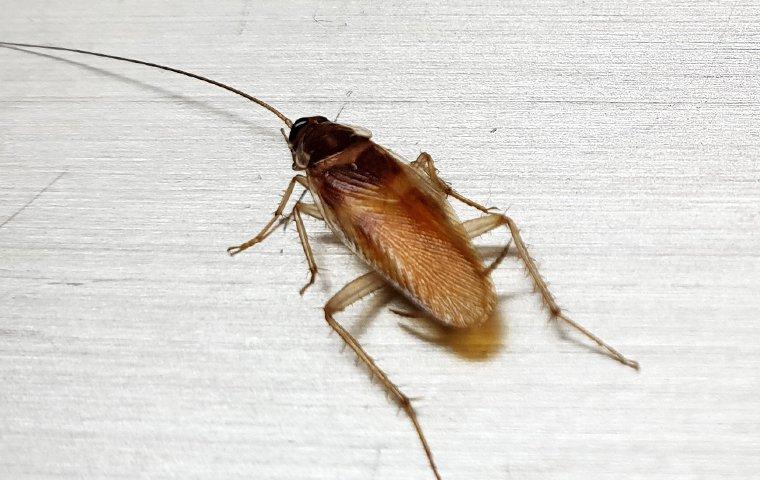 How To Identify Cockroaches In Long Island
The two most common species of cockroaches in the area are a widespread issue across the United States. A cockroach is a cockroach, sure, but their behaviors can dictate a proper method of extermination, and it can give you an indication of the risk factors of your home that are attracting them. Cockroach identification is truly the first step to fixing the root issue of bringing cockroaches indoors.
The German cockroach is one of the most common cockroaches in the area. Smaller than the American cockroach, this species only grows to about ⅝ of an inch long. While they can't fly, they are incredibly fast. A German cockroach is a light brown with two darker brown stripes on the back of its head. This species prefers warm, humid areas like kitchens and bathrooms, able to subsist on a diet of soap, glue, and toothpaste.
The American cockroach, the largest species in the United States, can grow to over 2 inches in length. This reddish-brown monstrosity has a yellow figure-eight pattern on the back of its head, and with its wings, it can fly short distances, usually from a higher area to a lower one. While this species prefers to live outdoors, climate changes and food shortages can force them inside. They can also come inside accidentally through your grocery bags or from your garage and basement. American cockroaches prefer dark, warm, and humid environments.
It doesn't take much to look up how to get rid of American cockroaches and German cockroach pest control, but to seal the deal, it's time to learn a little bit more about how dangerous these pests really are.
Why Are Cockroaches In Long Island So Dangerous?
Cockroaches come from outdoors and prefer a humid environment and decaying matter for a food source. They usually crawl out from under something dead or dying or from the sewers. From there, they gallivant across kitchen counters, touching whatever food is available.
The sheer number of diseases a cockroach can pass on to people is disconcerting, but the severity of these diseases adds another level of concern. As a whole, the species can carry over 30 different kinds of bacteria, six parasitic worms, and seven other human pathogens. Some names you might recognize from this list of health hazards are cholera, dysentery, leprosy, salmonellosis, and giardia.
Even without the risk of serious diseases, cockroaches in a household can worsen allergies and asthma, causing symptoms like rashes, swollen and itchy eyes, runny nose, and in severe cases, difficulty breathing. Cockroaches are a petri dish of potential health problems.
Should You Call Pest Control To Get Rid Of Roaches In Long Island?
Many who notice they have a cockroach problem will try to handle the issue themselves, at first. From poison bombs to sticky traps, they'll try everything in their power, growing more and more frustrated as they discover how fruitless their attempts have been.
Not only are cockroaches resistant to poisons, but they are overall a difficult bug to kill. They're not easily crushed, starved out, or drowned, and their reproductive capabilities make eradicating them at the root and all at once an essential means of destroying the entire infestation. That is a service that professional pest control can provide.
How To Keep Roaches From Coming Back In Long Island
If you're looking for how to get rid of cockroaches in your house and you've grown tired of unsafe and ineffective over-the-counter solutions, you can trust Parkway Pest Services to get rid of American cockroaches for good. For German cockroach pest control, we've also got your back.
At Parkway Pest Services, we offer same-day services to get your house clear of these dangerous pests as quickly as possible. With two different pest control programs to choose from, you can elect for the coverage that's right for you and enjoy year-round protection. Call Parkway Pest Services for your free quote or start a plan for a pest-free home today.