If we were to mention Long Island's most resilient inhabitants, you might not think of cockroaches. And yet, these enigmatic pests are some of the most challenging invaders you could deal with in your home.
As one of the top-rated pest control companies in the area, we understand that these little critters can cause anything from annoyance to panic. But after reading this article, you will know everything about the intriguing habits and challenges of these unwanted scavengers known to invade our beautiful corner of New York.
Long Island enjoys a diverse ecosystem and flourishing urban centers. It is the perfect habitat for many of us and an array of cockroach species, from the ever-common German to the robust American cockroach. These persistent insects have evolved alongside humanity, adapting to changing environments and conditions to become the highly resistant pests they are today.
Learning more about them is essential for many reasons. These masters of stealth can effortlessly find shelter in the tiniest crevices and multiply rapidly. Their nocturnal nature allows them to remain hidden during the day. They emerge at nightfall to forage for food scraps and moisture. They also pose significant health risks as they carry harmful pathogens and bacteria that can spread throughout our homes and food supplies.
In this comprehensive guide from Parkway Pest Services, we'll uncover the biology and behaviors of these tenacious insects, helping you understand their weaknesses and how to mitigate their presence with cockroach control in Long Island you can rely on.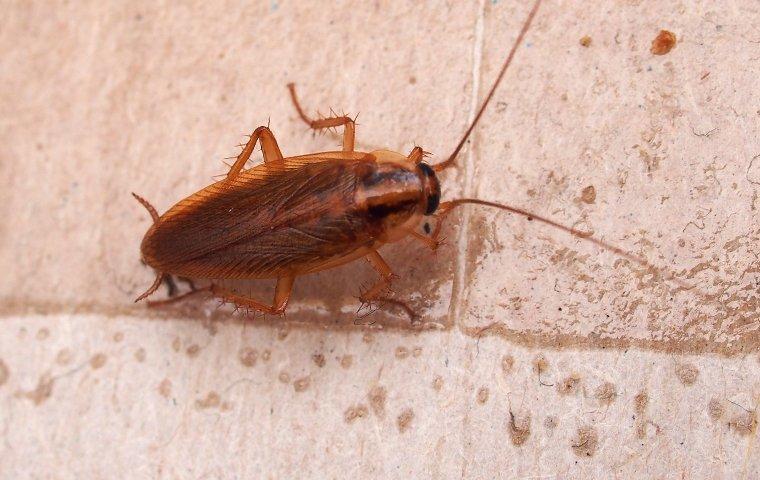 Types Of Roaches Common To The Area
Long Island's diverse climate and thriving urban environments provide a hospitable home for various cockroach species.
Here are the four common types we encounter the most:
The American cockroach: Despite its name, it is not exclusive to the U.S. This formidable insect can reach lengths up to 2 inches long and has a reddish-brown color with a distinctive pale-yellow band around its head. It is known to invade homes and commercial spaces but prefers damp and dark environments like sewers and basements. American cockroaches can fly short distances, making them difficult to manage once established.
The German cockroach: This species is a tiny but troublesome one. German cockroaches measure around 1/2 an inch long and are light brown or tan. They also have two distinct dark stripes running lengthwise on their backs. Unlike many other roach species, they prefer our indoor spaces, especially kitchens and bathrooms. They can multiply rapidly, and you must promptly address infestations before they get out of control.
The oriental cockroach: Known by some as the water bug or black beetle, this species thrives in damp environments. Oriental cockroaches are dark brown to black, slightly larger than the German cockroach, and are slower and less agile. You will often find them in drains and crawl spaces. They strongly prefer decaying organic matter and unsanitary conditions, making them carriers of many pathogens.
The brown-banded cockroach: The brown-banded cockroach is small but resilient. It measures about half an inch and gets its name from the two distinct pale bands on its dark brown body. It enjoys warm and dry environments; you might find it inside your upper cabinets or behind electrical appliances. Brown-banded cockroaches are secretive and present unique pest control challenges.
Our Parkway Pest Services experts deeply understand the habits and behaviors of these four common types of cockroaches.
Thanks to our comprehensive approach to roach management, we can keep your home free from these resilient intruders. Call us today to get started and avoid the many health risks they can pose.
Roaches Trigger Allergies And Spread Diseases
Roaches are tenacious and unwelcome intruders. They do more than send shivers down our spines; they can also trigger allergies and spread diseases. These resilient pests, common in Long Island, pose significant health risks because they can carry harmful pathogens and allergens.
Roaches are also well-known carriers of allergens. Cockroach exoskeletons, feces, and more contain proteins that can trigger respiratory issues. When they become airborne, they can cause various health problems, with asthma being one of the most common.
Additionally, roaches are known vectors for several diseases. As they forage for food and water in unsanitary places, they can pick up bacteria and viruses on their bodies that can transfer to our surfaces and food. Some illnesses associated with these bugs include gastroenteritis and food poisoning from salmonella, one of the most notorious pathogens roaches carry. They pick it up from contaminated foods or waste, then spread it to our countertops and dishes, resulting in possible severe illnesses.
Taking prompt action to control a cockroach infestation is essential to keep your household safe. Regular cleaning and proper sanitation, for example, are crucial to remove the factors these pests need to thrive. Sealing cracks and crevices in buildings can also help prevent their entry.
If you face a roach invasion, we can help develop targeted treatment plans and implement effective cockroach control measures to eliminate them. Read on to understand how and why these unwanted guests can find their way into our homes.
How And Why Roaches Find Their Way Into Our Homes
Roaches have an uncanny ability to infiltrate our living spaces. Understanding how and why they find their way in is essential to develop effective cockroach control strategies that keep them at bay.
Here are some of their main attractants:
Food and water: Like all living beings, food, and water are essential to their survival. Fortunately for them, our homes often provide abundant sources of sustenance, from crumbs on the floor to dirty dishes in the sink that become inviting targets for roaches hunting for a meal.
Warmth and shelter: Roaches are cold-blooded creatures. They seek warm and cozy environments to regulate their body temperature, and our homes, with their controlled heating systems and sheltered spaces, are ideal.
Convenient entry points: Despite their size, roaches can squeeze through tiny cracks because they can flatten their exoskeletons. They can exploit even the most minor gaps to access our homes. Once they find a route, they can navigate through anything from plumbing to electrical conduits, multiplying exponentially in the process.
Lessened human activities: Roaches are remarkably adaptable. They are active at night, which coincides with our reduced activity and lower presence. When we turn off the lights and go to bed, roaches feel more comfortable emerging to forage freely.
Scent trails and pheromones: Roaches communicate using chemical signals called pheromones. These scent trails mark paths to food sources and safe hiding spots, attracting others and encouraging them to follow the same direction.
Transfers from infested areas: Roaches can hitch a ride into our homes through various means. They might cling to grocery bags and cardboard boxes. Or, they could already be in the secondhand items you bring into the house. And if neighbors have infestations, cockroaches can easily migrate to your property in search of better conditions.
Excess clutter: A disorganized room provides numerous hiding spots, making it easier for these bugs to establish their nests unnoticed.
Once you understand these factors, you can proactively prevent roach infestations. Simple steps like regular cleaning and proper food storage can reduce the likelihood of invasions. Here's how to get started.
The Best Way To Get Rid Of Roaches Safely And For Good
Cockroaches are resilient pests that can be challenging to eliminate; removing them safely and permanently requires house cockroach prevention practices and professional pest control.
Here's how you can create an inhospitable environment for them in your home:
Keep everything clean: Regular cleaning is the first line of defense against roaches. Promptly wiping spills, sweeping and mopping floors, washing dishes, etc., is essential. Also, empty your trash cans regularly and store them away from the house.
Seal entry points: Are there cracks in your home that roaches might use as entry points? If so, seal them to prevent them from entering. A pest control professional can help spot them if you're not sure.
Store food safely: Store food in airtight containers to deprive roaches of accessible food sources, including pet food.
Fix leaks: Roaches need moisture for survival. Repair damaged pipes or faucets to eliminate potential water sources.
Reduce clutter: Keep your home organized to eliminate hiding spots for roaches.
While these strategies are immensely helpful in controlling cockroach infestations, there are times when you might need more.
Hiring a professional home pest control company can make all the difference if these unhygienic scavengers have managed to invade despite your best efforts.
At Parkway Pest Services, we have a team of experts ready to conduct thorough inspections of your property to identify areas of activity and potential entry points. After our assessment, we will develop a tailored treatment plan based on the severity of your infestation and the specific roach species present. We will also offer prevention strategies to prevent future problems and maintain a pest-free environment.
Combining preventive practices you can do on your own with our expertise in cockroach control is the most effective way to eliminate these unwanted guests permanently. Call us today so you can reclaim your home from these persistent intruders and enjoy a roach-free living space long term.