What is required to get total control of termites? Layers. The termites in Nassau County are sneaky—you can't just install a termite control product and call it a day. You need to start with termite prevention and consider conducive conditions. You need to inspect your property for termite damage and active termites. You need to select a product that has a track record for preventing termite damage, and maintain your control product so it continually provides protection. On the back end, inspections are needed to prevent sneaky termites from outsmarting your control solution. Does this sound complicated? The unfortunate truth is that it is. It is also hard work. That's why Nassau County residents contact Parkway Pest Services for assistance with termite control or termite inspections. Our team provides exceptional termite pest control in Nassau County. Whether you want total termite control or some measure of prevention and protection, we can guide you in finding the right fit for your specific needs and budget. If you only want an annual termite inspection, it is critical to learn the basics of how to check for signs of termites in your yard during the year, how termites attempt to damage your home, and how to remove attractants. These are our topics today.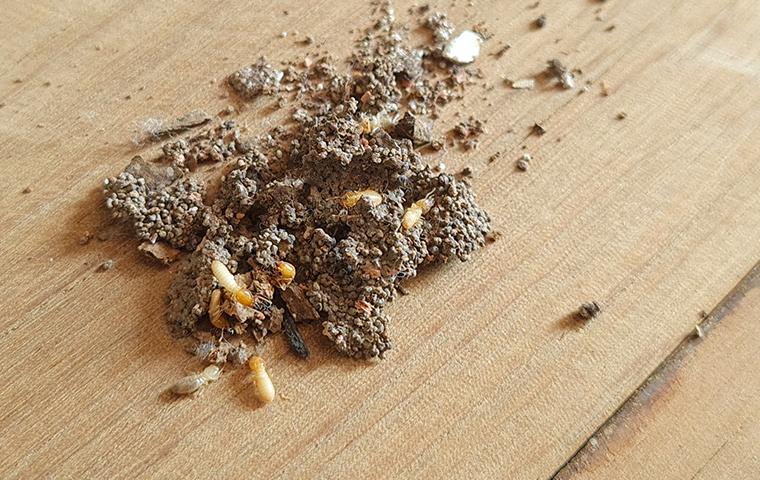 How To Identify Termites And Their Damage
Termites stay hidden. Worker termites hate the light and don't even like to come out in the moonlight. You won't see them crawling around on your home as they slowly nibble at it. But you might uncover termites by accident (or purposefully). You can see termite workers when you pick up dead branches in your yard or when you move objects that are resting on the ground. If you do, you may not pay much attention to them, there are lots of bugs that live in your yard. Here are a few ways people miss worker termites:
A worker termite is a mere ⅛ of an inch long. That is incredibly tiny. If you don't have great eyesight, it will look like a pale speck.
A worker termite is an ant-like insect. It has three body parts, two antennae, and six legs. Some Nassau County residents contact us and tell us that they have a problem with fat, white ants.
A group of worker termites can look like maggots. Sorry. It is gross but true. There are two key differences. Maggots don't have legs and they don't eat wood.
Termite workers hide from view, and when you uncover them, you may not realize it—but it is possible to detect termites without actually seeing them. They can provide other clues. Along with termite identification, it is helpful to know these other warning signs and how to analyze the signs you find.
A Termite Swarm: You may get lucky and see a swarm of termites. Lucky? Yes. Termites rarely provide an obvious warning sign like this, and swarms last less than an hour, which makes it uncommon to see them. Unfortunately, a termite swarm isn't a great warning sign. If you see a swarm of termites, it is evidence of a termite problem that already exists. The reason is that swarmers don't travel far from their nest of origin. In many cases, they don't travel farther than the distance workers travel to find food, which is about a hundred yards (not actually yards, but yards of measurement; it would be scary if they could tunnel through a hundred yards to get to your yard). What do termite swarms look like? Dozens or hundreds of black insects with long white wings.
A Single Swarmer: It is best to see one swarmer. If you see an individual swarmer on the ground or on your skin, it may have come from a termite swarm and is considering your yard as a nesting location. That tiny swarmer may go unnoticed if you don't realize what it looks like in real life. What do we mean? A termite swarmer is only ⅜ of an inch long. At that size, it is easily ignored, particularly if you see one on your walkway or exterior stairs. Keep watch for the wing color and wing shape. They are the only insects that have white wings that are a stretched-teardrop shape. It is also important to note that the wings stack on top of each other and do not have a cleft at the tips, like the wings of a flying ant.
Wings: When termites mate, they shed their wings. The shed wings from a couple of termites, or dozens of wings from a termite swarm, may appear in your yard. These wings will have a uniform size and the stretched teardrop shape we mentioned. They are lightweight and can easily get blown away. They are also likely to be deposited underneath structures. A good location to check for termite wings is spider webs.
Shelter Tubes: Subterranean termite workers create mud tunnels above the ground. They do this to hide from the light and to maintain hydration. You'll find these in hidden locations because workers avoid light as much as humanly (or termitely) possible. Most mud tubes look like thin wiggly lines running from the ground up the sides of exterior structures.
Damage: Subterranean termites do most of their damage on the interior of wood members. When they eat your home, you won't likely see the damage unless you inspect wood-to-soil contact. If you see termite damage, it will look somewhat like corrugated cardboard. Termites create tunnels that stack on top of each other. Over time, you may detect termite damage in your home. Floors may sink down. Doors may start to stick. The damage subterranean termites do often looks like water damage.
When you look for signs of termites in your yard, you need to look in hidden places. We touched on this, but it bears more consideration. Let's look at how this works.
Why And How Termites Infest And Destroy Homes
As we pointed out, termites hide from the light, so the warning signs they provide are hidden from view. You may find them in a crawlspace, under your back deck, behind the vegetation in your landscaping, and in other locations you can't easily inspect. You must consider this when performing inspections. It isn't enough to walk around your home and take a look.
Termites eat wood, and subterranean termites come up from the ground to eat the wood in your home. They aren't going to attack your home from the air. Therefore, all of your prevention happens in your yard. You don't have to worry about sealing gaps, cracks, and holes above the foundation level—though it is good to seal entry points to keep other pests out.
Since termites eat wood, sources of wood-to-soil contact invite them to damage your home. If you hope to avoid termite damage, you must consider the food sources that exist in your yard and take steps to remove them.
Factors That Attract Termites To Homes And How To Remove Them
A termite is going to do what a termite is going to do. Termites are simple organisms. They are motivated by conditions that support colony growth and survival. There are two primary factors to consider: food and hydration. These tips will help you remove attractants that invite a termite problem.
Pick up dead branches in your yard and remove them or store them in a container so termites can't feed on them.
Get firewood up off the ground by storing cords of wood on a platform or rubber mat.
Remove stumps and logs.
Restore dying trees to full health.
Refrain from burying wood in your yard.
Replace old wood fences with new fencing constructed from vinyl or some other termite-resistant material.
Clear out your gutter system and make repairs to damaged areas. Doing so will reduce perimeter saturation, which attracts termites.
Maintain a dry landscape by removing unnecessary vegetation and watering in the early morning.
When you remove attractants, you get partial protection. When you combine these tips with routine inspections, you get even more protection. For total protection, get a professional involved.
The Benefits Of Year-Round Professional Termite Control
There are several benefits to getting year-round professional termite control. Here are a few you should definitely consider:
Life gets busy. It is easy to put termite inspections on the back shelf. The primary benefit of professional termite control is that you get annual inspections performed by a trained and experienced technician. If there are active termites on your property, your technician will let you know.
Professional termite control is—well, professional. There is no guesswork involved. It means peace of mind.
Professionals use professional products that are not available to consumers, products such as the Sentricon® System with Always Active™. Sentricon® is installed by a certified installer so that it always achieves the highest level of success.
A professional does the hard work for you.
For assistance with termite inspections or ongoing termite protection with the Sentricon® System, reach out to us. Parkway Pest Services is happy to help. We provide industry-leading pest control solutions for all your pest concerns.