Pest Control In Verplanck, NY
A small and quiet hamlet in Westchester County, Verplanck boasts lake views and excellent schools and is rich in history. Its Market on the River is a popular attraction in the Summer, with its abundance of fresh, locally grown produce, food stands, and crafts.
But life in Verplanck is pleasant for more than its residents. Unfortunately, it is not uncommon for pests to take over homes, spreading pathogens and causing painful bites and stings.
If pests have disrupted the peace in your household, it is time to get rid of them for good. Parkway Pest Services can help. Our team of licensed service members has years of experience providing pest control in Verplanck and can put your infestations behind you swiftly. Contact us today to learn more.

Residential Pest Control In Verplanck
Verplanck is home to various pests like wildlife, termites, bed bugs, and more. While rodents are very different from mosquitoes, there isn't one pest that is entirely inoffensive, and you will likely have to confront an infestation head-on at some point.
Pests can cause many problems in Verplanck houses. Some, like mice and cockroaches, can spread dangerous pathogens as they scutter across your floors and counters. Others, like carpenter ants and termites, can destroy your home from the inside, often without you noticing them until it is too late.
To exterminate them safely, we recommend getting a free quote and scheduling a home inspection to determine the extent of the infestation. The initial visit will help our licensed technicians figure out why you are the target of pests, which ones have invaded, and the best solutions to safely eliminate them. We don't just focus on the inside of your home but will also check the rest of your property before recommending treatment plans.
When it comes to residential pest control, it is best to work with pros. Give us a call, and we will help you schedule your inspection and make your home pest-free safely and long-term.
Commercial Pest Control In Verplanck
Pests on your commercial property can quickly turn a successful business into one no customer will want to frequent. No one wants to go into a restaurant, find a cockroach, or step inside a store only to spot a rat. Hidden pests might go unnoticed, but they can cause significant property damage that will be costly to repair. If you are struggling with a pest infestation, you need dependable commercial pest management services.
At Parkway Pest Services, we strive to serve the Verplanck community with prevention strategies and treatments that are safe and highly effective. Beyond treating your infestation, we want to ensure it does not come back.
Contact us today for a no-obligation quote based on your unique situation. During our call, we can schedule a home visit, devise a treatment plan that considers your concerns, and answer any questions you might have.
The Best Way To Protect Your Verplanck Property From Termites
A big issue with termites is that they are silent destroyers who work all day and night without needing to sleep and mostly stay hidden behind your walls or in your foundation. If you are dealing with an infestation, it is crucial that you look for professional termite control services, as it is unlikely that they will go away on their own. If you see flying termites on your property, it is often a sign that the colony is growing or looking for a place to settle down rather than a clue that it might be relocating.
How do you know you have termites? If you find termite wings on your property, piles of sawdust-looking material near walls, and if your floors and ceilings are buckling, you might have a termite infestation. However, a colony can grow for years without being noticed. A licensed technician can help determine if you have a termite problem and control the infestation before it has a chance to spread too far.
All About Mice In Verplanck And How To Keep Them Out Of Your Home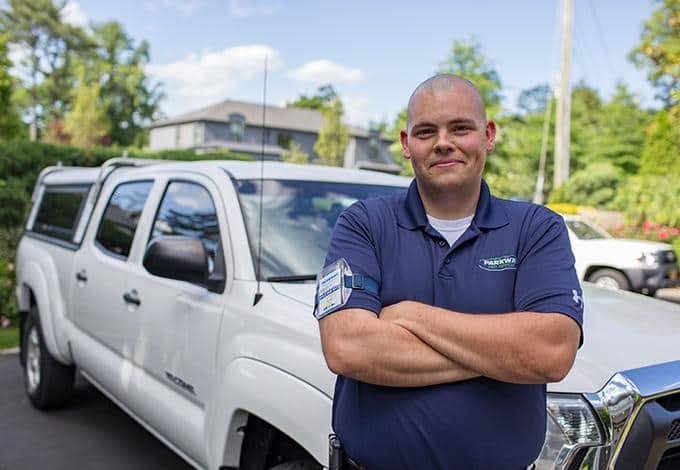 Mice are a problem in small towns and big cities because they are scavengers who reproduce quickly and don't need much to thrive. Reach out to us with all your questions on how to get rid of mice, and you will be on your way to having a rodent-free home as soon as possible.
To start with, you can try the following mouse prevention tips to keep them out of your home:
Close off access points like holes in walls and cracks in your foundation.

Keep food prep areas clean at all times.

Store all ingredients and leftovers tightly and away from pests.

Disinfect surfaces and mop and vacuum floors regularly.
For professional mouse control that works, call us today. Mice reproduce exponentially, and you could go from a handful of mice to several dozen in a few months.
You don't have to put up with pests in Verplanck. Instead, let us do the heavy lifting for you so that you can feel safe in your home throughout the seasons. Contact Parkway Pest Services for a free quote and to schedule a home visit.