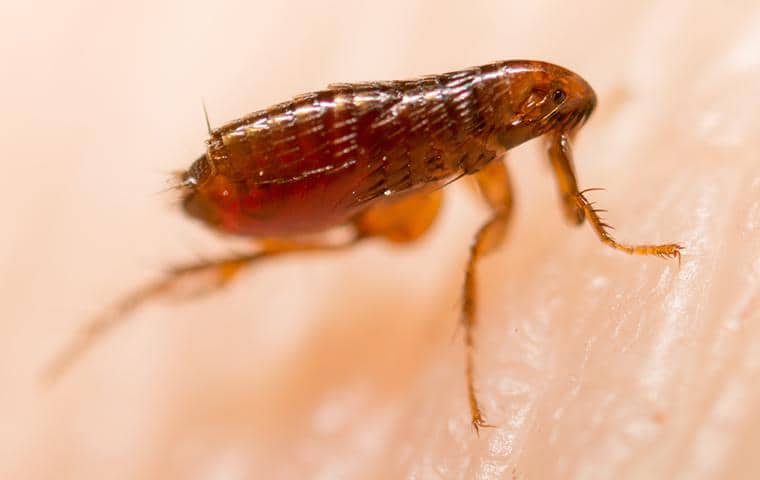 If you own a dog or cat, you are probably familiar with fleas, but they can be a problem even in households without pets. These pesky pests have been around since the dinosaurs, and they remain a problem to this day, causing various problems, from itchy bites to significant health issues, especially in domestic animals. Because they have had millions of years to adapt, they have grown resistant to a lot of treatments that used to be effective. These parasitic bugs do not have wings and cannot fly, but they have long legs that allow them to jump relatively high for their size, enabling them to land on hosts, which will provide them with the blood meals they need to survive and reproduce. They rarely use humans as hosts but readily infest your pets' fur. Fleas can be difficult to exterminate because you must eliminate them at every stage of their life cycle. Leave a few eggs behind, and you will deal with a new infestation in no time. However, treating an infestation is crucial to avoid painful bites and many viral and bacterial diseases. They can also cause ringworm in pets, a highly contagious fungus, and heartworm, which can cause organ damage if left untreated and can lead to death. If you think you might be dealing with fleas, it is time to learn to tell if you have these parasitic pests in your home, discover the diseases that can spread to people and pets, and get educated on all the ways fleas find their way into our homes. If you are struggling with a flea infestation, Parkway Pest Services provides pest control in Long Island that you can rely on for total flea control that is safe and effective.
How To Tell If It's Fleas In Your Home
Being able to tell if you are dealing with fleas is crucial so you can catch an infestation in time and exterminate it before it has had time to spread. You can tell if you have these pests in your home if you see any of these signs of a flea infestation:
Your pets are scratching: The flea bites that these bugs inflict on pets and people can make the skin itchy, causing increased scratching behavior. It's normal for pets to scratch and groom themselves, but if they do it excessively, it could be due to insect bites, especially fleas.
Your pets are missing chunks of fur: When grooming and scratching become more frequent, you will often see areas on your pets' bodies that are entirely devoid of hair. This is often the case with an advanced flea infestation, and your pets are likely experiencing significant discomfort. At this point, you must reach out to a vet to learn how you can treat your furry friends.
Your pets seem to have become anemic: Fleas survive by getting blood from their host, and with repeated bites comes blood loss significant enough that it could lead to anemia. Signs of anemia in pets include weight loss, lack of energy, and loss of appetite. People will experience similar symptoms, but it is rare for them to develop anemia from fleas.
You find flea eggs in your homes: You probably will not notice them if you don't know to look for them, but if you suspect an infestation, be on the lookout for specks resembling grains of salt that have a soft shell and are generally a shade of white.
You find black pepper-like specks on your pets: If you find small grains resembling black pepper, you might see feces, also known as flea dirt. If they are in your pet's fur, they are almost certainly the victim of flea bites, and you must treat them.
If you see any of these signs indicating the presence of fleas, you might have an infestation on your hands. If you do, you must understand the diseases fleas can spread to people and pets.
The Diseases Fleas Can Spread To People And Pets
Fleas are more than nuisance pests that cause painful and itchy bites. They can also spread many diseases to people and pets, like the following:
Plague: More typical than you would think in rural areas, you can contract the plague through animals infected by the bacteria. Symptoms include fever, chills, and swollen lymph nodes.
Flea-borne (murine) typhus: Generally transmitted by cat fleas which are very common in New York, as well as some other types of fleas and their feces, flea-borne typhus causes nausea, vomiting, fever, chills, and body aches.
Cat scratch disease: If a cat infected by a flea has scratched you, you are at risk of contracting cat scratch fever. The injured area might look swollen and infected, and you might have a fever, fatigue, and lack of appetite.
Tapeworms: You can get tapeworms by swallowing a flea, which isn't unlikely to happen if you or your children spend a lot of time on the ground. Symptoms can be mild, but an infection can lead to weight loss and will require treatment.
Flea allergy dermatitis: This severe reaction to flea bites manifests itself with more intense than normal itching and swelling and can lead to skin infections. You will want to contact a medical professional for treatment, so it does not worsen. Pets will often have hair loss if they suffer from flea allergy dermatitis.
These are only some diseases you risk contracting in the United States. To avoid an infestation, read on to learn how fleas find their way into our homes. If you can't figure out how fleas got in, a pest control professional can help. Exterminating fleas without addressing why they were able to invade is likely to lead to a new infestation.
All The Ways Fleas Find Their Way Into Our Homes
There are many ways through which fleas can get into homes, but they primarily do it through our four-legged friends. You will want to ask your vet about recommendations for keeping these parasites at bay. You will also need to inspect your pets regularly, especially if they are frequently in contact with other animals, like at dog parks or if they tend to roam freely, like outdoor cats. Also, because fleas are so tiny, they can quickly enter through cracks in walls and windows, and other issues like high humidity, a cluttered yard, or wildlife on your property can also attract them. And finally, fleas can come in through scavengers and opportunistic invaders, including dangerous ones like rodents, rats, and mice. As with all pests, keeping your home well-maintained can help keep them away. While it is unusual for fleas to live on humans, they can still use us to travel from one place to another in search of a better host. Unfortunately, getting rid of fleas can be tricky, if not impossible, with homemade products. They reproduce very quickly and can lay dozens of eggs a day, and chemical treatments are only sometimes effective, especially if you aren't trained to use them. They can also be hazardous to your household. The best way to get rid of fleas is to reach out to a professional pest control company with experience in flea control.
Call The Pros For Total Flea Control For Your Home
Professional flea control is the best way to get rid of fleas in your house safely and effectively. Give us a call or contact us through our website, and you will be on your way to a flea-free home long-term. Eliminating fleas can be difficult because their life cycle goes through various stages, and each one needs to be taken care of for the treatments to be successful. Also, fleas have become increasingly resistant to products, and using ineffective ones will only cause the infestation to grow. This, in turn, can put you at an increased risk of many dangerous diseases. Don't let fleas cause more problems in your home than they already have; let our service technicians take care of them for you. We will help you schedule an inspection which will help us determine why you are plagued by these parasitic animals and give you treatment options that are mindful of your needs and concerns while also being highly effective. Our treatments are eco-friendly and effective in the smallest quantities possible. And if another pest like rodents or wildlife caused your infestation, we can take care of them for the most effective flea control you could find. Soon, you and your pets will be free of fleas again and for good.
Fleas are dangerous external parasites that can make your pets' lives miserable by inflicting painful and itchy bites that can make them very sick. They can also transmit diseases to humans even if they are less likely to use them as hosts. Treating a flea infestation can be difficult, but it is possible, especially if you take action quickly and use both professional treatments and prevention strategies so they do not return. Contact Parkway Pest Services today for a free quote. We provide the best flea control in Long Island, so let's get started.