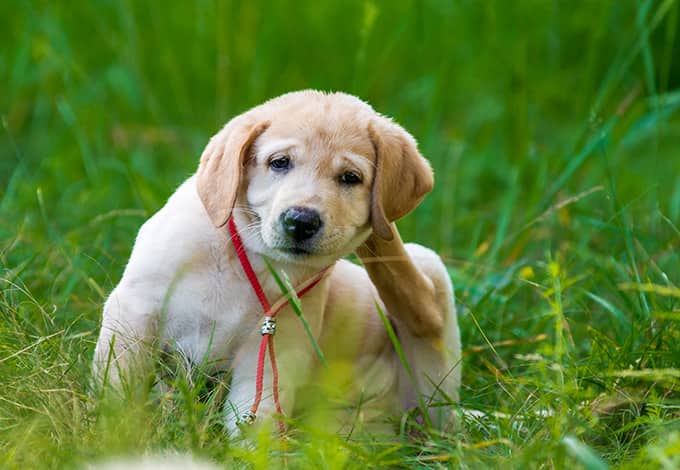 Have you ever shared your pest problems with others on the internet? Many people do. The internet message boards are filled with frightening tales of nuisance pest infestations. If you go searching for stories of flea infestations, there is one phrase you're going to read a lot: "fleas kept coming back!" That's because many DIY pest control solutions aren't solutions at all. They deal with the symptoms of a flea infestation but leave the root of the problem unaddressed. Or, they work a little but aren't a complete solution on their own. Here are some things you should know if you're considering DIY flea control.

Fleas mate quickly. Once they hop onto your dog or cat, they will begin to mate within 24 hours. After they mate, they'll lay their eggs. Those eggs will then fall off on carpets, pet bedding, couches, and other places your pets roam or sleep, including your bed! Yikes. So, when you apply flea powder or some other veterinarian-prescribed flea product to prevent an infestation, you may do it after eggs have already been deposited and still end up with a full-fledged infestation.

A single flea can lay 40 to 50 eggs a day, and these eggs can be dropped in many places, some of which we mentioned above. If you don't get rid of them all, you're going to deal with an ongoing infestation. It is important to vacuum thoroughly and frequently to stop the cycle of infestation. Be sure to put the vacuum bags outside after you've finished vacuuming.

If you treat your pet, vacuum your rugs, and wash all of your bedding in hot water, you may arrest a flea infestation. It is possible. But that won't stop new fleas from coming into your home the same way those other fleas did. It is important to address the conditions which led to your infestation. This may be dampness around your home, overgrown vegetation, unsecured exterior trash receptacles, lawn clutter, entry points in your foundation or exterior walls, and more. Any conditions that lure rodents or wildlife into your yard, draw them near your foundation, or allow them to enter your home must be considered.

Homes dealing with a rodent infestation along with a flea infestation have twice the headache. Rodents don't just bring fleas into a home; they can litter eggs from throughout homes, from top to bottom, especially in rooms that are cluttered. Mice and rats are drawn to piles of clothing, groups of toys, stacks of boxes, and other cluttered areas because they are skittish creatures that normally keep one side of their body touching the walls of your home as they explore. Clutter makes them feel that it's safe to explore entire rooms instead of just the outskirts. If they're doing this, you should find droppings in the places they've been.
Chemicals
When frustration and desperation set in, homeowners sometimes turn to chemicals. They may use sprays or bombs to take out those fleas, but not only can these products make a family sick, but they are also rarely successful! These products are topical and have a serious problem getting to the fleas in rooms with furniture in them. Bombs work best in a home with rugs, awaiting new tenants and free of furniture (and people), though professional treatment is still safer and more effective.
Professional Flea Control
There are two reasons to seriously consider a professional when a flea infestation breaks out. The first reason is that when fleas go untreated, they can continue to plague you and your pets with itchy bites and spread illnesses such as murine typhus, flea allergy dermatitis, and tapeworm. Second, professionals use protocols established by pest control experts to systematically track and eliminate every last flea in your home, so you can know for sure that your flea infestation has been arrested.

If you live in New York, find out if you're in our service area. Parkway Pest Services doesn't mess around when it comes to fleas. Our Green Shield-Certified team uses smart, eco-friendly, Integrated Pest Management methods to stop flea infestations with the least amount of pest control products. We are a full-service pest control company. If you have rodent or wildlife pressures that are making your home vulnerable to flea infestation, your Parkway pest control professional can provide you with the pest control services needed to stop your flea problem at the source. Get started here!