With summer in full swing, have you had a chance to get out and enjoy your backyard? Maybe you have planted a garden along the fence line. Perhaps you have had a few barbecues with friends and neighbors. Maybe you have even decided to install a pool so that you can relax and cool off on hot days. Whatever the activity may be, if you have noticed stinging insects lurking around while you are trying to work or play, then you know how just their mere presence can ruin an otherwise perfect summer day.
In today's article, we are going to look briefly at some of the types of stinging insects you might see in our area of the country, why they may not be such a good thing to have set up shop in your yard, and what you can do to protect yourself.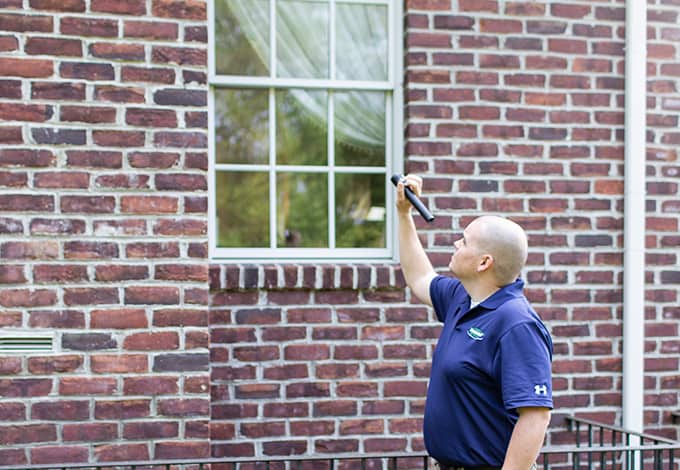 Cicada Killer Wasps
These insects look similar to the European hornet, but the yellow on a cicada is paler than its European cousin. Cicada killer wasps measure around 2 inches in length; they have red eyes, 2 prominent antennae, reddish-brown wings, and contrasting yellow and black stripes.
Cicada killer wasps, almost exclusively, kill cicada bugs. They do not swarm to protect their nests, and they pretty much keep to themselves. However, a female cicada killer wasp can sting humans and sometimes will when brought into accidental contact with the skin. And since these wasps prefer to build their homes in the ground and have a particular fondness for sandboxes, they can be a concern if you have children who tend to play outside.
Wasps
Although bees can only sting one time before losing their stinger, wasps don't have that problem. These stinging insects don't have barbs on their stingers, so they have the ability to sting over and over, especially if provoked or they feel their nest is being threatened. These social insects will release an attack pheromone when they sense a threat, so other wasps will soon join in the fight to protect "their" property. But even if you move away from them, they will likely pursue you, but not usually very far.
Yellow Jackets
These insects are the worst when it comes to stinging. They are bad-tempered, aggressive little stingers that will pursue relatively long distances. And they will actually swarm around objects that get in their way to continue their pursuit. Yellow jackets, like wasps, can also sting multiple times since they do not lose their stingers. While other social wasps will protect their nests, yellow jackets go a step further in that even vibration of the ground (such as a lawnmower nearby) can provoke them into swarming and stinging.
Carpenter Bees
While these bees are not interested in stinging humans, the females can sting, but usually only when brought into accidental contact with the skin. These bees are more interested in carving tunnels through the untreated wood of your home. So, while you may be relatively safe from stings with these bees around, you are at risk of having the structure of your home be compromised. This sometimes can result in stairs or decks being weakened enough to give way.
Bumble Bees
Like carpenter bees, only the female bumble bee can sting, and also, like carpenter bees, they don't prefer to sting humans. However, it is important to note that these bees, like wasps and yellow jackets, do not have barbs on their stingers so, if they do sting, they can do so multiple times. If you need assistance in telling bumble bees from carpenter bees, bumble bees are striped all over, whereas carpenter bees are black from the waste back.
Why DIY Solutions Are Not The Best Solution
Some stinging insects are essential to the pollination of our food supply. If hives are eradicated, and consumer sprays or other do-it-yourself products are misused, this can leave lasting effects on the environment and harm the insects we need to keep around.
Here at Parkway Pest Services, we have the proper education and effective products for the safe removal of stinging insects. Don't take matters into your own hands. When it comes to dangerous stinging insects, reach out to Parkway today.