Bed bugs are sneaky parasites that access your home in a variety of ways that can prove difficult to prevent. Luckily, your local pest experts at Parkway Pest Services have developed this quick guide so that you can understand how bed bugs work, what they want, how you can determine if you're dealing with an infestation, and why pest control in Long Island can help keep your home protected throughout the year. If you're ready to learn more about the specifics of our bed bug control offerings, please visit the bed bug services page of our website, and in the meantime, we hope that the following tips are very helpful to you.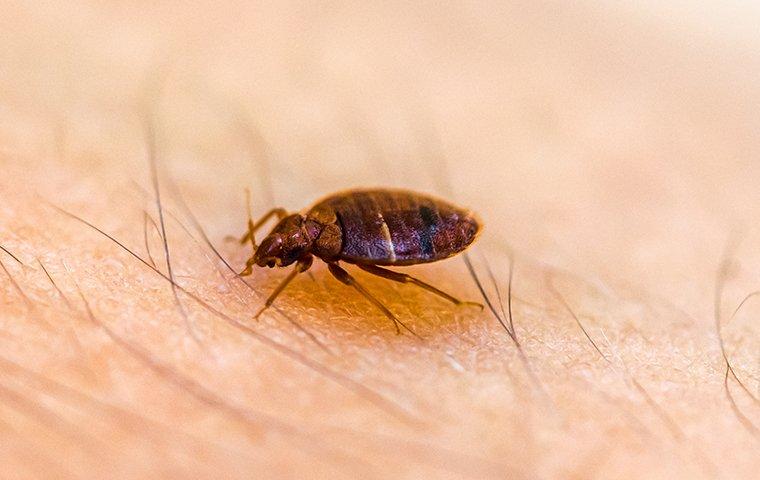 How To Tell If It's Bed Bugs Infesting Your Home
Bed bug problems are notoriously difficult to determine when they happen in your home, primarily because of where these pests usually live. They opt for locales like mattresses, dog beds, ottomans, and upholstered chairs, and leave behind subtle signs that indicate their presence. Because bed bugs can be truly difficult to detect, you'll want to be on the lookout for any of the following signs:
Smelling something musty and sweet, like moldy berries, which comes as a result of bed bugs throwing off their pheromones

Very dark blood stains on your sheets and pillows as well as rust-colored smears, which come from either bed bugs getting squished or from their fecal matter, which contains your blood

Finding byproducts like eggs, egg shells, molted body parts, and feces that resemble flecks of dirt in your furniture or upholstery

The presence of any bed bugs, whether they're adults or nymphs, alive or dead

Waking up with clusters of tiny red bites that you don't remember getting

An uptick in allergic reactions or asthma-like symptoms, which can come as a result of bed bug byproducts

Strange behavior from your cats or dogs, especially around furniture
If you notice any of the aforementioned signs, do not ignore them, as they very well may indicate an outbreak in your home. Reliable Long Island bed bug elimination from Parkway Pest Services is the best solution if you find yourself challenged by these pests.
Because the signs of an infestation can be difficult to properly identify, we utilize K9 inspections in order to sort them out in conjunction with our highly trained pest technicians. We have decades of experience looking for bed bugs and properly identifying the source of infestations, which is why we are the most qualified team to help eliminate them. For more information on our services and how they can help you beat bed bugs, please call us today.
How And Why Bed Bug Infestations Get Worse With Time
If you've ever encountered bed bugs in your Long Island home or have heard stories about them, then you probably know that they are one of the most persistent pests around. Some of the reasons why their infestations only get worse with time are for the following reasons:
Feeding habits: Bed bugs feed off of your blood in order to survive, and as long as they have access to people, they have no incentive to leave a home. When temperatures are warm like in late spring and throughout the summer, bed bugs require approximately three to five feedings per week. Because bed bugs usually live very close to their food source (e.g., in your mattress or living room sofa), they are often able to continue feasting without interruption. Once temperatures cool down, bed bugs require less frequent feedings, which can also mean that they'll stick around as long as they still have access to people.

Reproductive schedules: A bed bug's reproductive routine is inextricably linked with its feeding habits, because the female always lays her eggs after she's eaten. A breeding female can lay anywhere from one to seven eggs per day if she's eating on a regular basis. These eggs usually take two weeks to hatch and bed bugs can start reproducing within six weeks of being born. The typical female bed bug will lay approximately 250 eggs in her lifetime and will avoid having more eggs beyond that.

Traveling habits: Because the female bed bug usually wishes to avoid reproducing more than she has to, she is likely to travel after laying all of her eggs to do so. While this can mean fewer eggs, it doesn't guarantee that, and it can also mean that your infestation can lead to other parts of the home, which can make an infestation harder to contain.
Rather than let bed bug infestations get worse with time, look to Parkway Pest Services for Long Island bed bug control that you can trust. We understand how difficult these types of problems are to eliminate and we have the training, expertise, and top-quality EPA-approved products that are necessary to treat them effectively. Please call us today for more information on our Long Island bed bug control services.
Why It Is So Hard To Get Rid Of Bed Bugs On Your Own
Bed bugs are one of the most challenging pests to eliminate on your own, primarily because of where their infestations are located. A bed bug infestation usually starts in a place like your bed or a couch, if you've brought these pests directly into your home and then made contact with these pieces of furniture. It's also possible that if you decided to decorate with a used sofa or mattress, there was already an infestation in one of these items to begin with.

Once an infestation has begun, bed bugs live inside of these places and come out only at night in order to feed off of your blood. Having a bed bug outbreak usually means that you may never actually see the intruders that are at play. Additionally, bed bug populations begin to spread from their source once it has gotten overcrowded, so containing an issue that has spread to furniture like nightstands, closets, and dresser drawers is made even more difficult.
They can also be a challenge to get rid of on your own because these types of infestations are so easy to attract in the first place. Any time you are in public, you risk bringing Long Island bed bugs back to your home. If you were to go see a movie, you could potentially bring more bed bugs back home with you, which would only make the existing issue that you have worse. Bed bugs are also one of the most stubborn pests to eliminate, which can make getting rid of them a true challenge. If you miss even a few of them while trying to eliminate them on your own, it's very easy to end up with an infestation that's larger than the one that you started with.
Bed bugs also have a growing immunity to many common pesticides, such as the ones that you might purchase at the hardware store. These over-the-counter products contain active ingredients like pyrethroids and neonicotinoids, which bed bugs have begun developing an immunity to. Rather than attempt to eliminate bed bugs on your own, seek out professional bed bug removal in Long Island from Parkway Pest Services.
How And Why Professional Bed Bug Control Works
Professional bed bug control in Long Island is one of the most valuable services that you can benefit from when you enlist the help of your local pest control company. As we've discussed, bed bugs are very skilled at hiding from people and reproduce prolifically, so elimination without help is essentially impossible. When you decide to partner with an experienced team, you are benefiting from years of on-site work and training, top-shelf products, and a guarantee of total elimination. You'll also gain the knowledge that you need in order to prevent future bed bug outbreaks, which can be invaluable in itself.

At Parkway Pest Services, we specialize in effective bed bug control that protects your home throughout the year. Simply put, our process is thorough and unlike any other. We begin with detailed home inspections where we incorporate the help of our canine companions. By working with a K9 team, we inspect room-by-room and can access the hardest-to-reach areas of your home that even a trained specialist can miss.

Once we've determined the scope of your outbreak, we'll determine the type of treatment that best suits your home. Sometimes we employ conventional products, while other times we use steam treatments, or a combination of the two. Each of the products and methods that we use is in accordance with EPA standards, which makes that safe for everyone in your household as well as the environment. Every service that we offer comes with our pest-free guarantee, so if we haven't sufficiently gotten rid of your bed bug problem, we'll provide re-treatments at no additional cost until we've solved the problem.

To further protect your home from bed bug infestations, we also offer year-round maintenance and monitoring as well as service plans. This allows our fully trained and experienced technicians the opportunity to stay ahead of bed bugs so that you don't have to suffer the consequences. We'll also work with you on the small yet effective habit changes that you can implement into your daily life to help prevent future outbreaks from happening. For more information on getting rid of the bed bugs in your Long Island home, please call us today.