What Is A Bed Bug?
Bed bugs are tiny insects that feed on the blood of mammals. Unfortunately, their favorite source of food is humans. Bed bugs were once very seldom heard of; however, they are making a strong comeback in the United States and can be found in every state. Adult bed bugs are oval-shaped and are about the same size as an apple seed. They are very flat and tend to be reddish-brown in color. Bed bugs reproduce very quickly, so the earlier you catch the infestation, the more successful the treatments tend to be.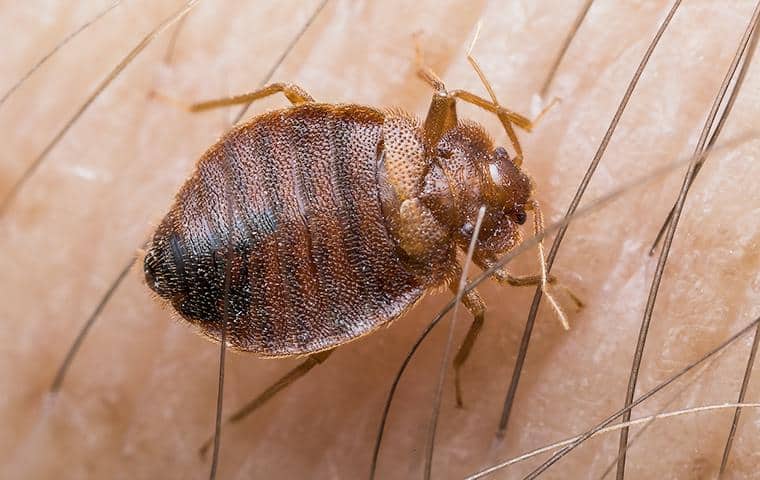 Things You Should Know:
Bed bug bites are often found on arms, legs, necks, and other exposed areas.
Prior to eating, bed bugs are flat and brown. After a meal, their bodies swell and turn red.
Bed bugs hide in beds, behind baseboards, in furniture crevices, and other small cracks and crevices.
It is common to find bed bugs in homes, hotels, airplanes... any place people congregate!
Why Are They In My House?
While there are a lot of myths and misconceptions about bed bugs and why they infest our homes, the primary reason why bed bugs are in your house is because they are searching for food. Most likely, they got there by hitching a ride from somewhere else; bed bugs are very adept hitchhikers. You can pick them up almost anywhere: the bus station, a hotel, a taxi cab, an airplane, or even a relative's house.
What's The Deal With Bed Bug Bites?
Bed bugs are not known to carry or transmit diseases; however, they often leave a red, itchy welt after feeding. These welts can be quite irritating and may become infected. Once they become infected, medical attention is required.
What Does It Take To Get Rid Of Bed Bugs?
Bed bugs are nearly impossible to exterminate with do-it-yourself methods or over-the-counter products. Their small size and flat shape make them extremely good at hiding. They can hide under the sheets of your bed, in the folds of mattresses, inside furniture cushions, and even behind baseboards, outlet covers, and picture frames.
The professionals at Parkway Pest Services are trained in the latest and most effective methods of bed bug extermination. We also offer canine bed bug inspections; these dogs are trained much like bomb detection and drug-sniffing dogs and are up to 99% accurate in detecting the presence of adult bed bugs, nymphs, and eggs. For bed bug extermination services near you, get in touch with our experts today!
Helpful Articles About Bed Bugs

How Soon Can You Get Here?
At Parkway, we understand that it is important to you to take care of your pest problem as soon as possible; therefore it is important to us, as well. Emergency and same day service is available and in most cases we can be there the very next day.

Is The Treatment Safe?
Here at Parkway Pest Services, we pride ourselves on being Green Shield Certified and we use Integrated Pest Management (IPM) techniques, which means treatments are much safer for you and your family. IPM techniques include far fewer uses of chemicals, using them only as a last resort. Instead, we focus on baiting and the exclusion of pests.

How Can I Prevent A Future Infestation?
Bed bugs are challenging to prevent due to their ability to travel on your clothes, luggage, and more. It is important to contact Parkway as soon as you see any signs of a bed bug infestation. Signs include:
Small spots of blood on your sheets or pillows; are left from nighttime feedings
Small, brown droppings
Although they are tiny and difficult to see, it is possible to spot the bug's tiny, white eggs with the naked eye
Caste skins leftover from growing bugs
And of course, adult bugs themselves
Call Parkway Pest Services today and we will take care of your bed bug problem.
PestGuard Protection
Designed to control the basic needs of pest control, this plan effectively protects your home from occasional invaders that are frequently encountered as well as most wood destroying insects. In addition to controlling carpenter ants, cockroaches and other insects and rodents, this home pest control plan includes treatment of yellow jackets within two feet of the dwelling. With our friendly and knowledgeable exterminators on the job, you can say goodbye to ants in the kitchen, mice in the attic and the other pests scattered throughout the house.

4 Visits Annually

Pest Identification

Covers 30+ Common Pests

Interior & Exterior Service

Unlimited Service Calls