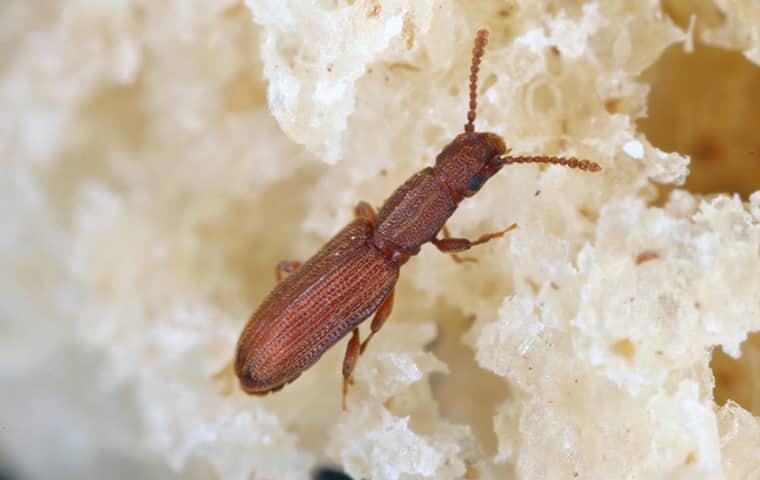 Whether you anticipate it or dread it, winter has arrived in Long Island and surrounding areas of New York. And since it is not going anywhere for quite some time, many homeowners are finding themselves hunkered in and getting the winter routine down. Nothing says winter like fresh baked goods or trying out a new comfort food recipe. But the professionals at Parkway Pest Services wanted to remind you that when you hit the food pantry or the grocery store for your baking and cooking ingredients, keep an eye out for pantry pests!
Pantry pests are the name given to a group of insects that infest mainly shelf and packaged foods. There are many different insects classified as pantry pests (aka food infesting pests or stored product pests), including the following:
Indian meal moths
Cigarette beetles
Sawtoothed grain beetles
Drugstore beetles
When it comes to these pests, we must take a different approach to control. Most pests travel into your home because there is an opening or crack in the exterior of your home, a ready and available food or water source, or protective shelter. But when it comes to pantry pests, most often they have traveled into your home inside a sealed package of food from the grocery store. This means that cleanliness or pest proofing are not the main factors in having a pantry pest infestation. Having these pests inside your home does not mean you should put a halt to all of your cooking and baking endeavors this winter. The team at Parkway Pest Services wanted to share a few tips to help our Long Island and surrounding area residents avoid encounters with pantry pests:
Do a deep cleaning of your kitchen cupboards and food pantry. You want to discard items that are past their expiration date or have been sitting open for a long time and certainly remove any items that appear to have moths or beetles!

When you are shopping for food, pay close attention to the packages you are purchasing. It is best to avoid any packages with damaged seals, as holes or tears in packaging make it much easier for pantry pests to get inside and lay their eggs for future pantry pest infestations in your home. Female Indian meal moths can lay hundreds of eggs in a package of food and it is definitely not good if that package comes home with you from the store.

Try not to purchase bulk food items if you are only going to use them sparingly. Smaller packages will sit for less time and be less prone to food infesting pests.

Consider Parkway's protection plans to keep unwanted house guests, such as moths, beetles and other food infesting pests away from your NY home.
If you are living on Long Island, in any of the Five Boroughs, Westchester County, NY as well as Fairfield County, CT, then our team of NY pest control pros at Parkway Pest Services has you covered! Simply contact us to learn more about our Long Island pest control services and home pest control programs to eliminate pantry pests as well as many other common household pest problems. New York winters may be long and cold, but they certainly do not have to include the scare of pantry pests.