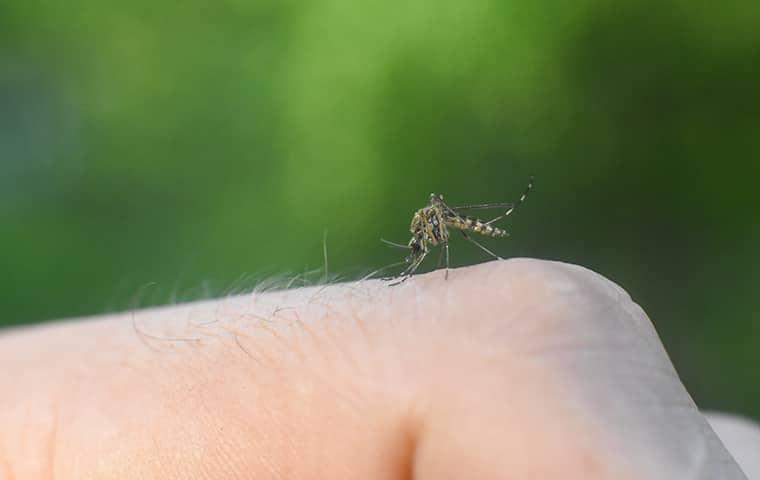 Even though August begins to shift us back into fall mode, that does not mean that the threat of summer pests is going away just yet. In fact, during the month of August you may find more pest activity than previous summer months due to the fact that they have had the entire summer to breed, multiply, grow, and thrive in warm conditions. So while the kiddos are heading back to school, it is still time that homeowners on Long Island, in Westchester County and throughout our region are aware of the pest pressures during August.
Which pests are most likely to be a nuisance this month? In addition to stinging insects, ants, mosquitoes, and flies are going to continue to bother homes and properties for a while. Even though stinging insects are the pest of the month here at Parkway Pest Services, we wanted to make sure to extend some information on these other common summer pests that are going to try to stick around.
Ants can invade homes by the masses and while most ants are simply searching for food and not trying to cause any harm, there are some more threatening species like carpenter ants who are hoping to carve through wood structures in order to create their nests. Ants are foragers and extremely social insects which means that you are rarely going to see just one. Their colonies can grow into thousands of ants.
Mosquitoes are another common summer pest found throughout New York including Westchester County. Mosquitoes can quickly infest your property and if stagnant water is present, you can be sure that female mosquitoes will stick around to breed. Aside from their reputation for ruining outdoor events, these pests can also be dangerous to your health. Some mosquitoes carry and spread diseases like West Nile virus which is receiving a lot of media attention this summer due to the severity of the problem throughout the country. Click here to read a recent article from the Wall Street Journal regarding West Nile Virus in New York.
Flies are a common pest to homes in the summer months and while they may be a common sight, the Long Island pest control pros at Parkway recommend that you do not shrug off their presence. Flies carry and transmit several diseases and can spread bacteria through the home and kitchen. People can become ill from food that flies have come into contact with. These pests are just plain filthy.
So, how can you avoid the threat of these summer pests? Here are a few prevention tips:
Keep windows and doors closed unless they have a screen that is well intact.

Seal off any points on the exterior of the home where there are cracks, holes, or gaps.

Consider insect mesh screens to cover vents or other necessary holes on the exterior.

Keep the kitchen well sanitized: clean all crumbs and spills, seal all open food, and disinfect surfaces before and after each use.

Eliminate any standing/stagnant water on your property including water collecting in buckets, gutters or drainage ditches.

Refresh bird baths.

Empty and turn kiddie pools on their side when not in use.

Wear appropriate clothing such as long sleeved shirts and pants when outdoors during periods with high mosquito activity.

Apply insect repellent early and often.

Avoid going outdoors during dawn and dusk when mosquitoes are most active.

Frequently mow lawn and remove overgrowth on property.
If you notice any signs of these pests including ant mounds, foraging ants, flies buzzing, or an abundance of mosquitoes, then it is time to call in the NY pest control professionals! At Parkway Pest Services we are committed to helping you maintain a pest free home and avoid the dangers and threats of pests. To learn more about our PestGuard, simply contact us today.
In addition to providing Long Island exterminating, Parkway offers pest control services in Westchester County, and Brooklyn as well as throughout our New York service area and Fairfield County, Connecticut.