Birds are beautiful and wild creatures that soar in the sky. It can be a sight when they take off, but once they breach the sanctity of your home or business, the magic is over. You never think you need animal control for birds in Nassau County until you wind up with birds at the front desk.
Bird control can be a tricky process due to their fickle and flighty nature. That shouldn't stop your business from defending itself; animal control for birds in Nassau County is just a phone call away. When birds find their way inside, our team can help. No matter if it's commercial or residential bird control you seek, we can keep your Nassau County residence well protected and show you how to keep the birds away.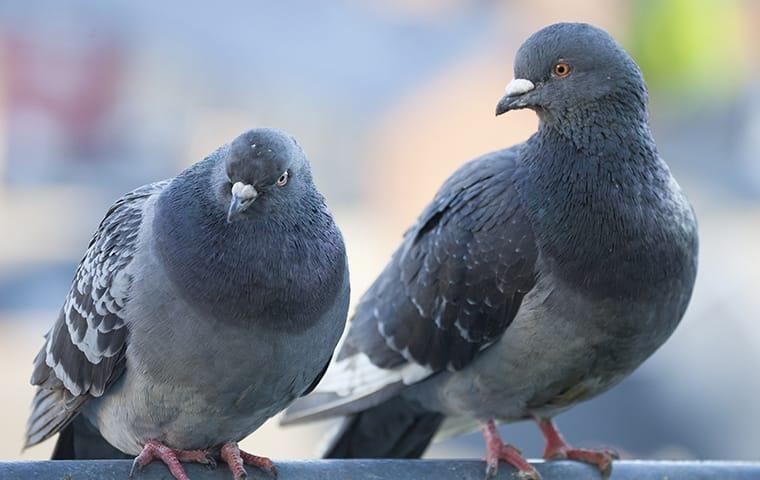 Feral Pigeons In Nassau County
Do you know what a feral pigeon is? While they are not native to the States, they are now common in most major cities in the country and around the world. Pigeons are essentially flying dumpsters of disease and you shouldn't handle them without proper care and protection.
These pigeons have adapted well to urban life from their sea and mountain ancestral roots. They cause an excess amount of excrement and are one of the top nuisance birds found in the city. While they are the same size as common rock doves, they have a darker pigmentation.
Birds Are Unsanitary Around Nassau County Businesses
Proper pest control bird removal is necessary is due to the safety of yourself, your staff, and your customers. Birds can carry a number of serious diseases such as:
Salmonellosis

West Nile virus

Pasteurellosis

Avian flu

Sarcocystis

Q Fever
Birds can also carry various types of mites that can bite and infect you. You should call in professional pest control when it comes to wild birds, as you never know what they could be infected with and all it could take is contact or a scratch. It's always best to play it safe when it comes to this kind of pest problem.
Why Bird Choose Your Nassau County Business To Nest
When birds take up residence in your home or business, you might ask yourself, why? Why do I need a bird control service and how did that bird get in here? While the second part might be obvious, doors are constantly opening, welcoming people inside. But as for why they came in, here are a few reasons:
Food. Birds are always on the hunt for food and scraps.

Shelter. If it's raining or cold, birds will seek out a place to take cover and warm up.

Curiosity. Birds can be very curious creatures, and they watch people just as people watch them.

Nesting. Seeking locations of safety to build their nest and lay their eggs.
Bird control can be managed if you are aware of prime nesting locations and keep an eye out for winged visitors. When it comes to actually dealing with the birds, you can be sure of our Parkway Pest Services' humane bird control methods. You don't have to harm birds to be rid of them and keep them away.
Bird Control In Nassau County Is Best
You'll find the best in pest control bird removal at Parkway Pest Services. With our team at your side, we can keep the birds where they belong. We have been in the business since 1932; nearly a century of dedicated residential and commercial bird control that you can count on.
Our team at Parkway Pest Services even offers same-day bird control service for emergency pest control. Reach out to us to find out more about our same-day service. Parkway Pest Services is green certified and has been recognized as being a leader in the industry for more than 75 years. You can depend on our humane bird control methods that will keep you and your home safe. When you want the pest problem gone, Parkway Pest Services is the only way to go!