What Is A Box Elder Bug?
Adult box elder bugs are ½ inch in length and are black in color with red markings on their wings and behind their head. Box elder bugs get their name from their main food source, the Box Elder tree. They suck the sap out from the leaves, seeds, and shoots of the tree. They are also found feeding on maple and ash trees.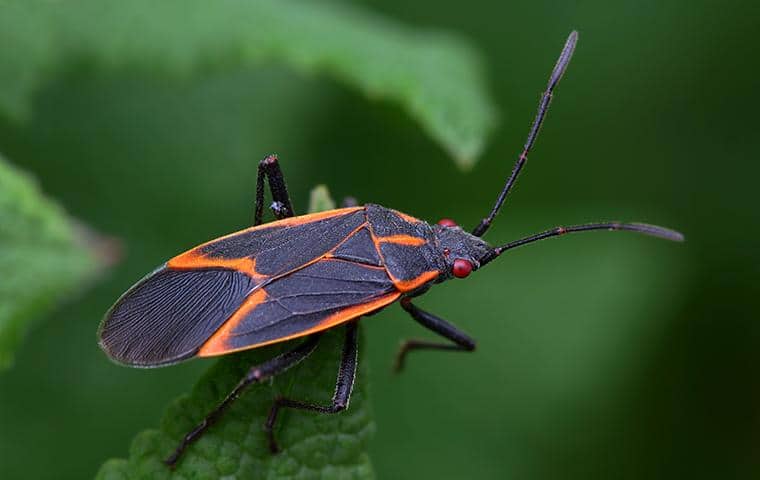 Things You Should Know:
Box elder bugs often infest box elder trees as well as ash, maple, and cherry trees.
Overwintering insects, box elder bugs infest homes as the weather cools.
Box elder bugs do not cause property damage.
Why Are They In My House?
Box elder bugs often enter homes in New York and Connecticut during the fall months when the weather starts to cool off. They are looking for a warm shelter in which to spend the winter.
Are They Dangerous?
Box elder bugs do not sting and although they may bite, it does not usually prove painful. They are not a dangerous pest, but could cause problems for homes when they congregate in large numbers as they are likely to do.
What Does It Take To Get Rid Of Box Elder Bugs?
Box elder bugs can be very difficult to get rid of. They invade your home in very large numbers and can hide behind walls, in attic spaces and behind baseboards. Parkway Pest Services' pest control services for box elder bugs are the ideal solution. Learn more about our PestGuard program!

How Soon Can You Get Here?
At Parkway, we understand that it is important to you to take care of your pest problem as soon as possible; therefore it is important to us, as well. Emergency and same day service is available, and in most cases we can be there the very next day.

Is The Treatment Safe?
At Parkway Pest Services, we pride ourselves on being Green Shield Certified, and we use Integrated Pest Management (IPM) techniques, meaning treatments are much safer for you and your family.

How Can I Prevent A Future Infestation?
Preventing box elder bugs from entering your home can be a difficult task. However, sealing cracks in your foundation and siding along with making sure windows and doors are sealed properly can help to prevent them from entering your home. For the most advanced protection against box elder bugs and other insects, rodents, and wildlife common to our region, contact Parkway Pest Services at the first sign of a problem.
PestGuard Protection
Designed to control the basic needs of pest control, this plan effectively protects your home from occasional invaders that are frequently encountered as well as most wood destroying insects. In addition to controlling carpenter ants, cockroaches and other insects and rodents, this home pest control plan includes treatment of yellow jackets within two feet of the dwelling. With our friendly and knowledgeable exterminators on the job, you can say goodbye to ants in the kitchen, mice in the attic and the other pests scattered throughout the house.

4 Visits Annually

Pest Identification

Covers 30+ Common Pests

Interior & Exterior Service

Unlimited Service Calls