We have a few tick species in New York. The worst species is arguably the deer tick (also referred to as the black-legged tick). This is the tick species that is associated with Lyme disease, which can have chronic symptoms. But Lyme disease is far from the only disease that can be transmitted by ticks, and deer ticks are far from the only ticks that can spread diseases. But how likely are you to get sick from a tick bite? Let's take a look at how ticks spread diseases and at what your chances of being exposed might be.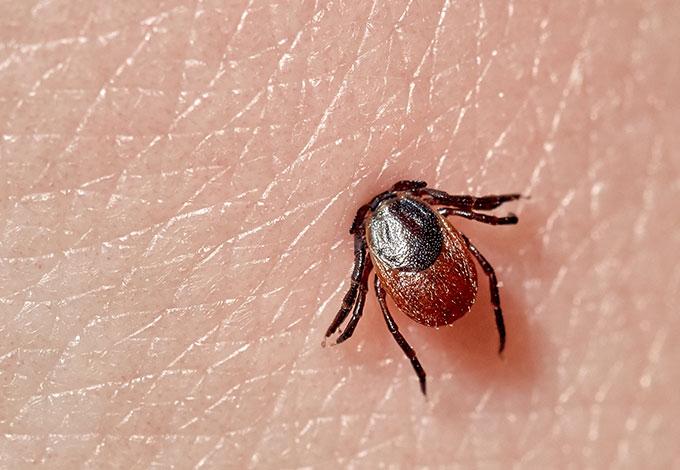 Zoonotic Transmission
This is a fancy word that refers to the ability of a disease to pass from animals to people. The concern with tick-borne disease is that they hop from wild animals to people. There are a few reasons why this is important to consider:
Ticks don't take humans as hosts. Therefore, it is unlikely for a tick to go from person to person.

Animals in urban areas, such as mice and rats, are exposed to harmful organisms because they climb around in dirty places and eat rotting organic matter or feces. When a tick bites one of these animals, it has a higher chance of contracting a disease-causing organism. When ticks fall off small animals, they seek larger animals to feed on. This is when disease transmission is a concern for humans.

Seed ticks (young, six-legged ticks) are not likely to have a transmittable disease because you may be the first mammal they've fed on. If you find a six-legged tick attached to you, there is less to worry about.
Mitigating Disease Transmission
When a tick bites you, it will attach for a long time. Some diseases, such as Lyme disease, can be prevented if you catch ticks early and remove them. It is estimated that a tick must be attached for 24 to 48 hours to cause Lyme disease. Along with early detection, it is essential to properly remove any ticks you find attached to your skin. If you squeeze the body of a tick, you can introduce more bacteria into the wound and hasten the transfer. We recommend using a tick-removal tool or needle-nose tweezers to remove ticks. If you use tweezers, be sure to pinch the tick near the head.
Mitigating Contact With Ticks
If you have fewer ticks in your yard, you'll have fewer encounters with ticks. This will result in a lower risk of disease transmission. It will also reduce the chances that your dog or cat will pick up ticks from your yard. One of the best ways you can reduce tick populations is to limit wildlife activity in your yard. Here are a few tips:
Use fencing material to seal voids underneath sheds, decks, porches, and other structures. This prevents harborage.

Remove food sources that animals eat, such as seeds, nuts, acorns, fruits, vegetables, etc.

Keep your grass trimmed and address dense vegetation in your landscaping.

Keep your gutters in good repair and free of clogs. This reduces moisture and water sources near your home.
If you have a dog or cat that goes out into your yard, it is important to consider their role in bringing ticks into your home.
Find out from your veterinarian if a flea and tick collar is right for your pet and for your family. While a collar isn't the end-all for tick control, it is definitely a good first step in protecting your pets from ticks.

If you have a dog that does not currently have a fenced-in recreational space outside, consider creating one. This keeps wildlife from easily accessing this area and prevents your pooch from exploring areas on your property where ticks may be hiding.

Do routine checks of your dog or cat. Check the ears and in between the toes. This is where ticks like to attach. Also, use your fingers to feel for ticks attached to the body of your dog or cat.
Another option for flea and tick reduction around your home is to invest in professional treatments. A licensed pest professional can apply appropriate products to key areas on your property to prevent organisms like ticks, fleas, and mosquitoes from developing in your yard.
Westchester Tick Control
If you live in Westchester, feel free to contact us here at Parkway Pest Services for advice and assistance with tick control and other pest control services. We are a leader in the pest control industry and we offer Westchester residents the most advanced and trusted pest control solutions available. Reach out to us and tell us about your pest concerns. If you're worried about how bad ticks are in our region, we can make it so that you don't have to worry as much. Get connected today.