Exterminators In Stewart Manor, NY
Stewart Manor is a small, affluent village that is a suburb of New York City; it offers its residents a quiet respite away from the daily grind of city life. To protect this lovely village and its residents from the insects, rodents, and other pests that live in the area, Parkway Pest Services offers industry leading pest control services built to make your property safe from pest threats and keep it that way for good. We are a local company with a deep understanding of the unique pest pressures that our customers face because we live where you live and face those same pressures. To protect your Stewart Manor property from pests, we offer a wide variety of pest control services to ensure that all of our customers exact pest control needs are always going to be met.
Get in touch with us today to see why so many of your New York neighbors trust Parkway Pest Services with their pest control needs!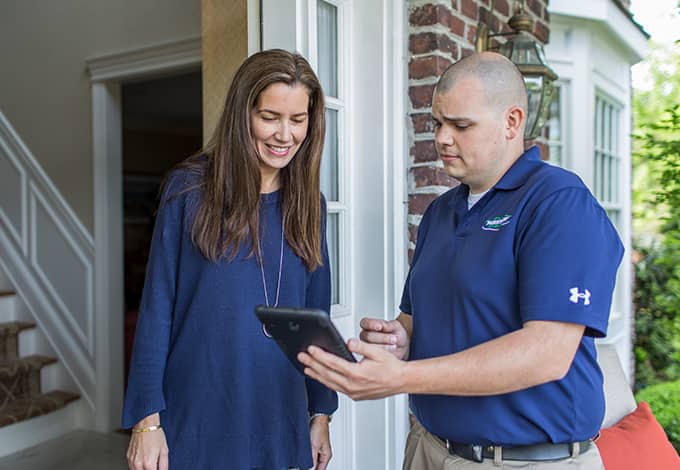 Home Pest Control In Stewart Manor, NY
To protect your family and home from the many common household pests that have the potential to invade it, Parkway Pest Services highly recommends putting into place a year-round residential pest control program. Benefits to choosing Parkway Pest Services to meet your home's pest control needs include that we offer two different levels of year-round pest protection to choose from, our home pest control services provide both exterior and interior control against pests, our services are easy to schedule, and you don't need to be home for treatment to happen!
Our residential pest control programs include:
Parkway PestGuard: The Parkway PestGuard includes four annual visits. This program covers over 30 common pests including carpenter ants, fleas, ticks, and yellow jackets located within two feet of the structure. This program also includes unlimited service calls.
Parkway PestGuard+: The Parkway PestGuard+ is our most comprehensive program, it includes everything that is in the above PestGuard program, but has the added benefit of termite control. If termites are found on the property, our pest control professionals will provide services to eliminate them.
Give us a call to learn more about partnering with Parkway Pest Services to take care of your Stewart Manor home's pest control needs.
Tips To Minimize Mosquito Populations In Stewart Manor, NY
To minimize mosquito populations living on your Stewart Manner property, it is important to remove areas of standing water that mosquitoes need in order to breed, so your first step should be to discard or remove anything that can collect water from your property. In addition to removing standing water, keeping your property's grass mowed short and trimming back overgrown landscaping and trees from your property can limit the amount of space that the mosquitoes have to rest.
However, the best step that you can take to minimize mosquito populations on your Stewart Manor property is to partner with Parkway Pest Services so that you can put one of our expert mosquito control services into place. At Parkway, we provide our customers with 2 different mosquito control options: our first mosquito control option is our on-going service - this service provides protection against mosquitoes during their entire active season which runs April through October. Our trained technicians will inspect your property, locate breeding grounds and provide treatment.
Our second option is a one-time service; it provides customers with a single mosquito treatment and offers relief from mosquitoes for up to 3 weeks. The one-time service option works well to reduce mosquito populations on a property before a large party or event is thrown.
To learn more about Parkway Pest Services mosquito control options for your Stewart Manor home, contact us today!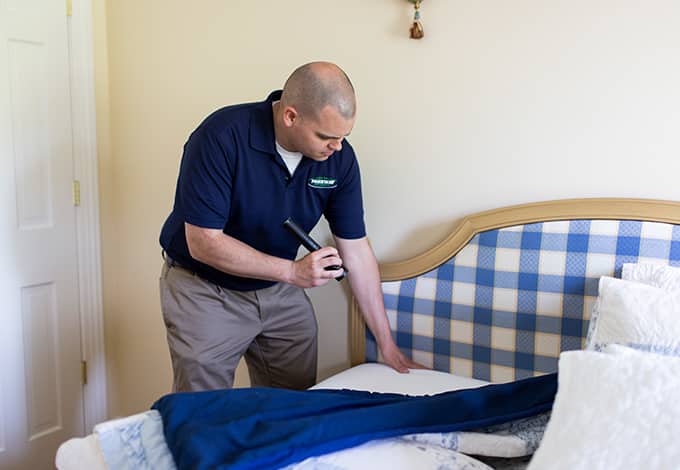 How To Avoid Bed Bugs In Stewart Manor, NY
Bed bugs have a unique gift for getting into anywhere that you want to be - hotels, movie theaters, airports, libraries, schools, dormitories, hospitals, shopping centers, and any other places that most people commonly spend time in are all at potential risk for infestation. This isn't necessarily because bed bugs are trying to ruin our lives, but rather out of necessity to be close to their favorite food source - human blood. What this means for us is that we always need to be alert and protect ourselves and our family members from introducing bed bugs into our homes after spending time out and about in public. To help prevent introducing bed bugs into your Stewart Manor home, it is always important that when you or family members are in public places that you keep personal belongings up off of the floors. When traveling, always inspect your hotel room for bed bugs before bringing your luggage into the room; always wash new or secondhand clothing after purchase, and, if possible, never purchase used mattresses, box springs, or furniture for your home.
If bed bugs do ever make their inside your home, don't panic: call Parkway Pest Services and we will quickly come to your assistance, thoroughly inspecting your home using our specially-trained K-9 bed bug detection team. If bed bugs (or signs of their presence) are discovered during an inspection, we can quickly get rid of them through our treatments options, which include:
Conventional bed bug treatments
Steam treatments
Year-round plans and monitoring programs
Mattress and box spring encasements.
Give us a call to learn more about the bed bug treatment options Parkway Pest Services provides.
Protect Your Stewart Manor, NY Property From Termites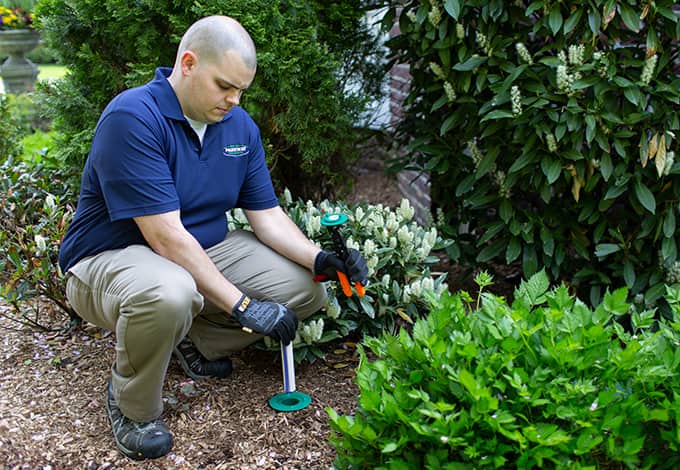 Parkway Pest Services specializes in termite control: we have treated thousands of homes and business, and our technicians know termite biology and behavior from the inside-out. Termites are pests that have the ability invade a property for months or even years before their presence is discovered, and because of this it is important to schedule routine termite inspections to ensure your home is never left unprotected. If, during an inspection, one of our highly-trained and experienced professionals discovers termites or termite activity, he or she will immediately discuss treatment options with you and inform you of what steps need to be taken next to take back your property.
At Parkway Pest Services, we highly recommend installing the extremely effective Sentricon® System with Always Active™, both to get rid of a current problem with termites and to prevent future colonies from nesting on your property. Sentricon® with Always Active™ is very eco-sound; requires no drilling, trenching, or digging on your property; works to quickly eliminate the entire termite colony; and then stays in place to prevent future problems on your property.
Do not leave the safety of your Stewart Manor home up to chance: be proactive and schedule a termite inspection from Parkway Pest Services today!