There are hundreds of ways it could happen and hundreds of ways you could come to realize you have a rodent infestation. Sometimes the signs are subtle. You may find a few tiny droppings in the back of a kitchen drawer. But you may also be on your knees, trimming flowers in the garden, and see a couple of big brown rats slip under the pile of garden supplies you have stacked on a pallet near your house. However you discover them, one thing is for sure: you'll want them gone as soon as possible. When dealing with rodents, it is important to understand what it means to see them inside or outside your home because they can cause many problems once they get inside.

If rodents find a way into your home, you may realize it immediately. One of the first and most annoying problems caused by invading rodents is the unwanted rustling sounds inside your walls. And what's worse, rodents are mostly nocturnal, which means these sounds usually start right around bedtime, meaning that they can disrupt your sleep and keep you awake at night. If you normally stay up all night, this might not bother your sleep much, but it is still unsettling to know that you have animals moving around inside the walls of your home. If you agree, we invite you to consider those sounds as a blessing in disguise! Mice and rats often don't make any detectable sounds when they infest a home, which allows them to cause all of the problems listed below without alerting you to their presence.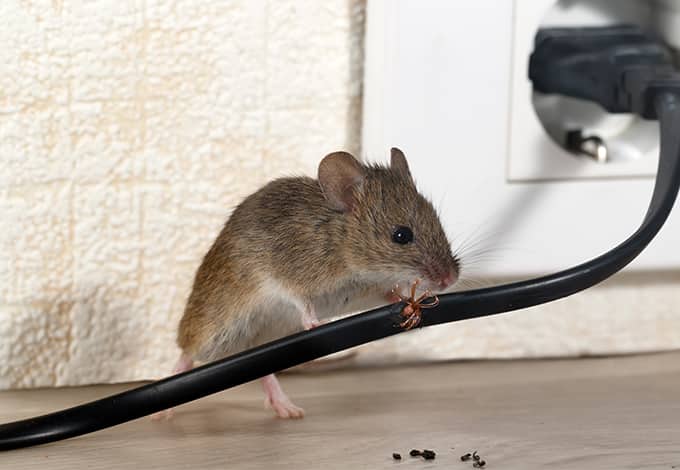 Damage
Most rodents will damage your home while trying to get in. They have strong, sharp teeth that are constantly growing that they can use to chew through many building materials. If they have to chew their way into your home, they can create openings in the exterior of your home that other pests can then exploit. Those holes can also allow rainwater to leak into your home and create mold, wood rot, and other serious moisture-related problems. In addition, if the holes are created in higher locations of your home, they can allow heat to escape in the winter.

Once inside, mice and rats will work to create their nests. The materials they use to make their nests are gathered from items in your home. They may rip up your insulation, peel off some of your wallpaper, chew a hole in your stored wedding dress, shred an important document in your home office, or tear pages from your favorite book.

Inside your walls, rodents will chew holes to access your kitchen, pantry, or other food storage areas. These holes will be low and usually concealed. If there are wires in the way, they may also chew through them, leading to a house fire.
Rodents won't usually hang out in the common areas of a home. They prefer to hide away in the secluded areas of the home. But rodents have also been found nesting in living room furniture, even in busy homes. However, they'll often find pieces of furniture in storage and create their nests inside; when they do, they can create several holes and fill the insides with feces and urine.
Illness
If mice or rats get into your home and you don't know it, you may experience illness and not realize that rodents are to blame. Some of the many illnesses caused by rodents include hantavirus pulmonary syndrome, hemorrhagic fever with renal syndrome, OMSK, plague, rat-bite fever, Lassa fever, leptospirosis, lymphocytic choriomeningitis, salmonellosis, and tularemia. They spread illness with their feces and urine and by crawling over dishes and food-prep surfaces and contaminating food sources. If feces are left in a ventilation system, those harmful pathogens can also become airborne.
Parasites
Mice and rats often pick up parasitic pests before entering a home. Fleas, ticks, mites, and other parasites love to feed on small warm-blooded animals. This can present a secondary pest issue inside your home when rodents invade. Fleas leave behind irritating bites and can spread several diseases. However, of all the parasites rodents carry, ticks are the most dangerous. These pests are known to spread a variety of serious illnesses such as Lyme disease, Rocky Mountain spotted fever, tularemia, and Southern Tick-Associated Rash Illness (STARI), to name a few. A number of these diseases can have lifelong implications for your health.
Rodent Control
When rodents appear in your home, you must understand the threats they pose. But it is also important to understand just how difficult it is to get rid of them. These critters are just about as paranoid as a creature can be and are very suspicious of new items placed in their environment. Therefore, if you place traps, you aren't likely to capture all of the rodents in your home.

The best solution is to hire a licensed and experienced professional. The professionals are trained to apply traps and other rodent control products effectively and monitor to ensure that all the rodent activity has been arrested. When it comes to rodent infestation, don't settle for anything less. Reach out to us at Parkway Pest Services!