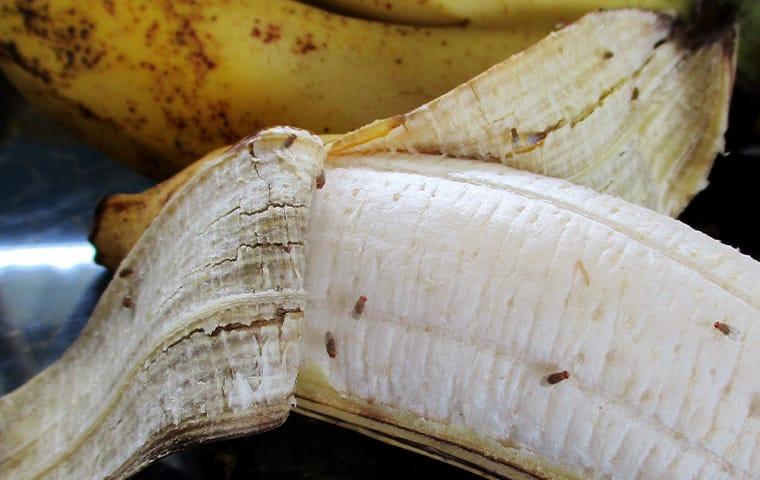 It might seem like magic when these flying fruit-lovers start appearing in your home, but their presence is anything but! Fruit flies are frustrating pests that are attracted to moist or fermenting produce in which they lay their eggs. From apples to cucumbers, anything that is ripe or close to being overripe will catch the eye of these flies. Smelly garbage, wet towels, and molding bread will get their attention when produce is not available.
Widely used for biological research, nearly 75 percent of the DNA strands that create serious disease in human beings are found within the humble fruit fly. While this is a wonderful research possibility from a science standpoint, this doesn't remove the frustrating and seemingly continual presence they have in northeastern kitchens.
Where Did You Come From, Where Did You Go?
You might think it's magic, but there are a few factors in the kitchen that attract fruit flies like nothing else.
Fruit flies hitch rides into homes on produce, either in egg form or by being caught unawares. Once they get it in, they become increasingly difficult to stop due to their egg-laying habits and breeding frequency.

Fruit flies like fruits and vegetables, but not necessarily clean ones. Rinsing off your produce as soon as you bring it home can help to eliminate eggs and scents that may attract egg-laying females.

Don't let your produce sit on the counter for any longer than it needs to. Storing ripe fruits and vegetables in sealed plastic bags or in a refrigerator is a great way to dissuade hungry fruit flies.
Sticky tapes, fruit fly traps, and DIY home remedies are all methods people use to try and eliminate fruit fly activity. However, large scale infestations are rarely affected by these measures.
Save the Day with Parkway
Fruit flies are complicated nuisance pests that become difficult to handle early in the infestation process. Parkway Pest Services is proud to offer fruit fly eliminating and abatement services in New York and beyond. Our operating experience of over 80 years has taught us that speed, service, and efficiency are core tenants that help us deliver effective services to happy and satisfied customers.
Controlling fruit flies with Parkway begins with a complimentary home inspection that helps identify the root of the issue and decide necessary steps towards keeping these kitchen insects out of the home for good. Reach out to the professionals at Parkway today to begin fighting back against fruit fly invasions. Stay pest-free now and in the fall months to come.