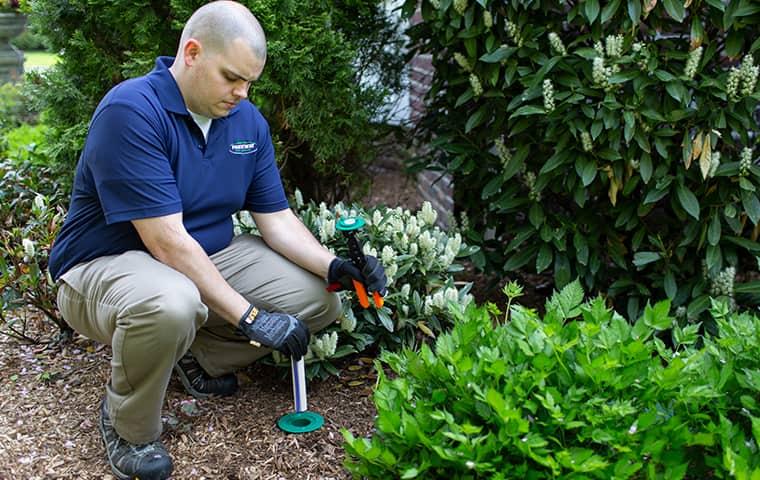 With Earth Day coming up, the professionals at Parkway Pest Services wanted to discuss our green solution to your termite problems in New York and Connecticut. If you have termites in your home or business, you want a solution that is going to be completely effective, fit your budget and be kind to the environment. As an Authorized Operator of the Sentricon® Termite Colony Elimination System, we have the solution to your termite problem that fits all of the above criteria and more.
What does the Sentricon® Colony Elimination System do?
The Sentricon® Colony Elimination System is a termite baiting system designed to deliver a lethal dose of material to active termites. Bait stations are installed on your property where termites will find it and mistake it for the high-quality food that they love- the wood of your structure. They will carry the termite bait back to their colony and rather quickly, the termites lose the ability to eat, reproduce and they eventually die. This gets rid of the termite threat on your property and as long as the system is installed and properly maintained, keeps new termites from dining on your home.
What makes it environmentally friendly?
The Sentricon® System is a green solution because the baiting stations have an active material that is contained, allowing it to be removed if necessary. This is much better than standard liquid chemical applications which seep into the ground and cannot be removed and also require extensive digging, drilling or trenching to treat the soil around and beneath a home, a process that must be repeated as the insecticide in the soil breaks down. The Sentricon® System is the only termite control product to have ever been awarded the Presidential Green Chemistry Challenge Award by the US EPA. This award is a government top environmental award recognizing a technical innovation that incorporates environmentally responsible chemistry into its design, manufacture, and use. The Sentricon® System has a low impact on human health, low toxicity to organisms that it does not target (fish, birds, plants, etc) and low potential to contaminate groundwater.
Why choose the Sentricon Colony Elimination System over other termite control options?
Choosing the Sentricon® Termite Colony Elimination System to solve your Long Island termite problem is the best choice because it baits and kills termites in an environmentally safe manner that is highly effective and long-lasting. It's the most cost-effective option because it is installed once, only the bait is replaced as necessary. It requires no digging or trenching around your property and is safe for your family and pets to be around. Because it is installed and maintained only by Sentricon Authorized Operators, you can trust that it will work just as it is supposed to, getting rid of termites and keeping them away.
For more information on our termite control in Long Island, Westchester County and throughout New York and parts of Connecticut, call Parkway Pest Services today. We also offer many other green pest control solutions for your home or business in our service area; contact us today for information on our eco-friendly pest control services.