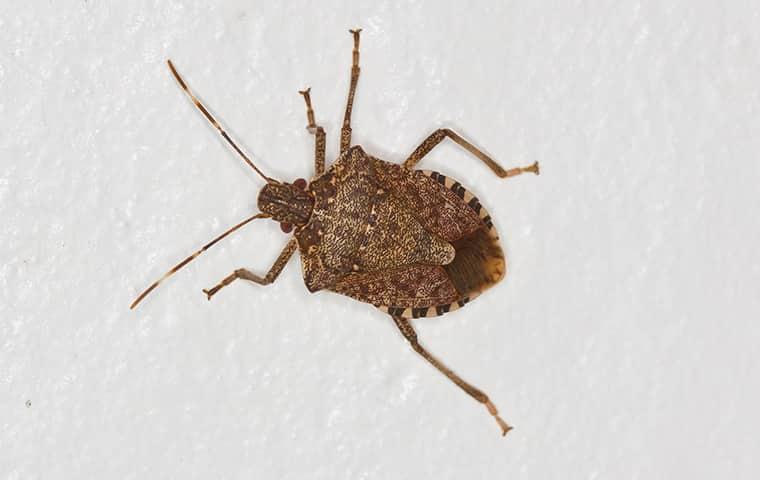 Stink bugs fared well recently with the government shutdown. With the government not operating at 100%, several programs were put on hold, including programs related to finding controls to keep stink bugs from being such a damaging pest of crops in this country. Unfortunately, the timing of the shutdown was terrible, as this is exactly when stink bugs are at their worst!
The brown marmorated stink bug is a very invasive pest and it threatens up to $21 billion worth of crops in the U.S. every year. There are very few known predators of these pests in the U.S. so their numbers are expected to explode this fall. The U.S. Department of Agriculture has been working on finding stink bug control measures, but with the government shutdown, they were cut off from the researchers working on controls for these pests. And according to Cerruti Hooks, a University of Maryland entomologist working to control these pests, the stink bugs "were enjoying the shutdown", because a search for control of their species had been suspended.
In Georgetown and areas near the capital, stink bugs are already wreaking havoc this fall. They choose to dine on nearly 300 different plants, including fruits, soybeans, vegetables, and leafy ornamentals and they are leaving tell-tale marks of their presence. They are also invading homes and businesses, looking for a cozy place to ride out the winter. Residents in PA, NY and in more than 30 states in the country have to be on the lookout for this pest this year, especially with the expected inflated populations. Preventing these pests takes a little effort, but reducing possible areas of entry in your home is the best option for controlling stink bugs on your own.
Until the U.S. Dept of Agriculture working with researchers find appropriate predators or controls to reduce the numbers of these pests, preventative treatments from pest control professionals become a necessity. In homes and businesses in Long Island, these pests are starting to become a problem; home and business owners are finding more and more stink bugs inside their homes as the weather begins to cool down. To alleviate this problem or prevent it from occurring in the first place, the Long Island pest control professionals at Parkway suggest a stink bug preventative treatment applied to the exterior of your home. This treatment can help reduce the number of stink bugs that make it inside, which means you can spend less time cleaning up stink bugs inside your home this winter.
Now that the government shutdown is over, the stink bug should be worried! Research to find predators for these pests is back on, while other possible control solutions are being worked on, including attracting these pests to a specific location away from croplands so they can be exterminated away from the foods they feed on. For more information on stink bug control services provided by the professionals at Parkway, please contact us today! We can help you get rid of these pests in your New York home, or prevent them from arriving in the first place!
Our New York and Connecticut service area also extends to Great Neck, Roslyn, East Hills as well as Westchester County, NY and Fairfield County, CT.