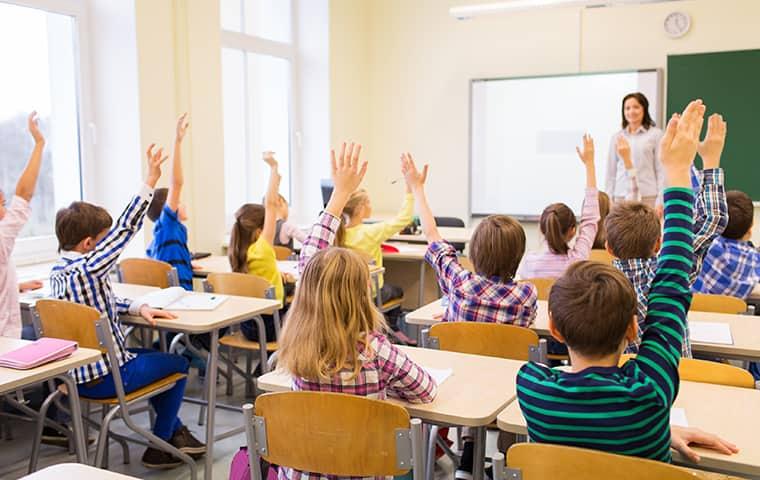 Pest control in Westchester County as well as throughout the country is a fine balancing act. Pest management professionals understand the concerns of using pesticides, especially in areas where our children spend a lot of time, particularly in the classroom. To balance the control of pests and the use of pesticides can be a challenge, but in the last decade, studies have shown that pests that are established on school premises lead to long-term health issues and performance problems for the children that go to these schools. So we come to ask this question: Which is worse? The pesticides used to eliminate these pests, or the effect these pests have on school children?
A working group called the Northeast School Integrated Pest Management Working Group set out to create a management and operations plan to help schools address pest problems, knowing that pests and the pesticides that kill them can both be unsafe in a school environment. These experts created a blueprint to help school employees and caregivers to keep pests from entering buildings and campuses through the use of environmentally friendly measures for pest prevention. The plan was recently introduced into schools in New York but it can be used in every state; it has the capability of being customized to suit every school's individual needs and is meant to make schools safer for school staff and pupils.
The blueprint set out by the working group is a comprehensive framework and a standard set of protocols to manage pest problems before they escalate into a crisis situation. Along with the measures already put into place by schools, this plan adds additional pest-proofing techniques and further environmental modifications to prevent pest problems before they happen, protecting children from pest infestations like rodents and cockroaches and the health problems they cause.
At Parkway Pest Services, our Integrated Pest Management (IPM) program has always been our green pest control strategy. Through IPM, we look to many different aspects of pest problems and find ways to eliminate pests not through immediate usage of pest control materials, but through environmental modifications and other natural pest deterrent means. We know that only addressing pest problems once they have escalated into a crisis is not the way to go; our pest management solutions look to prevent infestations from occurring in the first place to avoid pest crises, especially in educational environments. We also know that support staff in a school (including custodial services) should not alone be responsible for pest prevention tasks; it takes the partnership of a pest control professional to cultivate an environment unsuitable for pests.
For Westchester pest control services for schools, hospitals, food processing facilities and other sensitive commercial environments, the professionals at Parkway Pest Services are an exceptional choice. Since 1932 our professionals have been aiding the home and business owners in Long Island, the five boroughs, Westchester County and parts of Connecticut in preventing and eliminating pests and we are ready to help you too. Contact us today for more information on our commercial and residential pest control services.