Cockroaches are dirty insects. Some experts call them the sanitation engineers of the animal kingdom. Their primary role is waste management. When large and small animals leave waste on the ground, cockroaches consume it and break it down. This helps to reduce the amount of nitrogen in the soil. Cockroaches are an important part of our ecosystem. But this ability to consume and break down the waste isn't going to help you all that much inside your home. In fact, it will have the opposite effect. Cockroaches spread harmful, invisible organisms around your home. Here are some tips to help protect you from cockroach illness and limit cockroach populations inside your home.
1. Protect Your Food
One of the most important things you can do to protect your health and resist cockroaches is to put your packaged foods inside sealed glass or plastic containers. It may seem costly, but it could end up saving you lots of money in the long run. A cockroach infestation can lead to medical costs, lost work, lost school, and more.
Sealed containers will prevent cockroaches from chewing through paper, cardboard, and thin plastic.

Sealed containers keep cockroaches from contaminating your foods with harmful bacteria and parasitic worms.

Sealed containers contain smells that can attract roaches.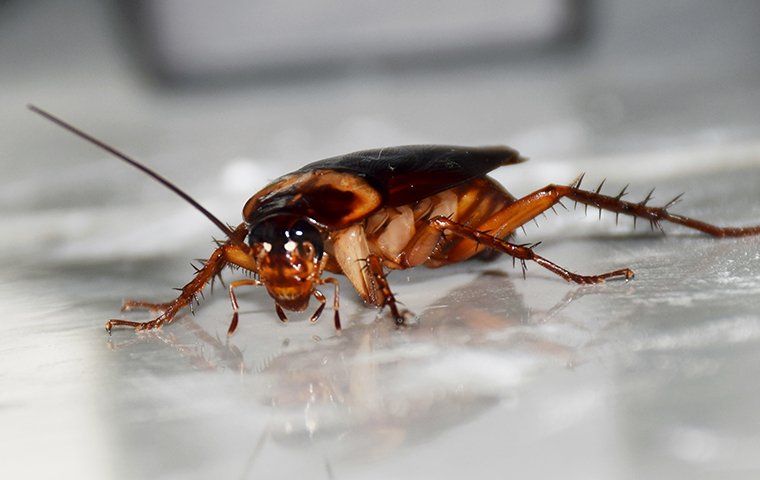 2. Deep Clean
Cockroaches prefer tight spaces—the tighter the space, the better. When cockroaches get into your kitchen or pantry, you can bet they will squeeze into the space between your oven and your wall or your oven and a cabinet. When they do, they'll be excited to find rotting organic matter. When you clean the sides of your oven, you reduce this food source and make your kitchen less interesting.
3. Trash Management
Your trash is a food source for cockroaches. It may also provide a breeding site at the bottom of your bin. Removing trash routinely will reduce smells that attract cockroaches and remove foods before they become enticing to roaches. A cockroach prefers to eat rotting food.
4. Moisture Management
All cockroaches are drawn to dampness and high humidity to varying degrees. One of the places we look for cockroach activity first is at moisture points. If you have any leaky faucets, weeping pipes, leaky garbage disposal, or locations within your home high in humidity, it is important to address these if you want to resist cockroaches.
Repair faucets.

Repair pipes.

Replace the gasket on your garbage disposal.

Install fans or dehumidifiers in humid rooms.
5. Reduce Access Points
If cockroaches get into your home, it is important to limit their ability to move around freely. This might seem like a small matter, but it can have a big impact.
Check the pipes under your kitchen sink and make sure there is a good seal around them.

Examine your cabinets for gaps and seal them.

Examine your baseboards, outlet covers, and other wall penetrations. If you find any holes, cracks, or gaps, patch them.
6. Entry Points
While it is impossible to keep cockroaches out of your home completely, you can resist them. An important first step in controlling cockroaches is to reduce potential entry points. Perform a close examination of your exterior walls and seal any entry points you find.
7. Alter Perimeter Conditions
Many conditions can promote cockroach activity near your foundation wall. If cockroaches are invited to crawl around near your home, there is a greater chance they'll get inside.
Reduce areas of shade.

Clean gutters to prevent dampness near your home,

Trim bushes and shrubs.

Remove unnecessary vegetation in your landscaping.

Rake leaves away from your home.

Remove leaves, sticks, and other organic debris from underneath decks and porches.

Repair exterior plumbing leaks.

Water plants in the morning to allow the sun to dry the moisture quickly.
8. Get Some Help
When it comes to keeping cockroaches out of your Westchester property, you don't have to go it alone. Contact Parkway Pest Services for one-time or ongoing pest control services. Our team is one of the best in the business. We provide treatments to bolster your defenses and repel or eliminate cockroaches before they get in. Connect with us today to schedule service.
Pest Control
When protecting your property from these two pests, it is always best to partner with a certified termite control professional. Though the methods and products for ants and termites are different, both pests are difficult to control. And both can elude inspections.
As you search for a pest control company, keep in mind that all pest control companies are not created equal. If you're not in our New York service area, find a company like Parkway Pest Service. One that has earned the QualityPro seal of excellence from the National Pest Management Association. This seal is your assurance that the pest control provider has undergone rigorous auditing from a trusted 3rd party. And make sure the company backs its pest control with a 100% satisfaction guarantee.
Contact us for fast assistance and effective results if you live in NYC, Brooklyn, Long Island, or Five Boroughs. No home should ever be without protection from wood-destroying insects.