Pest Control In Floral Park, NY
One of the most desired New York City suburbs for families to choose to live is the beautiful village of Floral Park. With its cozy neighborhoods, its tree-lined streets, and its small community feel it is no wonder that this village is "a great place to live." Residents take pride in their village and are diligent to maintain their homes and their yards.
One of the ways that home and business owners here in Floral Park protect their properties from the harmful and damaging effects of pests such as rodents, termites, and cockroaches is with a year-round pest protection plan from Parkway Pest Services. Our QualityPro certified team of specialists offer effective residential and commercial pest control solutions that utilize integrated pest management techniques, state-of-the-art technologies, and safe products to completely eradicate pests from your property.
With 85 years of hands-on experience in local pest pressures, Parkway Pest Services has the experience needed to quickly identify pests, locate their colonies, eliminate existing pressures, and prevent future infestations. To learn more about our industry-leading residential or commercial pest control services give us a call today. Other trusted services from Parkway Pest Services include rodent control, and wildlife removal and control services.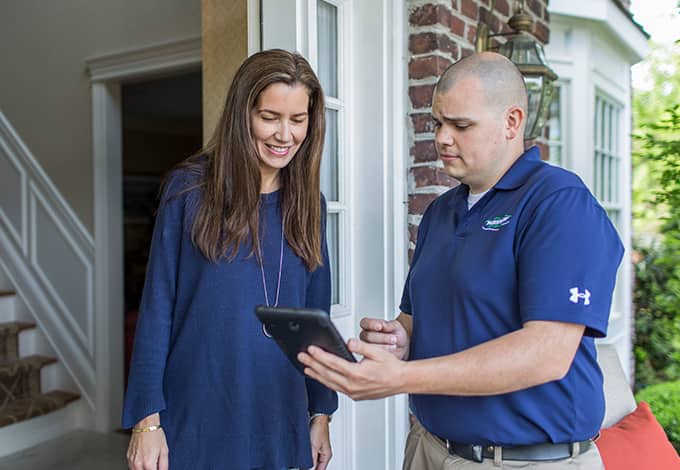 Floral Park, NY Home Pest Control
Keeping your Floral Park home safe from the harmful and damaging effects of pests is one of the best ways to protect your home and your family. Rodents, termites, and others can damage the structural integrity of your home, while pests like rodents, cockroaches, and mosquitoes can carry and transmit some pretty debilitating diseases to you and your family; but all of these consequences of an infestation can be eliminated with a comprehensive year-round pest protection plan.
Here at Parkway Pest Services, we understand that each pest is unique in the way that they live and in the threat that they pose. We also understand that each home is unique and that pest pressures, even in the same neighborhood, can be different from house to house. This is why our home pest control services are completely customizable, and why we take a holistic approach to pest control. We do not just attempt to treat the symptoms of your infestation; but, instead, we look for the root causes and address those as well. Our pest control experts have an extensive knowledge of local pests and their habits and habitats, and they utilize this knowledge to identify areas and conditions that are attracting pests to your Floral Park home. By addressing these sites, repairing these conditions, and regularly applying safe materials around your property, they can not only eliminate existing pest pressures, but they can also keep pests from coming back.
When you choose Parkway's PestGuard home pest control service you can expect 4 visits per year that encompass pest identification and the elimination of more than 30 common pests with interior and exterior service. Parkway PestGuard also comes with unlimited service calls for issues that may arise between regularly scheduled visits. When you choose our Parkway PestGuard+ home pest control service you receive all of these benefits with the added protection of termite monitoring and control. Either way, you can know that you are receiving some of the most comprehensive and effective pest protections available, and they are backed by the Parkway name. To learn more about our home pest control services, simply give us a call today.
Termite Inspections & Termite Control In Floral Park, New York
Termites are one of the most destructive pests to invade Floral Park homes. They are elusive and can sneak into the recesses of your home right under your nose and most often you will not even know that they are there until damages become severe and noticeable. The very best way to protect your Floral Park home from termites and the costly damages they inflict is by scheduling a termite inspection from the termite experts here at Parkway Pest Services and by choosing the protection of the Sentricon® System with Always Active™.
Our termite control experts are authorized users of Sentricon® with Always Active™ which is the most advanced, most eco-friendly, most effective, and least invasive way to monitor for and eliminate termites. Here's how it works. Our technicians will install discreet baiting stations around your property that contain a small amount of bait.
The bait is completely safe for people, pets, and the environment, but is deadly for termites. Once ingested, this bait disrupts the termite's ability to absorb nutrition and reproduce; and as is their custom, the termites take the bait back to the colony to share. The existing colony is quickly eliminated, and the bait stations remain discreetly in place monitored by our professionals to screen for and eliminate future foraging termites. It's that simple and it's that effective! To learn more about Sentricon® with Always Active™ or any of our other effective tools to combat termites in your Floral Park home or business, simply contact us today.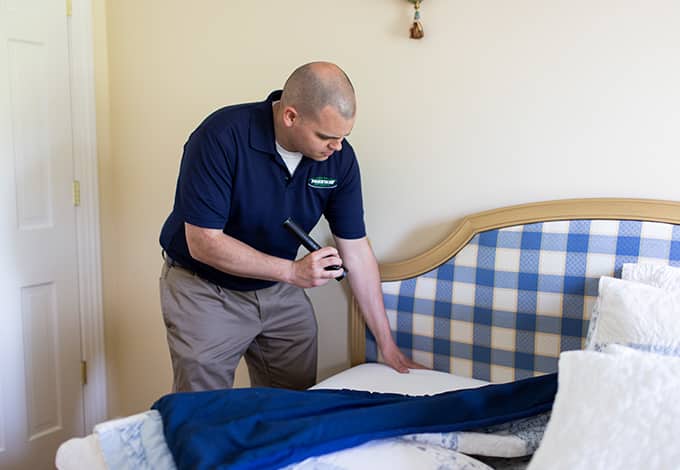 Floral Park, NY Bed Bug Exterminators
With the resurgence of bed bugs in America over the past decade or so and with the increased activity here in Floral Park, it may only be a matter of 'when', when it comes to a bed bug infestation in your Floral Park home or business; but don't be alarmed. Parkway Pest Services has the tools and the technology to quickly identify and eliminate bed bugs. We utilize K-9 bed bug inspection teams to quickly locate the areas in your home that these pests are hiding. Our canines have been specifically trained to sniff out bed bugs in all stages of development – even the eggs. Once these sites have been identified, we can administer conventional treatment, steam treatment, mattress and box spring encasements, or a combination of these to eliminate bed bug populations in your Floral Park home or business. We also offer comprehensive, year-round control and monitoring programs for year-round proactive protection. To learn more about our effective and complete bed bug solutions give us a call today.
Three Reasons To Choose Parkway For Pest Control In Floral Park, NY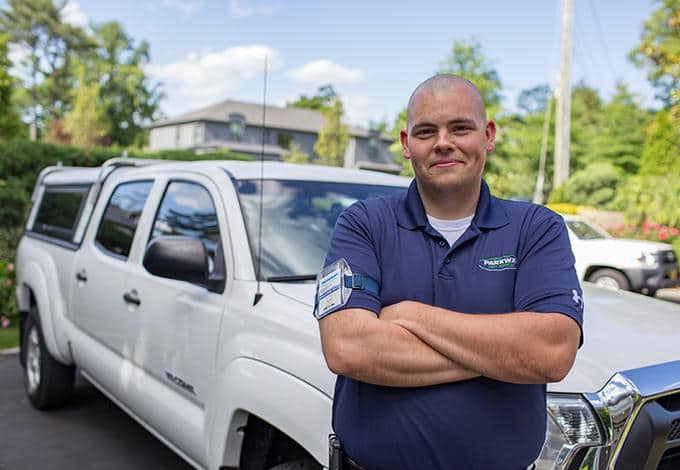 There are so many reasons as to why Parkway Pest Services should be your first choice for Floral Park pest protection services that it is hard to limit it to only three. One of the first things that come to mind is our longevity. We have been effectively eliminating pest pressures for 85 years, and you know that a company does not survive that long if they are not doing a few things right.
We attribute our success over the years to our commitment to superior customer service and our commitment to stand behind our products and services. Our mission statement says it best: "Parkway's philosophy is providing excellence in pest control service utilizing the latest technology and education in the pest control industry. Courtesy, professionalism, and respect of our customers is the basis of all our daily functions."
The next reason to choose Parkway Pest Services would be our QualityPro certification. This certification is given by the National Pest Management Association to companies that meet or exceed industry standards in consumer protection, business practices, training and testing, and environmental stewardship. It is an honor that only 3% of pest control companies nationwide can lay claim to, and we are very proud to be one of them. Lastly, we have made it our life purpose to offer needed services that are effective by utilizing time-honored traditions and materials, while embracing new and innovative technologies, and remaining committed to our long-standing practice of exemplifying the virtues of honesty and integrity. When you are considering pest control in Floral Park, there is no company that meets these standards like Parkway Pest Services. When pest pressures mount, come experience the difference that effective solutions and time-honored values can make; experience Parkway Pest Services.