Pest Control In Greenville, NY
Located in Northern Greene County, Greenville is a small and tight-knit community. As all residents of upstate New York know, the weather here can fluctuate from season to season. While we tend to think of places where it stays warmer as being hotspots of pest activity, even rural areas with cold winters need to worry about pests. As different pests become more active, infestations can be more active around your yard in the spring, or the winter may drive them to seek shelter indoors. That's why it's important to get pest control done early, preventing invasions before they happen through seasonal pest control. With help from Parkway Pest Services, your preparations will be ready to go.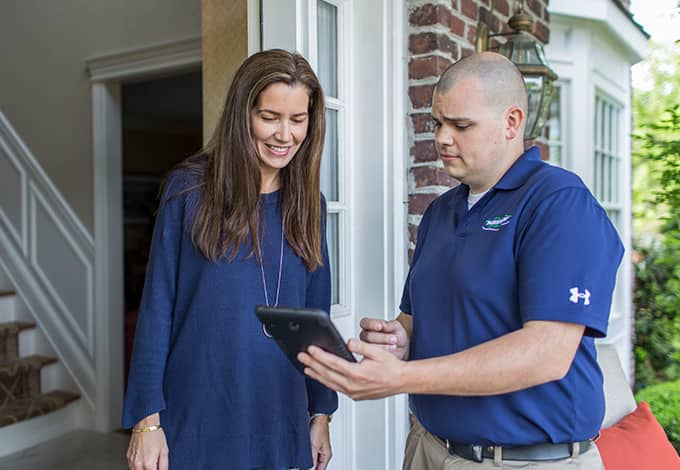 Residential Pest Control In Greenville
Keeping pests out of your home requires an overall approach. If you only focus on keeping pests out of your home, you may not be addressing the populations that form out in your yard or surrounding areas. Likewise, if you're only worried about keeping pests out of your yard, then you won't realize what is driving pests inside to escape your exterior efforts. That's why residential pest control services from experts offer the best protection in all situations and in all seasons. Here are the services we provide at Parkway Pest Services:
Annual Pest Control: Our basic year-round plan includes four annual visits and coverage of more than 30 common pests. We focus on both interior and exterior treatments.

Termite Control Program: To avoid the serious damage termites can cause, we use the Sentricon termite monitoring system, coupled with treatments that shield your home all year long.

Specialty Services: We offer many other services that you might want, including green pest control, power washing, and bird and mosquito control.
Protect your Greenville home the right way by calling Parkway Pest Services today.
Commercial Pest Control In Greenville
For local businesses, pests can be a big problem. Not only do they lead to property damage and health impacts – as they do in all properties – but commercial properties can also suffer broader consequences. Pests can eat into your profits, both by generating property damage that adds up or by wasting money on ineffective products and treatments. Then there's the cost to your reputation, as word spreads in small communities about the presence of pests. To avoid these larger issues, you need to partner with local commercial pest control professionals. Here's why you should turn to Parkway Pest Services:
All Kinds Of Properties: No matter what kind of property you own, we can craft a customized treatment plan that's right for you.

Safe & Effective: You can trust that our treatments are safe for you and your property while also driving away pest populations.

I.P.M.: This acronym is all over the professional pest control world. It means integrated pest management, a term that means we use a broad range of treatments to address a wide range of pests.
Keep pests from impacting your Greenville business by partnering with Parkway Pest Services today.
Five Ways You Could Be Wrong About Greenville Bed Bugs
For some pests, there are a lot of misconceptions floating out there about them. This is especially true for bed bugs, which can threaten local homes and businesses alike. Here are some of the most important points you need to be aware of when it comes to bed bugs:
Very Common: Bed bugs don't just happen to dirty properties. Anywhere they can find humans or pets to feed on will attract them.

Hitchhikers: Unlike pests that crawl straight into your property, unsuspecting people or animals can carry bed bugs inside. They cling to hair, skin, clothing, and everyday items to hitch rides to wherever people are.

Not Just Beds: Whoever named bed bugs were being a bit misleading. They aren't just found in mattresses and linens, though they prefer cloth-lined or cushioned areas.

Tough To Eliminate: Bed bugs take off like wildfire once they move in. An infestation quickly grows out of control with their fast life cycles and the ability to lay dozens of eggs apiece.

Professional Treatments: The only way to guarantee the complete elimination of bed bugs is with help from professionals. Contact Parkway Pest Services today if you have a bed bug problem.
Don't assume anything when it comes to bed bugs. Instead, be sure by turning to the experts.
Greenville's Handy Handbook To Spider Identification
Spiders are some of the most common invaders of homes and businesses. While most house spiders are relatively harmless – even hunting some of the more problematic pests – other spiders can be venomous or threatening. Professional spider control doesn't just keep these creepy crawlers out of your Greenville property. It also ensures that you always get proper identification of a pest population.
At Parkway Pest Services, we offer de-webbing services and yard treatments that drive off spiders and the pests that attract them to your property in the first place. Remember, spiders hunt other bugs for food, so the presence of a spider population likely means that you already have other pests somewhere nearby. Let the friendly experts at Parkway Pest Services help by giving us a call today.