There are many over-the-counter products that can kill spiders. Unfortunately, many of these products will do more than kill spiders. They can kill beneficial creatures that come into your yard. Some are so toxic that they can impact your health and the health of your kids and your pets. We don't recommend using these products. But there are also several over-the-counter products that won't be harmful to you, such as products that use peppermint and other essential oils. But naturally derived products are not without their failings. The unfortunate truth is that organic sprays don't last long. This will leave you exposed to spider issues without realizing that there is a hole in your defenses. We believe there is a better solution.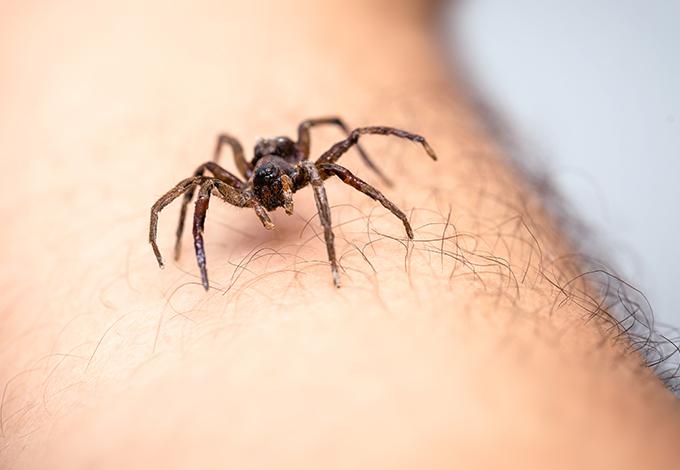 Insect Control
No. Spiders are not insects. They're arachnids. But spiders eat insects. When you take the time to reduce insects around your home, you reduce spider activity. This is a great way to address spider problems.
Reduce exterior light at night, or replace white lights with yellow lights. Insects are attracted to light but are unable to see light in the yellow spectrum.

Keep your bagged garbage in covered containers. Flies get into trash, and as you're probably aware, spiders love to eat flies.

Deodorize your trash receptacles. Flies, and many other pests, will be attracted to your yard by the scent of trash. Some can smell decaying organic matter from an impressive distance.

Clean your gutters and make repairs. All the water that lands on your roof is deposited in a two-foot perimeter around your home if your gutters don't work properly. Dampness attracts insects and also other invertebrates such as centipedes, millipedes, etc. Spiders eat all of these critters.
When you work to naturally deter insects, spiders will have less encouragement to be active in your yard. While this won't stop them altogether, it is one essential piece to the spider-management puzzle. Let's look at a few more.
Spider Habitats
When spiders enter your yard, the last thing you want is for those spiders to find a comfortable place to live. Here are a few tips to help you address spider habitats:
Fill in ground holes.

Move scrap wood, firewood, dead branches, leaves, and other organic debris away from your exterior walls.

Trim your landscape plants, particularly near the bottoms.

Remove weeds and grass from your landscaping.

Keep your lawn trimmed.

Remove yard clutter. Spiders hide in man-made objects that have voids.
Spider Webs
Do you know that one spider web can have hundreds of spiders on it? Those spiders are hidden inside eggs, and the eggs are hidden inside egg sacs. When you see spider webs on your property, it is important that you understand how those webs play a part in promoting interior spider sightings. When hundreds of spider eggs hatch on the exterior of your home, you should not be surprised to find them crawling around inside your home when they reach their adult stages.
Use a spider web-removal tool to get rid of spider webs both low and high.

If you have webs on your roofline, you can attach your spider web tool to a long pole to reach up there.

Once you've removed the webs, be sure to treat them with a product that kills spider eggs.
Exclusions
If you own your home, you may be aware that a caulking gun can be your best friend. When gaps, cracks, and holes form, a caulking gun can help you seal them. This keeps moisture out of your home, seals heat or cold air inside, and also works to prevent pest entry. We're going to focus on that last one. Inspect the exterior of your home, particularly around exterior doors, plumbing, wire conduits, and your foundation. Seal any gaps you find. Along with this, here are a few more ways you can seal your exterior:
Replace weatherstripping on exterior doors if there are gaps.

Replace or install door sweeps. You want to make sure you have a good seal at the bottom of your exterior doors.

Repair your garage door sweep if it doesn't make a complete seal.

Repair or replace door and window screens.

Replace rotting wood or fill in wood holes.

If you live in a brick home, make sure your weep holes have protective covers.
Control Products
Remove attractants that bring insects into your yard. Reducing moisture, addressing spider habitats, removing spider webs, and sealing your exterior walls may be enough to keep spiders from appearing inside your Long Island home. If greater control is needed, due to pest attractants that can't be addressed, higher-than-normal pest pressures, or some other issue, control products are needed. We recommend products that attract the creatures spiders eat rather than the spiders themselves. This is best done by a trained and experienced pest professional. We have a few of those here at Parkway Pest Services. Are you having trouble with spiders in Long Island? Contact Parkway Pest Services today and find out what services we offer to get control of spiders and other pests.