What Are Ladybugs?
Ladybugs are predatory insects found on plants; they commonly feed on aphids, scales, and mites that also live on plants. They are brightly colored with six black spots on each wing. Ladybugs are oval in shape with a small head and turned downward and about ½ the size of a green pea.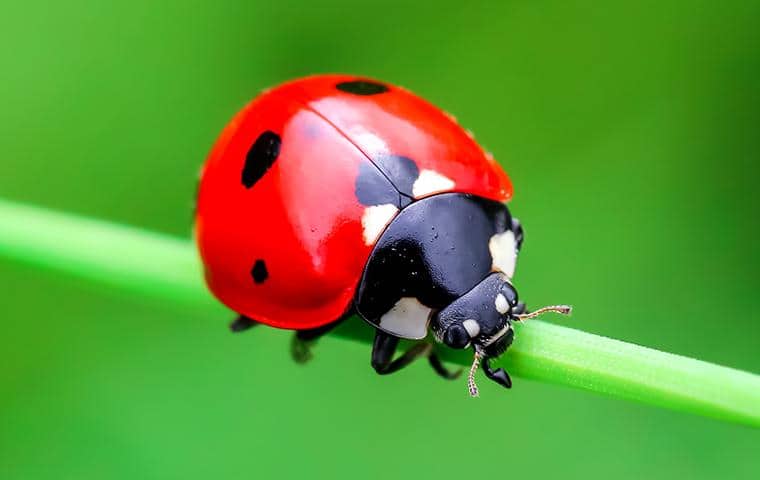 Things You Should Know:
Ladybugs do not bite or sting.
When they invade, they invade in large numbers.
Ladybugs are predators to other pests that harm garden plants, such as mites and scale insects.
Why Are They In My House?
Ladybugs often enter homes in our region during the fall months when the weather starts to cool off. They are looking for a warm place to stay over the winter; they often congregate in large numbers to hibernate. They gain access to your home through small cracks and crevices in your foundation, roof eaves, and siding.
Are Ladybugs Dangerous?
Ladybugs are not dangerous and they do not bite or sting. They are considered nuisance pests.
What Does It Take To Get Rid Of Ladybugs?
Ladybugs may not be dangerous, but they still can be challenging to get rid of from your home. They invade in vast numbers and can hide behind walls, in attic spaces, and behind baseboards. The technicians at Parkway Pest Services are trained to handle ladybug infestations and will be able to rid your home of these pests completely.

How Soon Can You Get Here?
At Parkway, we understand that it is important to you to take care of your pest problem as soon as possible; therefore it is important to us, as well. Emergency and same-day service is available, and in most cases, we can be there the very next day.

Is The Treatment Safe?
Here at Parkway Pest Services, we pride ourselves on being Green Shield Certified, and we use Integrated Pest Management (IPM) techniques, meaning treatments are much safer for you and your family. IPM techniques include far fewer uses of chemicals, using them only as a last resort. Instead, we focus on baiting and the exclusion of pests.

How Can I Prevent A Future Infestation?
Preventing ladybugs from wanting to enter your home can be difficult. However, sealing cracks in your foundation and siding along with making sure windows and doors are sealed properly can help to prevent them from actually entering. The best way to prevent a ladybug problem is to contact Parkway Pest Services. Learn more about our home pest control services for Brooklyn, Long Island, and throughout our service area.
PestGuard Protection
Designed to control the basic needs of pest control, this plan effectively protects your home from occasional invaders that are frequently encountered as well as most wood destroying insects. In addition to controlling carpenter ants, cockroaches and other insects and rodents, this home pest control plan includes treatment of yellow jackets within two feet of the dwelling. With our friendly and knowledgeable exterminators on the job, you can say goodbye to ants in the kitchen, mice in the attic and the other pests scattered throughout the house.

4 Visits Annually

Pest Identification

Covers 30+ Common Pests

Interior & Exterior Service

Unlimited Service Calls