Exterminators In Long Beach, NY
Long Beach, New York is known for being a "city by the sea". Its beaches, shops, parks, residential neighborhoods, and more cause people to want to both visit and live in Long Beach. Residents in Long Beach not only get to enjoy beach living but are in very close proximity to New York City - it is only 45 minutes away. The pest professionals at Parkway Pest Services want to keep your property free of all the pests that also reside in Long Beach year-round. Whether you are having problems with ants, termites, bed bugs, or squirrels in your Long Beach home, we can quickly and safely eliminate them and provide services to prevent future problems. Let New York's most trusted pest control company protect your property from any pest that wants to call your Long Beach house, home.
Long Beach, NY Home Pest Control
Pest problems can occur at any time of the year and generally start outside of the home, pests foraging for food or water that find their way into your home and decide to take up residence. The pest control professionals at Parkway understand this and don't just fix pest problems by putting a bandage on it, but instead get to the root of the issue and completely solve the issue.
Both levels of our year-round pest control programs rely heavily on exterior treatments to help stop pests before they get the chance to get inside of your home and cause problems. The Parkway PestGuard Program includes four annual visits and unlimited service calls. The year-round program covers treatment for over 30 common pests, and for carpenter ants, fleas, ticks, and yellow jackets located within two feet of the structure. The Parkway PestGuard+ Program includes everything that is in the PestGuard program but has the added benefit of termite control through the use of the Sentricon® System with Always Active™ technology.
Termite Inspections & Control In Long Beach, NY
Termites are known as silent destroyers because of their ability to enter into homes and be present for weeks or months at a time without anyone knowing that they are present. Routine termite inspections are the best way to catch a termite infestation before they have the chance to cause major structural damage to your home.
Our expert, certified termite inspections provide a one-year guarantee, provide a detailed written report after the inspection, including cost estimates and recommendations for one of our effective treatment options.
Termite treatment options:
The Sentricon® with Always Active™. This system is eco-friendly and non-invasive; it uses bait stations which are placed around your home to eliminate entire termite colonies and prevent their return.

Liquid termite treatment. A trench is dug around the foundation of your home and termiticides are mixed in with the soil, the termites ingest the soil, take it back to the rest of the colony, eliminating every member.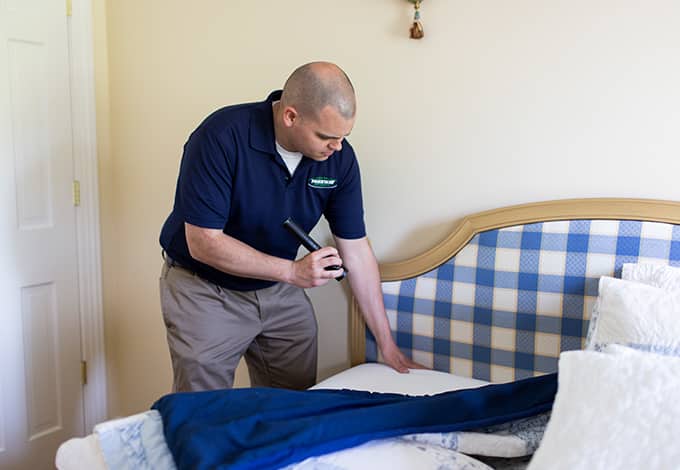 Long Beach, New York Bed Bug Treatments
Bed bugs are a common problem throughout the entire state of New York, including in Long Beach. Sleep soundly knowing that your home is free of bed bugs by receiving a K-9 bed bug inspection from Parkway Pest Services. Our K-9 team uses their highly trained noses to find all adult bed bugs, eggs, and nymphs that are in a home or other property. A K-9 inspection is very thorough, they can access areas a human inspector may not be able to reach and they are very fast - it takes only about 5 minutes to inspect a single room.
If bed bugs are detected on your property, our experts will work with you to determine which bed bug treatment is going to work the best to eliminate the bed bugs from your Long Beach Property. Services we provide include:
Conventional bed bug treatments

Steam treatments

Year-round plans and monitoring programs

Mattress and box spring encasements
Long Beach, NY Squirrel Control & Wildlife Solutions
Are your outdoor trashcans being rummaged through every night, are you hearing noises in the attic as you are trying to sleep, are you finding torn insulation or damaged drywall in your home, is your outdoor patio covered in bird feces? If you answered yes to any of these questions, or are seeing other signs of wildlife activity in or on your property, you need help from the wildlife experts at Parkway Pest Services.
Squirrels, raccoons, skunks, birds, and other wildlife can become not only a nuisance on the outside of your Long Beach property but they can find their way inside and cause major damages and introduce some serious diseases and bacteria to you and your family. Controlling wild animals in and around your property should be left up to professionals who understand how to safely handle, trap, and remove them. At Parkway we offer wildlife control services that will help you get rid of your wildlife problem as well as exclusion services to make sure they do not return.