Exterminators In Plandome, NY
Plandome, New York rose to notoriety by being the first village to be incorporated in Manhasset, NY. This exquisite village lies on the north shore of Long Island and with a portion of it also resting on the beautiful Manhasset Bay. This mostly residential community appeals to its residents because of the laid-back, hometown atmosphere that it offers. To help you keep the atmosphere in your Plandome property as laid-back and stress-free as possible, the pest professionals at Parkway Pest Services provide the pest control services needed to eliminate pests and keep the stress of a pest infestation away from your home and family. Whether you are looking for general pest control services or services to eliminate and control specific pests, we have what you need; get in touch with us today to learn how our pests control services can protect your Plandome home from dangerous and invasive pests.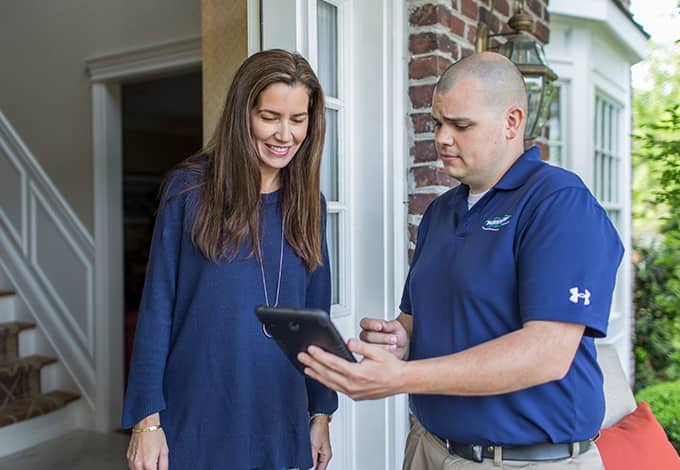 Residential Pest Control Services In Plandome, NY
The professionals here at Parkway Pest Services are committed to providing home pest control services that are reliable, safe, and effective. Our experienced and state certified technicians have what it takes to solve any pest problem, focusing on the both the interior and exterior of your home. Our home pest control services will address the problem areas found on the exterior of your home that may be allowing pests inside like spaces found in the foundation, or around attics, windows, and eaves; or unsecured trash cans or piles of organic debris that may be attracting them to your property.
To eliminate household pests Parkway offers two levels of pest protection to help meet the different needs of all of our customers. Our Parkway PestGuard offers four annual visits providing both interior and exterior services, and pest identification services. This program covers over 30 common pests including carpenter ants, fleas, ticks, and yellow jackets located within two feet of the structure. It also includes unlimited service calls. Our Parkway PestGuard+ includes everything from the above program plus the installation of termite monitoring devices around the exterior of your home. This program also provides peace of mind knowing that if termites are found on your property, our pest control professionals will provide services to eliminate them. Contact Parkway Pest Services today to get started protecting your Plandome home from common New York household pests.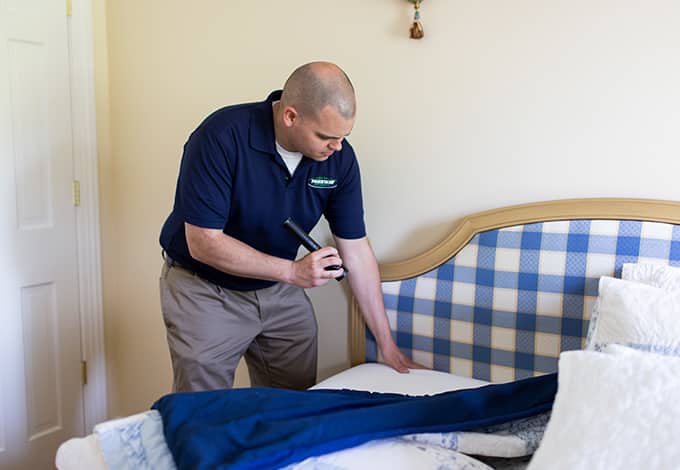 Tips To Avoid Bed Bugs In Plandome, NY
Bed bugs are found in any public place and can unintentionally be introduced to any home at any time. The best way to avoid accidentally having a bed bug infestation in your Plandome property is to have routine bed bug inspections completed by the professionals at Parkway Pest Control. Our K-9 team uses their highly trained noses to find all adult bed bugs, eggs, and nymphs that are in your property. A K-9 inspection is very thorough, these K-9's can access areas a human inspector may not be able to reach and they only take about 5 minutes to inspect a single room. If it is ever discovered that these invasive pests have weaseled their way into your home we will sit down with you and work together to figure out which of our treatment options is right for your property. Our treatment options include conventional bed bug treatments, steam treatments, year-round plans and monitoring programs, and mattress and box spring encasements.
Other tips to avoid a bed bug infestation include:
When traveling keep bags, purses, and outerwear up off of the ground, inspect plane, bus, or train seats, especially the seams, for live or dead bed bugs

Before bringing your luggage into your hotel or motel room, inspect the rooms for signs of bed bugs

Do not place clothing inside of hotel closets, or drawers; instead, store in sealed plastic bags until they are needed

After returning home immediately unpack your suitcases (outside or in the garage is best) and wash all clothing in hot water

Don't purchase used furniture, bedding, mattresses, or box springs
Contact us today to schedule a bed bug inspection for your Plandome property!
Commercial Pest Control Services In Plandome, NY
At Parkway we pride ourselves in being a leader in the commercial pest control industry leader. We value our ability to offer our commercial customer's pest control solutions that are highly effective while using limited amounts of product. Through Integrated Pest Management (IPM) solutions we provide businesses with the tools they need to increase sanitation practices; while our professionals identify entry sites, and implement exclusion measures and mechanical changes needed to keep pests out. By choosing our Green Shield Certified company we can help control pests in your business and you won't have to worry about indoor pollutants or our treatments being dangerous around your high tech equipment. There will also be no health concerns for your employees or customers; our services maximize safety and reduce liability for you! Don't wait another day choose the area's best pest control company to provide the services you need to keep your Plandome commercial facility free of damaging pests!
Wildlife Services In Plandome, NY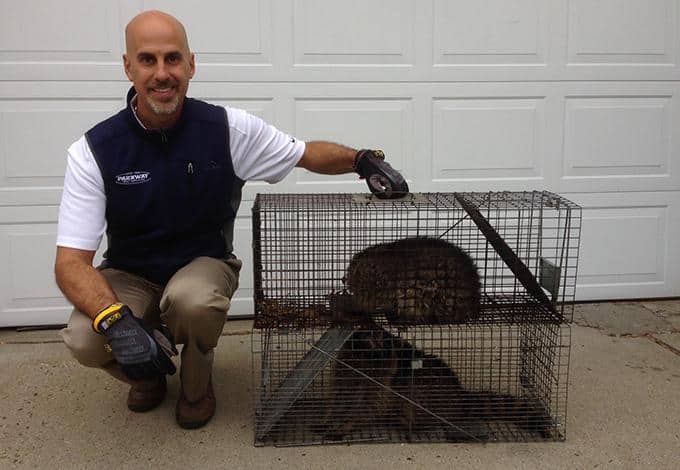 Raccoons, squirrels, chipmunks, skunks and other wildlife animals can be delightful to look at out in the wild where they live and belong. However, when they suddenly decide to invade our homes they become destructive, dangerous and anything but a delight! To safely and humanely remove wildlife that has decided to make your home, theirs, trust the wildlife control experts at Parkway Pest Services.
Our experts can provide the targeted services needed to get rid of invading wildlife. These services include animal trapping and control, pest proofing, wildlife exclusion, animal damage repair, and more. Contact us today and allow us to put together a tailored solution to your Plandome property's wildlife problem.